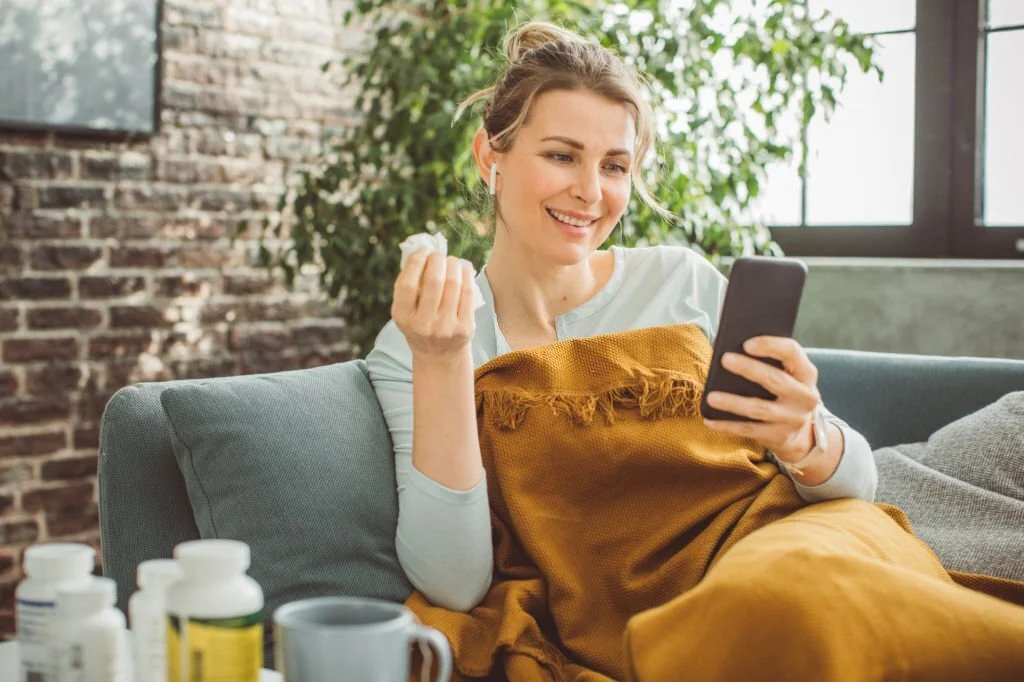 Get an Enalapril prescription refill online
Enalapril is a prescription medication used for high blood pressure and cardiovascular conditions. You can get an Enalapril refill prescription online by connecting with our doctor at Your Doctors Online.
Our online doctor will ask you to describe your symptoms to determine the best course of treatment that is suitable and safe for you.
Request Enalapril prescription refill
Get a prescription refill for Enalapril online in three easy steps.
Download our app, register and tell us about your medical issue to get started.
High Blood Pressure
Anemia
STD
UTI

Infections

Covid
Connect with a board-certified doctor. You can chat, send pictures and videos.
Hi I'm Dr. Nicole. How may I help you?
Hi Dr Nicole, I have been taking Enalapril for high blood pressure. Can I get a refill?

Our online doctors can help you with your medical issues and give you prescriptions.
Enalapril tablets, 5mg. Take one tablet, once daily as advised
Send Prescription
Enalapril medication is commonly available as Vasotec in the market. This drug blocks the conversion of angiotensin II from angiotensin I, increasing the amount of bradykinin, a vasodilator. Consequently, this causes a reduction in blood pressure by dilating the blood vessels and eventually reducing the workload on the heart. Additionally, Enalapril can also reduce blood pressure by causing an increase in the amount of a vasodilator known as bradykinin in the body.
Enalapril is available as 2.5 mg, 5 mg, 10 mg and 20 mg tablets. Sticking to the prescribed dose is essential to avoid any adverse effects. 
Important information about Enalapril
Common side effects include nausea, vomiting, rash, headache, fatigue, lightheadedness and dizziness.

Some severe side effects include swelling of the face, lips, and mouth, also known as angioedema. Shortness of breath and severe stomach pain have also been reported.

Enalapril and alcohol should not be used together.
FAQs about Enalapril prescription refill
Can you buy Enalapril over the counter?
Enalapril is not available over the counter. You will need a prescription from a certified physician to get Enalapril.
How long does Enalapril take to work?
Enalapril decreases blood pressure within an hour after taking the pill. Although, it can take a few weeks to notice the significant effects of the medication.
How much does Enalapril lower blood pressure?
According to some studies, 70% of people taking Enalapril have a decrease of more than 10mm Hg diastolic blood pressure. However, the effect can vary from person to person.
What is the best time to take Enalapril?
The first dose is usually taken before bedtime as the medication may cause dizziness. However, if that is not the case, you can take Enalapril at any time of day. But it is best to take it at the same time every day.
Enalapril belongs to the class termed as angiotensin-converting enzyme (ACE) inhibitors. These types of drugs block the formation of a hormone that typically narrows arteries and increases blood pressure, hence promoting the widening of the vessels, which helps reduce blood pressure.
Is Vasotec an ace inhibitor?
Yes, Vasotec, the brand name for Enalapril, is an Ace inhibitor.
What foods to avoid while taking Enalapril?
While taking Enalapril, you should avoid a high-potassium diet as the medication can increase potassium levels in your blood.
Does Enalapril lower heart rate?
Enalapril causes a reduction in blood pressure, increasing the blood and oxygen supply to the heart. In some individuals, there can be a slight effect on the heart rate.
Is Enalapril a blood thinner?
No, Enalapril is an Ace inhibitor and not a blood thinner.
This is the best app..You ask anything and the doctors answer you within minutes, i love it

-Phindile Mkhatshwa


It is a good app, it can be helpful with pictures and be very detailed.

-brooke snow


Wow, these people are such a blessing. Dey give accurate answered to questions asked. Its really too good

-Okiti Stephanie


Impressive work !! Connecting to a doctor was so quick. I am really impressed.

-ASIF Khan


Doctor was really great, fast at responding very helpful

-Chelsey


Chat with them the doctor that I chat with very helpful and answer all my questions I recommend to anyone

-edith bien aime


The best patient doctors that understand and give you useful information ..I'm really thankful.

-Lesego Thejane


Very informative and very detailed in explanations.Also pleasant and courteous.I would recommend to anyone.

-Stephanie Brown


Very helpful, very polite and answers every question in a well mannered way.

-kulwinder gill


I really rate this website a lot, you people don't stick and and im sure you try your best to take swift actions for your patients.

-Elijah Mark


Talk to online doctors now and get medical advice, online prescriptions, and referrals within minutes. On-demand healthcare services at your fingertips.