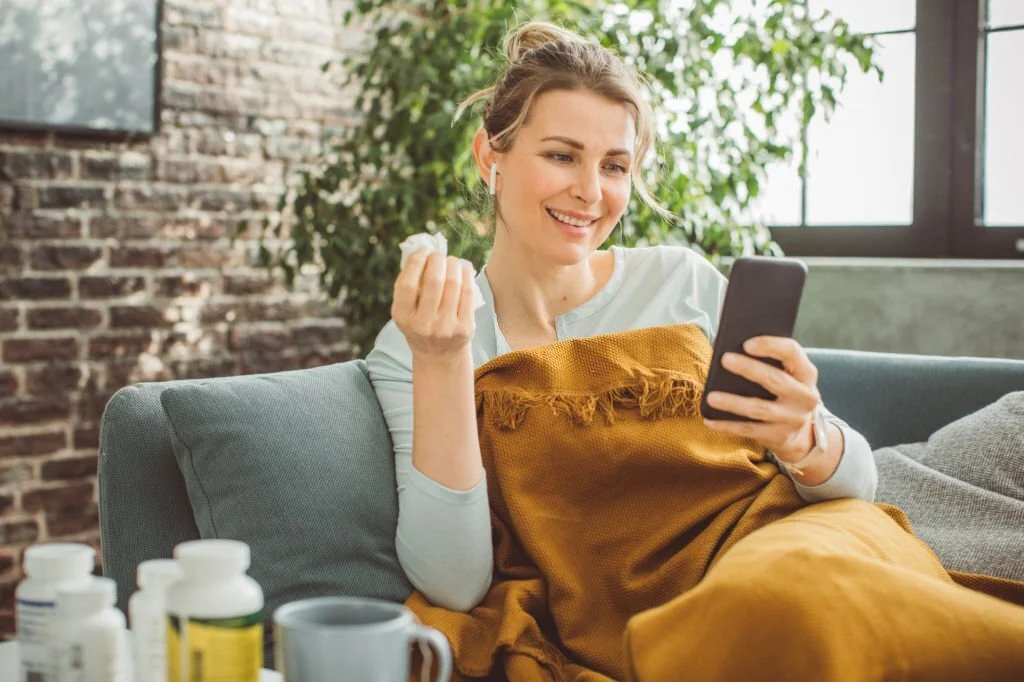 Get a Brexafemme prescription refill online
Ibrexafungerp is an antifungal medication that is used to treat candidiasis in the vulvovaginal region.
You can get a prescription for Brexafemme online by connecting with our online doctor at Your Doctors Online. The doctor will ask you to describe your symptoms to determine the best course of treatment. However, please note that a prescription refill will only be provided after consultation with the doctor and if the treatment is suitable and safe for you.
Request Brexafemme prescription refill
Get a prescription refill for Brexafemme online in three easy steps.
Download our app, register and tell us about your medical issue to get started.
Fungal Infection
Anemia
STD
UTI

Infections

Covid
Connect with a board-certified doctor. You can chat, send pictures and videos.
Hi I'm Dr. Nicole. How may I help you?
Hi Dr. Nicole, I was prescribed Brexafemme for candidiasis. I ran out of it. Can I get a refill, please?

Our online doctors can help you with your medical issues and give you prescriptions.
Brexafemme 150 mg; taken twice daily.
Send Prescription
What is Ibrexafungerp (Brexafemme)?
Ibrexafungerp (Brexafemme) is an antifungal drug used to treat particular types of fungal infections. Vulvovaginal candidiasis is one condition for which this medication is recommended. It inhibits glucan synthase. Brexafemme inhibits Glucan synthase and enzymes involved in forming 1,3-β-D-glucan, an essential fungal cell wall component. It is available as a 150 mg tablet in the market.
Important information about Brexafemme
Common side effects include nausea, vomiting, headaches, stomach pain, and diarrhea, all possible adverse reactions.

Rare but serious adverse effects include anaphylaxis, liver damage, and unusual fatigue. You should talk to your doctor if you have any serious side effects.
FAQs about Brexafemme prescription refill
How long does Ibrexafungerp (Brexafemme) take to Work?
Brexafemme has shown relief in symptoms after one or two weeks of regular administration. You should discuss with your doctor if your symptoms do not improve.
Do you need a Prescription for Ibrexafungerp (Brexafemme)?
Yes, To obtain Ibrexafungerp, you must obtain a prescription from a doctor. You can discuss your condition with an online doctor via Your Doctors Online to get a Brexafemme refill.
Who should avoid Ibrexafungerp (Brexafemme)?
You should avoid using it if you have any known allergies to Ibrexafungerp or its components. If you have any worsening side effects, discuss with your doctor.
Can I drink alcohol while taking Brexafemme?
No, you should abstain from alcohol completely while taking Brexafemme. Medication efficacy and/or side effect profiles may be altered by alcohol consumption. Alcohol consumption while taking Ibrexafungerp should be discussed with your doctor.
Medications that can interact with Ibrexafungerp (Brexafemme)?
There can be potential drug interactions of Ibrexafungerp with MiraLAX, Benadryl, Flonase, Penlac Nail Lacquer, Pentasa, and Quercetin.
How to take Ibrexafungerp (Brexafemme)?
The recommended dosage of Brexafemme in adults is either 300mg/day or 600mg/day. Two 150mg tablets are taken at an interval of 12 hours, or for a daily dosage of 600 mg, four 150mg tablets must be administered at an interval of 6 hours each.
What are the alternatives to Ibrexafungerp (Brexafemme)?
The alternatives to Ibrexafungerp include azole anti-fungal like Fluconazole. If you need an alternative medication, you should discuss your symptoms and side effects with your doctor.
This is the best app..You ask anything and the doctors answer you within minutes, i love it

-Phindile Mkhatshwa


It is a good app, it can be helpful with pictures and be very detailed.

-brooke snow


Wow, these people are such a blessing. Dey give accurate answered to questions asked. Its really too good

-Okiti Stephanie


Impressive work !! Connecting to a doctor was so quick. I am really impressed.

-ASIF Khan


Doctor was really great, fast at responding very helpful

-Chelsey


Chat with them the doctor that I chat with very helpful and answer all my questions I recommend to anyone

-edith bien aime


The best patient doctors that understand and give you useful information ..I'm really thankful.

-Lesego Thejane


Very informative and very detailed in explanations.Also pleasant and courteous.I would recommend to anyone.

-Stephanie Brown


Very helpful, very polite and answers every question in a well mannered way.

-kulwinder gill


I really rate this website a lot, you people don't stick and and im sure you try your best to take swift actions for your patients.

-Elijah Mark


Talk to online doctors now and get medical advice, online prescriptions, and referrals within minutes. On-demand healthcare services at your fingertips.