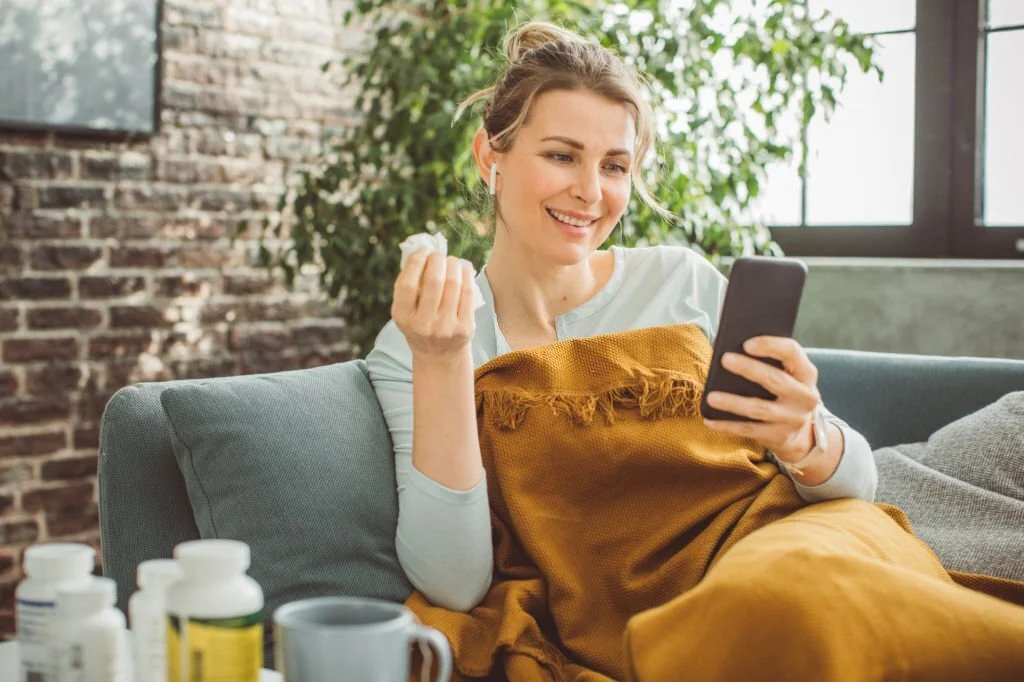 Get Digoxin prescription refill online
Digoxin is a prescription-only medication used in the management of heart failure and irregular heartbeats. You can get a Digoxin prescription online by connecting with our doctor at Your Doctors Online. 
However, please note that a refill of Digoxin online will be provided after consultation with the doctor and if the treatment is considered suitable and safe for you.
Request Digoxin prescription refill
Get a prescription refill for Digoxin online in three easy steps.
Download our app, register and tell us about your medical issue to get started.
Cardiovascular
Anemia
STD
UTI

Infections

Covid
Connect with a board-certified doctor. You can chat, send pictures and videos.
Hi I'm Dr. Nicole. How may I help you?
Hi Dr. Nicole, I have been taking Digoxin for years due to my heart condition. Can you provide me with a refill?

Our online doctors can help you with your medical issues and give you prescriptions.
Digoxin Tablets, 125mcg, take 1 tablet orally, once daily.
Send Prescription
Digoxin, commonly available as Lanoxin, belongs to a family of drugs known as cardiac glycosides that help maintain a strong and consistent heartbeat. These drugs aid in controlling heart failure and arrhythmias by acting on sodium and potassium, two minerals in your body that regulate your heartbeat.
After evaluating the severity of your condition, the Lanoxin dose and frequency will be determined. Do not take more than the prescribed dose because overdosing can be life-threatening.
Important information about Digoxin
Common digoxin side effects include cardiac toxicity, nausea, vomiting, headache, weakness, dizziness, abdominal pain, maculopapular rash, intestinal ischemia, hemorrhagic necrosis, apathy, confusion, mental disturbances, and thrombocytopenia.

Some digoxin overdose symptoms include vomiting, loss of appetite, fatigue, irregular heart rate, dizziness and vision problems. Please seek medical help if such is the case.
FAQs about Digoxin prescription refill
Does Digoxin require a prescription?
Yes, Digoxin is a drug that requires regular monitoring, and a prescription is necessary for a refill.
What interacts with Digoxin?
Digoxin has an interaction with a lot of drugs, some of which include:
Over-the-counter antacids
Antibiotics such as Erythromycin and tetracycline
Antiarrhythmic drugs (amiodarone)
Calcium channel blockers
Hawthorn (an herbal remedy)
Black licorice

How long does it take for Digoxin to work?
In most cases, improvement can be noticed 7-14 days after starting Digoxin.
Digoxin can be consumed with or without food, but it's best to take it at the same time each day, such as in the morning after breakfast.
How long can you stay on Digoxin?
Digoxin is taken for a long time, meaning you may need to take it for the rest of your life. Talk to your doctor in case you need to discontinue the drug.
Is Digoxin the same as metoprolol?
Digoxin and metoprolol belong to different classes of drugs. Digoxin is classified under cardiac glycoside, whereas metoprolol is a beta-blocker.
Can Digoxin lower blood pressure?
According to studies, Digoxin may significantly decrease diastolic blood pressure overnight in congestive heart failure patients. However, it does not affect systolic pressure.
It is best to stick to the same time when taking Digoxin, most people take this medicine after breakfast.
Who should not take Digoxin?
Individuals with the following conditions should avoid taking Digooxin:
Ventricular fibrillation
Wolff-Parkinson-White syndrome
Sinus node disease and AV block
Myocarditis
Kidney disease
Hypothyroidism
Electrolyte imbalance.

What food to avoid with Digoxin?
You must avoid high-fibre foods while on Digoxin as it can affect the absorption of Digoxin in your body. These food items include bran, spaghetti, beans, lentils, artichokes, raspberries, and split peas. Consume them at least two hours before or two hours after taking Digoxin.
What is an early sign of digoxin toxicity?
Signs of digoxin toxicity include confusion, loss of appetite, diarrhoea, nausea, vomiting, or vision problems. Some other signs of overdose are changes in the rate or rhythm of the heartbeat, palpitations or fainting.
What are digoxin alternatives?
Amiodarone is sometimes prescribed as an alternative. Other options include angiotensin-converting enzyme inhibitors, angiotensin receptor blockers, beta-blockers and calcium channel blockers. However, the medication prescribed can vary from patient to patient and depends on several factors.
This is the best app..You ask anything and the doctors answer you within minutes, i love it

-Phindile Mkhatshwa


It is a good app, it can be helpful with pictures and be very detailed.

-brooke snow


Wow, these people are such a blessing. Dey give accurate answered to questions asked. Its really too good

-Okiti Stephanie


Impressive work !! Connecting to a doctor was so quick. I am really impressed.

-ASIF Khan


Doctor was really great, fast at responding very helpful

-Chelsey


Chat with them the doctor that I chat with very helpful and answer all my questions I recommend to anyone

-edith bien aime


The best patient doctors that understand and give you useful information ..I'm really thankful.

-Lesego Thejane


Very informative and very detailed in explanations.Also pleasant and courteous.I would recommend to anyone.

-Stephanie Brown


Very helpful, very polite and answers every question in a well mannered way.

-kulwinder gill


I really rate this website a lot, you people don't stick and and im sure you try your best to take swift actions for your patients.

-Elijah Mark


Talk to online doctors now and get medical advice, online prescriptions, and referrals within minutes. On-demand healthcare services at your fingertips.