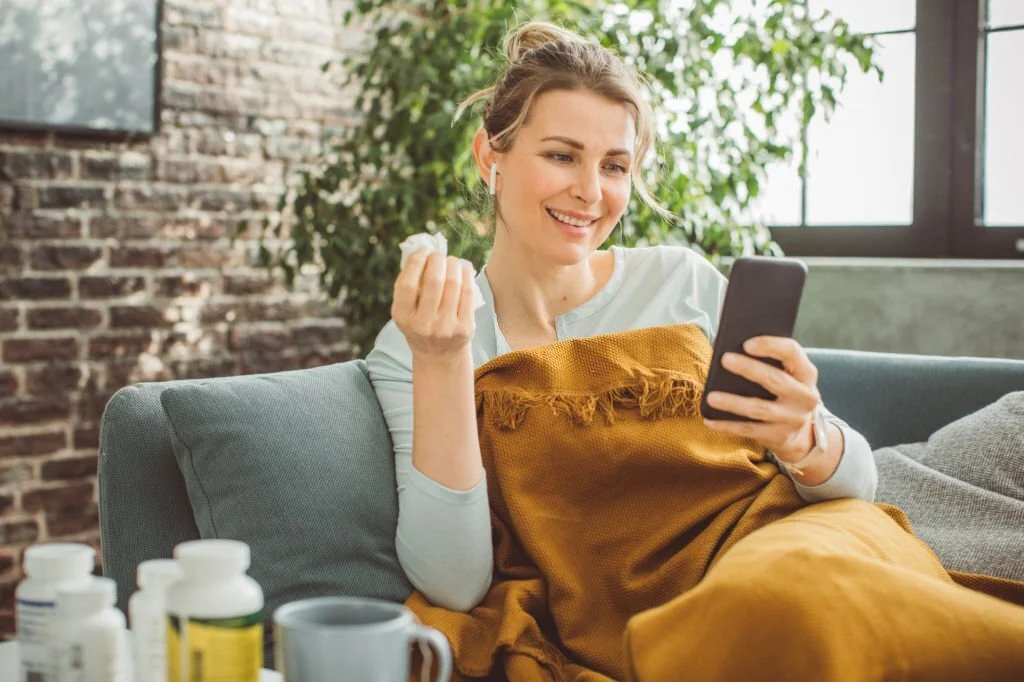 Get Breo Ellipta prescription refill online
Breo Ellipta is a prescription medication ​​used long-term to manage and prevent symptoms of asthma, such as wheezing. BREO 100/25 is used to treat chronic obstructive pulmonary disease (COPD), which includes chronic bronchitis and emphysema.
You can get a Breo prescription online by connecting with our doctor at Your Doctors Online. Our online doctor will ask you to describe your symptoms to determine the best course of treatment that is considered suitable and safe for you.
Request Breo Ellipta prescription refill
Get a prescription refill for Breo Ellipta online in three easy steps.
Download our app, register and tell us about your medical issue to get started.
COPD
Anemia
STD
UTI

Infections

Covid
Connect with a board-certified doctor. You can chat, send pictures and videos.
Hi I'm Dr. Nicole. How may I help you?
Hi Dr. Nicole, I have been using a Breo asthma inhaler. Can I get a refill?

Our online doctors can help you with your medical issues and give you prescriptions.
Breo Ellipta (fluticasone/vilanterol), Use one puff or inhalation by mouth once daily.
Send Prescription
Breo inhaler contains a mixture of fluticasone furoate which is an inhaled corticosteroid and vilanterol(a long-acting beta2-adrenergic agonist (LABA)). Fluticasone furoate helps to counter inflammation in the lungs. Inflammation in the lungs can result in breathing problems. Vilanterol keeps the lung airways open by helping the muscles around them stay in a relaxed position in order to prevent symptoms.
Important information about Breo Ellipta
Some common Breo inhaler side effects include flu and sore throat, upper respiratory tract infection, thrush in your mouth or throat, headache, back pain, pneumonia, bronchitis, cough, and joint pain.
Some severe side effects include pneumonia, weakened immune system, reduced adrenal function, rash, hives, swelling of your face, mouth, and tongue, breathing problems, impact on the heart, increased blood pressure, osteoporosis, etc.
FAQs about Breo Ellipta prescription refill
Do you need a prescription for Breo Ellipta?
Yes, a prescription is required in order to refill the Breo Ellipta inhaler.
Who should avoid Breo Ellipta?
Breo inhaler should not be used if you are severely allergic to milk proteins or any of the ingredients in BREO.
What to avoid with Breo Ellipta?
Always rinse your mouth with water, and do not swallow the water after using BREO. This helps to reduce the possibility of getting thrush. After this, you may eat or drink normally.
What can interact with Breo Ellipta?
The following can interact with Breo Ellipta
Antifungal medications containing ketoconazole
Monoamine oxidase inhibitors (MAOIs)
Tricyclic antidepressants
Beta-blockers
Diuretics
What is the starting dose for Breo Ellipta?
The dosage for Breo Ellipta (100 mcg /25 mcg) is one actuation once daily by oral inhalation.
Can Breo and Anoro be used together?
Both inhalers, Breo Ellipta and Anoro Ellipta, contain vilanterol, a long-acting inhaled beta agonist (LABA). Therefore, using them together can result in an overdose.
Is Breo Ellipta a steroid?
Breo Ellipta inhaler is a combination of an inhaled corticosteroid (ICS) and long-acting beta2-adrenergic agonists (LABA).
Can I skip a day of Breo Ellipta?
You should not stop using Breo Ellipta (fluticasone/vilanterol) unless advised. It has to be discontinued gradually to avoid unpleasant side effects, such as headache, dizziness, and upset stomach.
This is the best app..You ask anything and the doctors answer you within minutes, i love it

-Phindile Mkhatshwa


It is a good app, it can be helpful with pictures and be very detailed.

-brooke snow


Wow, these people are such a blessing. Dey give accurate answered to questions asked. Its really too good

-Okiti Stephanie


Impressive work !! Connecting to a doctor was so quick. I am really impressed.

-ASIF Khan


Doctor was really great, fast at responding very helpful

-Chelsey


Chat with them the doctor that I chat with very helpful and answer all my questions I recommend to anyone

-edith bien aime


The best patient doctors that understand and give you useful information ..I'm really thankful.

-Lesego Thejane


Very informative and very detailed in explanations.Also pleasant and courteous.I would recommend to anyone.

-Stephanie Brown


Very helpful, very polite and answers every question in a well mannered way.

-kulwinder gill


I really rate this website a lot, you people don't stick and and im sure you try your best to take swift actions for your patients.

-Elijah Mark


Talk to online doctors now and get medical advice, online prescriptions, and referrals within minutes. On-demand healthcare services at your fingertips.