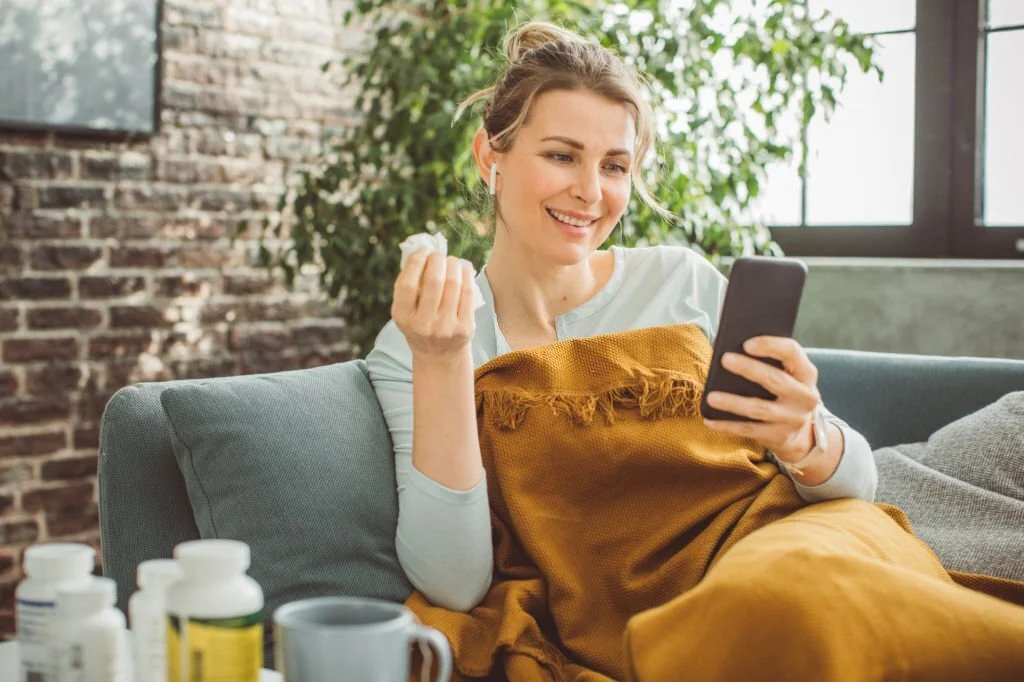 Get Effexor Prescription Refills Online
Effexor treats major depressive disorder, generalized anxiety disorder, panic disorder, and social anxiety disorder. You refill a Venlafaxine prescription online by connecting with our online doctor at Your Doctors Online, who will ask you to describe your symptoms to determine the best course of treatment. Then, if deemed necessary, they may recommend a follow-up appointment or a visit to a clinic. However, please note a prescription will only be provided after consultation with the doctor and if the treatment is considered suitable and safe for you. 
How to Connect with an Online Doctor?
Connect with a health care professional online in 3 easy steps.
Download our app, register and tell us about your medical issue to get started.
Psychiatry
Anemia
STD
UTI
Skin
Covid
Connect with a board-certified doctor. You can chat, send pictures and videos.
Hi I'm dr. Nicole. How may I help you?
Hi Dr. Nicole, I have anxiety and depression, and it is really bad. Can I get a refill for my Venlafaxine 75 mg, please?

Our online doctors can help you with your medical issues and give you prescriptions.
Venlafaxine 75mg

Once daily for 30 days

 
Send Prescription
What is Effexor and How to Take It
Effexor contains the chemical ingredient venlafaxine, which belongs to the class of medicines known as serotonin-norepinephrine reuptake inhibitors (SNRIs). It is typically used to treat anxiety disorders, severe depression, panic attacks and social anxiety disorder. Effexor works by boosting the amounts of certain neurotransmitters in the brain, specifically serotonin and norepinephrine, which helps to regulate mood and reduce depression and anxiety symptoms. It is usually administered orally as capsules and requires a prescription from a healthcare expert. For safe and successful treatment, Effexor should be used under their supervision and advice.
To lessen the possibility of stomach problems, Effexor (venlafaxine) is usually taken orally with meals. Do not crush or chew the extended-release capsule; swallow it whole. Your illness and individual response to the drug will determine the amount and frequency. It is critical to take Effexor simultaneously every day to maintain constant levels in your system. If you stop taking Effexor suddenly without consulting your doctor, you may have withdrawal symptoms. If you miss a dose, take it as soon as you recall, but if it is close to your next planned dose, skip it and resume your regular dosing schedule.
Important Information About Effexor
Following are some points that you should know about Effexor:
Do not abruptly stop taking Effexor; consult your healthcare provider for guidance on tapering off the medication to avoid withdrawal symptoms.

Common side effects may include nausea, dizziness, dry mouth, insomnia, and changes in appetite.

Some medicines that may interact with Effexor (Venlafaxine) include MAO inhibitors like Isocarboxazid, phenelzine, selegiline; SSRIs (Selective Serotonin Reuptake Inhibitors), e.g. Fluoxetine, sertraline, paroxetine; SNRIs (Serotonin-Norepinephrine Reuptake Inhibitors) such as Duloxetine, desvenlafaxine, levomilnacipran; Antiplatelet drugs, e.g. Aspirin, clopidogrel, ticagrelor and Anticoagulants like Warfarin, heparin, enoxaparin.

Effexor is not recommended during pregnancy or breastfeeding.
Is Effexor a controlled substance?
No, It does not classify as a controlled substance.
What is the best time of day to take Effexor?
The best time of day to take Effexor can vary depending on individual preferences and side effects. Some individuals may take it in the morning to minimize potential insomnia, while others prefer it in the evening to manage drowsiness.
Can you take Xanax with Effexor?
Xanax (alprazolam) and Effexor should only be taken together under the guidance and supervision of a healthcare provider. Both medications can have sedative effects, and combining them may increase the risk of excessive drowsiness and other side effects.
What drug is equal to Effexor?
Venlafaxine is the generic name for Effexor. Effexor is a brand-name medication with no exact generic equivalent with the same brand name. However, other medicines in the same class of drugs, such as duloxetine (Cymbalta), can be considered alternatives or substitutes for Effexor.
What should I avoid while taking Venlafaxine?
While taking venlafaxine (Effexor), it is crucial to avoid drinking alcohol, as it may enhance the drowsiness and dizziness side effects. Exercise caution when operating machinery or driving, as Effexor can impair coordination and mental alertness.
How can I refill my Effexor prescription?
To refill your Effexor prescription, you have two options: you can connect with Your Doctors Online and request a refill, or you can request it directly from your pharmacy. It is advisable to refill your prescription before running out to ensure uninterrupted treatment.
What happens if I miss a dose of Effexor?
If you forget to take an Effexor dose, take it as soon as you remember. If your next planned dose is approaching, skip the missed dose and take the next tablet in your regular dosing schedule. Do not double the amount to compensate for a missed one.
What happens if I take too much Effexor?
Taking too much Effexor can lead to an overdose. Symptoms may include dizziness, rapid heartbeat, seizures, confusion, and in severe cases, loss of consciousness. The venlafaxine maximum dose should not exceed 225 mg per day.
This is the best app..You ask anything and the doctors answer you within minutes, i love it

-Phindile Mkhatshwa


It is a good app, it can be helpful with pictures and be very detailed.

-brooke snow


Wow, these people are such a blessing. Dey give accurate answered to questions asked. Its really too good

-Okiti Stephanie


Impressive work !! Connecting to a doctor was so quick. I am really impressed.

-ASIF Khan


Doctor was really great, fast at responding very helpful

-Chelsey


Chat with them the doctor that I chat with very helpful and answer all my questions I recommend to anyone

-edith bien aime


The best patient doctors that understand and give you useful information ..I'm really thankful.

-Lesego Thejane


Very informative and very detailed in explanations.Also pleasant and courteous.I would recommend to anyone.

-Stephanie Brown


Very helpful, very polite and answers every question in a well mannered way.

-kulwinder gill


I really rate this website a lot, you people don't stick and and im sure you try your best to take swift actions for your patients.

-Elijah Mark


Talk to online doctors now and get medical advice, online prescriptions, and referrals within minutes. On-demand healthcare services at your fingertips.