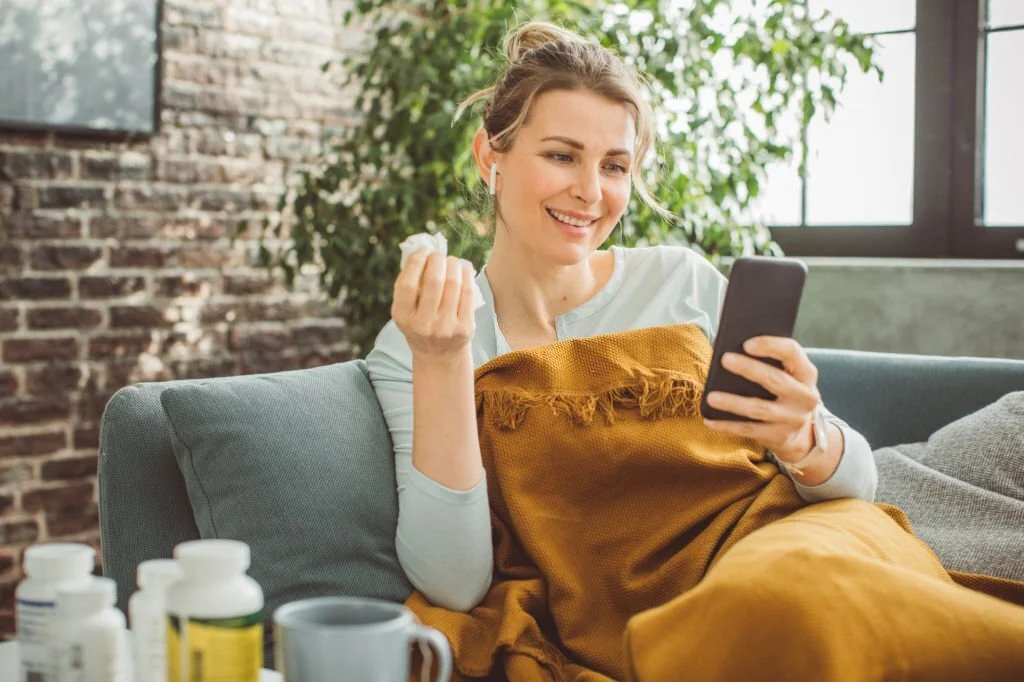 Get Methocarbamol Prescription Online
Methocarbamol relieves pain and muscle spasms from strains, sprains, and other injuries. You can get a Methocarbamol refill online if you are experiencing any of these symptoms. Visit Your Doctors Online to speak with a doctor about getting a Methocarbamol prescription at your convenience. Our qualified physician will ask you about your symptoms to determine the best course of treatment. They may suggest a follow-up appointment or clinic visit if they determine that further medical attention is required.
Know that our doctor will need to review your progress while taking Methocarbamol before he or she will authorize a refill.
How to Connect with an Online Doctor?
Connect with a doctor online in 3 easy steps.
Download our app, register and tell us about your medical issue to get started.
Muscle Spasm
Anemia
STD
UTI
Skin
Covid
Connect with a board-certified doctor. You can chat, send pictures and videos.
Hi I'm dr. Nicole. How may I help you?
Dr. Nicole, I had a fall and severe back spasms. I cannot sit up straight or bend my back. Can you help?

Our online doctors can help you with your medical issues and give you prescriptions.
Methocarbamol 500 mg tablet

 


Take four times daily for three days


Send Prescription
Uses of Cialis and How to Take It
What is Methocarbamol?
Methocarbamol relieves musculoskeletal pain and spasms. For chronic pain in the back, neck, or extremities, doctors frequently recommend skeletal muscle relaxants. This is available under the brand names such as Robaxin, Robaxin-750, Carbacot, Flexinol, Methoriv-N, Skelex, Methopar, Alpadik, Methorev-P, Methoprofen, Methoriv-MR, and Asolt-AT are available. Tablets (500, 700, 750 mg) and injections (100mg/ml) are the two available dosage regimens. The Methacarbamol class includes other drugs, Carisoprodol, Cyclobenzaprine, Metaxalone, Orphenadrine, Baclofen, and Tizanidine. Non-pharmacologic interventions are usually the first line of treatment for pain and sprain, and Methocarbamol is prescribed if adequate rest and other non-pharmacological interventions fail.
How does it work?
Pain and spasms in the musculoskeletal system can be alleviated with methocarbamol, a centrally-acting skeletal muscle relaxant. It typically depletes central nervous system nerve impulses to relax muscles and reduce activity. Methocarbamol also causes a relaxation sensation by causing drowsiness. To best relieve muscle spasms, it is prescribed for short-term use along with rest and physical therapy.
How to take Methocarbamol? 
Follow your doctor's instructions when taking Methocarbamol. It can be taken with or without meals. The recommended starting dose of Methocarbamol for acute muscle spasms is 1500 mg. The pill can be taken as it is, or it can be broken in half and taken with food.
Important information about Methocarbamol
Drowsiness, dizziness, headache, nausea, lightheadedness, stomach upset, fever, confusion, memory problems, lack of coordination, flushing, blurred vision, and sleep disturbance are all possible side effects of methocarbamol. Although these reactions are usually short-lived and mild, you should still exercise caution when driving or operating heavy machinery.




The effectiveness or safety of methocarbamol can be diminished or heightened depending on the presence of other medications, vitamins, or herbs in the patient's system. Notable interactions include the sedatives morphine and oxycodone, the anxiety medications benzodiazepines (alprazolam and diazepam), the anti-inflammatory corticosteroids (prednisone), the glaucoma drug dichlorphenamide, and the abortion pill mifepristone.

Seek immediate medical attention if you experience any serious side effects while taking this medication, including but not limited to black, tarry stools, skin color change, chest pain, chills, cough, dark urine, diarrhea, fast heartbeat, seizures, slow heartbeat, and skin yellowing.

 
Is Robaxin over the counter?
Robaxin is a prescription medicine and is not available over the counter. It is important to consult a doctor before using this because of the risk of adverse effects and drug interactions.
How much Robaxin can I take?
It is recommended to take either three tablets of 500 milligrams or two tablets of 750 milligrams every six hours for three days.
What is the Methocarbamol dosage for back pain?
Methocarbamol dosage for back pain depends on the severity and individual factors. Stay within your doctor's recommended dosage. Methocarbamol oral tablets for back pain typically start at 1500–2000 mg orally four times a day for 48–72 hours; the maintenance dose is 6000 mg orally four times a day, and the maximum dose is under medical supervision, 8000 mg per day may be used in severe cases.
Does Methocarbamol help with headaches?
No, Methocarbamol is usually not recommended for headaches. However, it can promote deep sleep and drowsiness to help you relax.
How can I get an online refill of my Robaxin prescription?
You can connect with one of our doctors online for a Robaxin refill via our platform at Your Doctors Online.
What should I assess before Robaxin?
You should consider your drug use and allergy history, as well as any preexisting conditions, before beginning treatment with Robaxin (methocarbamol). If you are pregnant, breastfeeding, or trying to conceive, you should talk to your doctor about the potential benefits and risks.
How many hours apart can you take Robaxin?
It is recommended to take one tablet every six hours. The duration may vary depending on the dose. Follow your doctor's prescription for accurate dosing for your individual condition.
How long should you take Robaxin?
Robaxin is usually prescribed for a short duration, around 2-3 days. The pain usually subsides after that. Your doctor may prescribe a refill if the pain persists.
Who should not take Robaxin?
Robaxin (methocarbamol) should be avoided if you have an allergy to the drug or its ingredients, severe liver or kidney disease, a history of alcohol or drug abuse, or myasthenia gravis. Before taking Robaxin, pregnant or breastfeeding women should consult their doctor.
What happens if I miss a dose of Robaxin?
When you remember, take Robaxin (methocarbamol). If your next dose is approaching, skip the missed dose. Do not take a missed dose twice. Robaxin is usually prescribed to temporarily treat muscle spasms and pain caused by musculoskeletal conditions and injuries. Although regular dosing is essential, missing a single dose will not compromise the effectiveness of your treatment.
This is the best app..You ask anything and the doctors answer you within minutes, i love it

-Phindile Mkhatshwa


It is a good app, it can be helpful with pictures and be very detailed.

-brooke snow


Wow, these people are such a blessing. Dey give accurate answered to questions asked. Its really too good

-Okiti Stephanie


Impressive work !! Connecting to a doctor was so quick. I am really impressed.

-ASIF Khan


Doctor was really great, fast at responding very helpful

-Chelsey


Chat with them the doctor that I chat with very helpful and answer all my questions I recommend to anyone

-edith bien aime


The best patient doctors that understand and give you useful information ..I'm really thankful.

-Lesego Thejane


Very informative and very detailed in explanations.Also pleasant and courteous.I would recommend to anyone.

-Stephanie Brown


Very helpful, very polite and answers every question in a well mannered way.

-kulwinder gill


I really rate this website a lot, you people don't stick and and im sure you try your best to take swift actions for your patients.

-Elijah Mark


Talk to online doctors now and get medical advice, online prescriptions, and referrals within minutes. On-demand healthcare services at your fingertips.