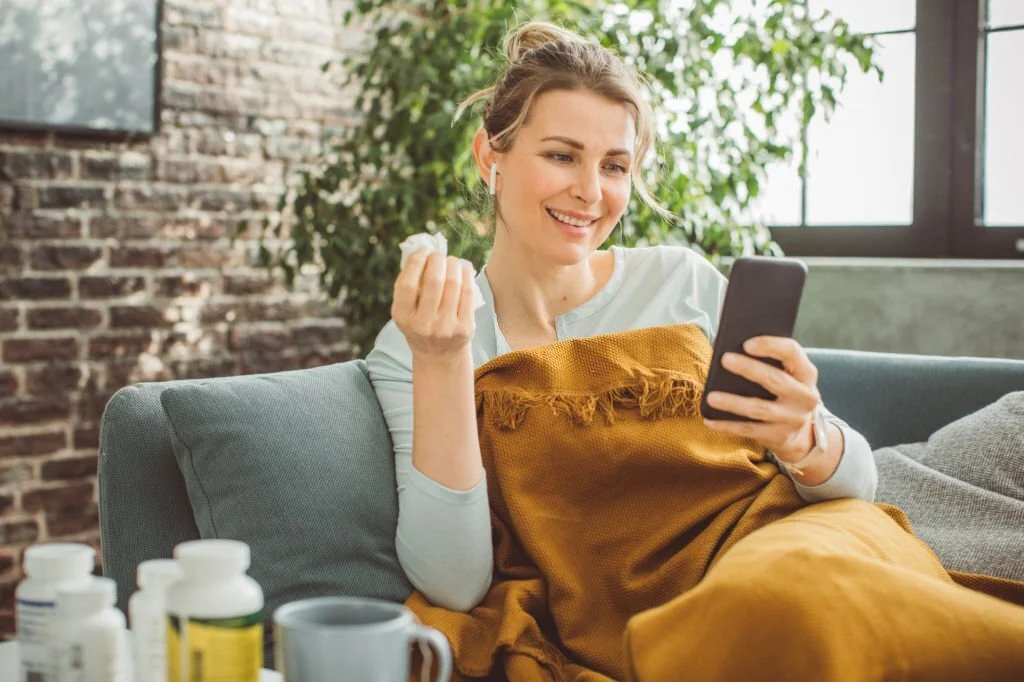 Get a Prescription Refill for Buspirone Online
Buspirone is a prescription medicine used to treat anxiety disorders. It belongs to the anxiolytic medication class, specifically serotonin receptor agonists. You can get a prescription refill for Buspirone online by connecting with our online doctor at Your Doctors Online, who will ask you to describe your symptoms to determine the best course of treatment. Then, if deemed necessary, they may recommend a follow-up appointment or a visit to a clinic. However, please note a prescription will only be provided after consultation with the doctor and if the treatment is considered suitable and safe for you.
How to Connect with an Online Doctor?
Connect with a health care professional online in 3 easy steps.
Download our app, register and tell us about your medical issue to get started.
Mental Health 
Anemia
STD
UTI
Skin
Covid
Connect with a board-certified doctor. You can chat, send pictures and videos.
Hi I'm dr. Nicole. How may I help you?
Hi Dr. Nicole, I haveI've been feeling extremely anxious lately. Can I get some form of treatment.

Our online doctors can help you with your medical issues and give you prescriptions.
Buspirone

Buspirone 7.5 mg orally 2 times a day
Send Prescription
What is Buspirone and How to Take It
Buspirone is a medicine that is primarily used to treat anxiety disorders. It belongs to the anxiolytic medication class and influences particular neurotransmitters in the brain, such as serotonin and dopamine. Buspirone, unlike benzodiazepines, does not depress the central nervous system. Instead, it acts as a partial agonist at serotonin receptors and has an effect on dopamine receptors, which helps to decrease anxiety feelings. It is commonly used to treat generalized anxiety disorder (GAD) but can also treat other anxiety-related illnesses. Buspirone's therapeutic effects may take several weeks to become apparent, and it should be taken precisely as a healthcare expert prescribes.
Buspirone over the counter is not available. Take Buspirone orally, usually 2 or 3 times daily. You can take it with or without food, but be consistent in your choice to maintain consistent drug absorption. The medication may be provided as a tablet that can be split if needed; refer to the Patient Instruction Sheet or consult your pharmacist for guidance on breaking the pill for the correct dose. Grapefruit and grapefruit juice should be avoided unless your doctor or chemist has indicated it is safe, as grapefruit can raise the risk of side effects. Your medical condition and reaction to treatment will determine the dosage. To get the most out of the drug, take it simultaneously daily. It is crucial to know that when you first start taking buspirone, your anxiety symptoms may worsen before they improve. The medication's full effectiveness may take months or longer to be felt.
Important Information About Buspirone
Following are some points that you should know about Buspirone:
Buspirone may interact with certain medications, including MAO inhibitors, SSRIs, and antifungal drugs. 

Consuming grapefruit or grapefruit juice may raise your chance of adverse effects.

Buspirone should not be taken within 14 days of using MAO inhibitors, as a dangerous interaction can occur.

Inform your doctor about all medications, including over-the-counter drugs and supplements, to prevent potential cross-reactions.

Dizziness, sleepiness, headache, nausea, and lightheadedness are common adverse effects.

Severe but rare side effects may include muscle stiffness, tremors, and confusion.
Does buspirone work immediately?
After you take your first dose of buspirone, it will begin to function. However, unlike other anxiety drugs, it does not take effect immediately. Because buspirone affects chemical levels in the brain, it may take 2 to 4 weeks for the full impact to be felt.
How much is Buspirone without insurance?
The cost of buspirone without insurance varies depending on factors, including the pharmacy from which you acquire it, the dosage strength provided, and your region. Furthermore, medicine prices can fluctuate over time. A 30-day supply may cost between $10 and $50.
Does buspirone cause acne?
Acne is not a commonly reported side effect of buspirone. The increase depends on the dose. Buspirone can increase acne because it is linked to a dose-dependent elevation in prolactin levels.
Can I take buspirone if I'm pregnant?
According to the United States Food and Drug Administration (FDA), pregnant women should not get Buspar prescriptions unless necessary.
How does buspirone make you feel?
Taking buspirone may cause sleepiness. It may also lengthen the time it takes you to react, impairing your judgment. If this occurs, do not drive and avoid using tools or equipment. While on buspirone, avoid drinking alcohol or significant amounts of grapefruit juice.
How long does it take for Buspirone to work?
Buspirone is a drug that only works slowly. It may take two to four weeks before you notice a difference. In other words, even if you don't feel better immediately away, you should keep taking the prescription as directed.
What can you not take with buspirone?
MAOIs, diltiazem, and Paxlovid can all interact with buspirone. It also has the potential to interact with erythromycin and grapefruit juice. Most of these buspirone interactions can increase your chances of experiencing adverse effects. By modifying your buspirone dosage, you can control or avoid many interactions.
Is buspirone a controlled substance?
Although buspirone is not a controlled substance, several medications used to treat anxiety are.
Does buspirone cause weight gain?
Yes, buspirone can cause weight gain or weight loss. But these side effects were rare in studies of the drug.
Does buspirone make you sleepy?
Taking buspirone may cause sleepiness. It may also lengthen the time it takes you to react, impairing your judgment.
Can Buspar cause irregular heartbeat?
Yes, buspirone (Buspar) has been reported to cause rare cases of irregular heartbeat or palpitations.
What happens if I miss a dose of BuSpar?
Administer the following dose as usual. If you usually administer it three times every day. Do not administer the missed dose. Administer the next dose as usual.
What time of day should you take BuSpar?
Buspirone is typically administered two to three times per day. Twice a day: once in the morning and once in the evening. These times should ideally be 10-12 hours apart, for example, between 7 and 8 a.m. and 7 and 8 p.m.
Who should not take BuSpar?
Do not take buspirone if you also take a monoamine oxidase (MAO) inhibitor, such as phenelzine, isocarboxazid, selegiline, or tranylcypromine. You run the risk of getting dangerously high blood pressure if you do.
What happens if I take too much BuSpar?
If you take an extra dose of Buspar by accident, it is unlikely to cause significant difficulties. You may experience additional adverse effects such as nausea, dizziness, or sleepiness. There's also a chance you'll have no new adverse effects.
Can I get buspirone over the counter?
Buspirone is now only available through prescription. This means that a licenced healthcare professional must authorize this medication. You can get a refill of Buspirone at your doctors online platform.
This is the best app..You ask anything and the doctors answer you within minutes, i love it

-Phindile Mkhatshwa


It is a good app, it can be helpful with pictures and be very detailed.

-brooke snow


Wow, these people are such a blessing. Dey give accurate answered to questions asked. Its really too good

-Okiti Stephanie


Impressive work !! Connecting to a doctor was so quick. I am really impressed.

-ASIF Khan


Doctor was really great, fast at responding very helpful

-Chelsey


Chat with them the doctor that I chat with very helpful and answer all my questions I recommend to anyone

-edith bien aime


The best patient doctors that understand and give you useful information ..I'm really thankful.

-Lesego Thejane


Very informative and very detailed in explanations.Also pleasant and courteous.I would recommend to anyone.

-Stephanie Brown


Very helpful, very polite and answers every question in a well mannered way.

-kulwinder gill


I really rate this website a lot, you people don't stick and and im sure you try your best to take swift actions for your patients.

-Elijah Mark


Talk to online doctors now and get medical advice, online prescriptions, and referrals within minutes. On-demand healthcare services at your fingertips.