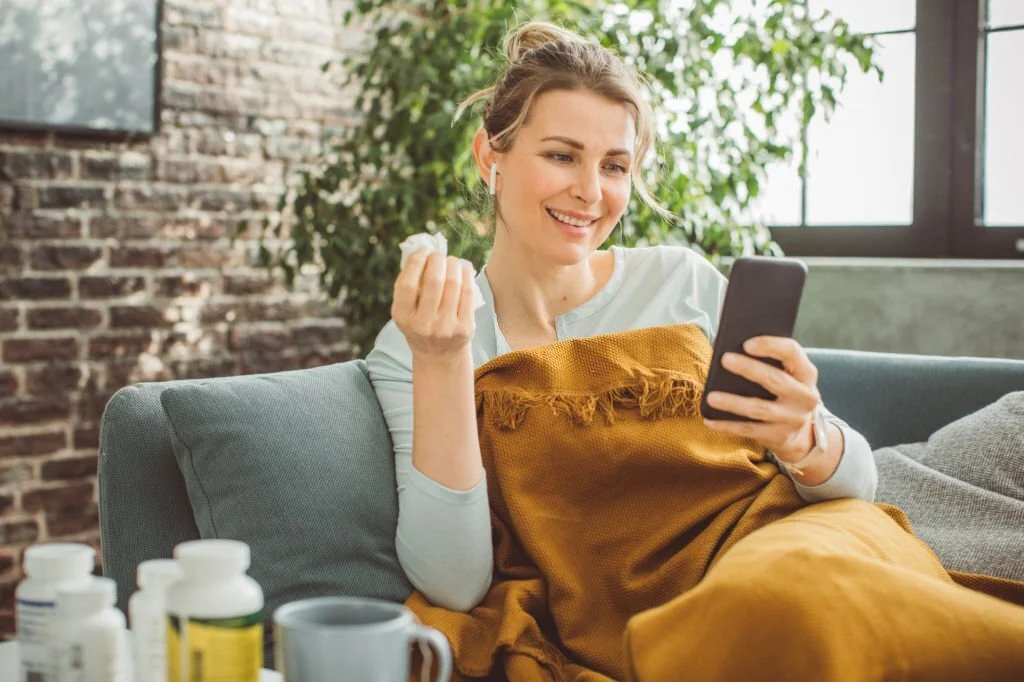 Get a Prescription for Baclofen Online
Baclofen is a medication that helps relax muscles and is often used to treat muscle spasms and stiffness. If you have these conditions, you can refill Baclofen online. Obtaining a Baclofen prescription online is simple; visit Your Doctors Online and connect with a doctor anytime, anywhere. Our online doctor will ask about your symptoms to determine treatment. They may suggest a follow-up appointment or clinic visit.
Please know that a Baclofen refill will only be provided after a consultation with our doctor and if the medication is appropriate and safe.
How to Connect with an Online Doctor?
Connect with a health care professional online in 3 easy steps.
Download our app, register and tell us about your medical issue to get started.
Muscle Relaxant
Anemia
STD
UTI
Skin
Covid
Connect with a board-certified doctor. You can chat, send pictures and videos.
Hi I'm dr. Nicole. How may I help you?
Dr. Nicole, I am experiencing pain in my spinal cord; I feel better after taking Baclofen. Can you give me a Baclofen?

Our online doctors can help you with your medical issues and give you prescriptions.
Baclofen 10 mg tablet, take one tablet thrice daily for a week.
Send Prescription
What is Baclofen and How to Take It
Baclofen is a skeletal muscle relaxant and can be found in tablet and liquid forms. It comes under brand names, such as Lioresal and Gablofen. Cyclobenzaprine and Tizanidine are other muscle relaxants with similar therapeutic effects to Baclofen.
Baclofen acts on the GABA-B receptors found in the central nervous system. As a result, it can reduce pain and stiffness in the muscles. It alleviates spasms by decreasing excitatory neurotransmitter release in presynaptic neurons and increasing inhibitory neuronal signaling in postsynaptic neurons.
Baclofen comes in different forms, like tablets and oral solutions. When it comes to children younger than 12 years of age, the appropriate use and dosage of Baclofen should be determined by their doctor. For adults, the typical starting dose is 5mg, taken three times a day, with each dose spaced about 6-8 hours apart.
Important Information About Baclofen
Baclofen is a muscle Relaxant. You will require a prescription for Baclofen. Here are some essential points that you should know about this drug:

Some common side effects of Baclofen can include feeling tired, dizzy, weak, experiencing nausea, or having headaches. If you notice any of these side effects persist or worsen, talk to your doctor.




Serious side effects of Baclofen may include allergic reactions, hallucinations, confusion, difficulty breathing, liver problems, and seizures. These are serious side effects, and if you experience any of these, you should try seeking immediate medical attention.




When you're taking baclofen, be mindful of the drug interactions with certain medications like benzodiazepines, opioids, some sleep medications, barbiturates, montelukast sodium, etc. There is no evidence or studies that show any harm in using Baclofen in Pregnancy or breastfeeding. Your doctor may recommend Baclofen to you during pregnancy if the benefits outweigh the risks.
Is Baclofen over the counter?
Baclofen is not something you can buy without a prescription. You'll need a doctor's prescription for it. Reach out to our online doctor via our app for a prescription refill.
What to avoid while taking Baclofen?
While taking baclofen, it's important to avoid alcohol, other CNS depressants, and activities that require focus, like operating machinery or driving. It would be wise to contact online doctors for further guidance on taking baclofen and any specific concerns you may have.
Is Baclofen a controlled substance?
No, baclofen is not a controlled substance. It is a prescription medication used to alleviate muscle spasms and stiffness. Your doctor may prescribe it to you if he finds it necessary, given your symptoms and condition.
Baclofen acts on the GABA-B receptors found in the central nervous system. As a result, it can reduce pain and stiffness in the muscles. It alleviates spasticity by decreasing excitatory neurotransmitter release in presynaptic neurons and increasing inhibitory neuronal signaling in postsynaptic neurons.
How long does Baclofen stay in your system?
Baclofen takes 10 to 20 hours to completely clear out of your system. However, the duration varies based on your age and dosage. It is better to consult a healthcare provider if you have any other questions about taking Baclofen.
Is Baclofen a muscle relaxer?
There is absolutely no doubt that baclofen possesses remarkable muscle relaxant properties. This medication is frequently prescribed to address the symptoms of muscle spasms and stiffness.
Does Baclofen cause weight gain?
Some individuals may experience weight gain as a potential side effect of taking baclofen. If you have concerns about Baclofen, it is advisable to consult with a healthcare professional who can provide personalized advice.
How many hours between Baclofen doses?
Baclofen doses are usually taken thrice daily and spaced out around 6 to 8 hours apart. To achieve the best results, it is important to adhere to the guidance provided by your healthcare professional.
Can you take Baclofen with ibuprofen?
There is no interaction found between ibuprofen and baclofen. It is always advisable to consult with a healthcare professional to ensure accuracy. Share the complete list of medications you are taking to ensure.
How long does Baclofen take to work?
Baclofen usually kicks in within an hour, but it might take a few days to feel the full effects. Just be patient and consistent with your medication.
Can Baclofen cause heart problems?
There have been cases where baclofen has been associated with heart problems. Be aware of potential risks and discuss them with your healthcare professional. They will provide you with personalized guidance based on your specific medical history and needs.
Is Baclofen stronger than Flexeril?
Muscle relaxants like Baclofen and Flexeril work in different ways. Depending on the person and the specifics of their condition/response, one may prove more beneficial than the other. Get advice from our virtual medical professionals about which treatment option is best for you.
Who should not take Baclofen?
For children under one month old, tablets and syrup should not be given. Additionally, injections should not be administered to children under four years old. If you have any of these conditions, like hypertension, a history of stroke, kidney disease, pregnancy, breastfeeding, or seizures, you should consult your doctor before starting baclofen.
What are the Baclofen alternatives?
If you're looking for alternatives to baclofen, there are a few other muscle relaxants that your doctor may consider based on your specific needs and medical history. Some potential alternatives include Flexeril (cyclobenzaprine), Metaxalone, and Tizanidine.
This is the best app..You ask anything and the doctors answer you within minutes, i love it

-Phindile Mkhatshwa


It is a good app, it can be helpful with pictures and be very detailed.

-brooke snow


Wow, these people are such a blessing. Dey give accurate answered to questions asked. Its really too good

-Okiti Stephanie


Impressive work !! Connecting to a doctor was so quick. I am really impressed.

-ASIF Khan


Doctor was really great, fast at responding very helpful

-Chelsey


Chat with them the doctor that I chat with very helpful and answer all my questions I recommend to anyone

-edith bien aime


The best patient doctors that understand and give you useful information ..I'm really thankful.

-Lesego Thejane


Very informative and very detailed in explanations.Also pleasant and courteous.I would recommend to anyone.

-Stephanie Brown


Very helpful, very polite and answers every question in a well mannered way.

-kulwinder gill


I really rate this website a lot, you people don't stick and and im sure you try your best to take swift actions for your patients.

-Elijah Mark


Talk to online doctors now and get medical advice, online prescriptions, and referrals within minutes. On-demand healthcare services at your fingertips.