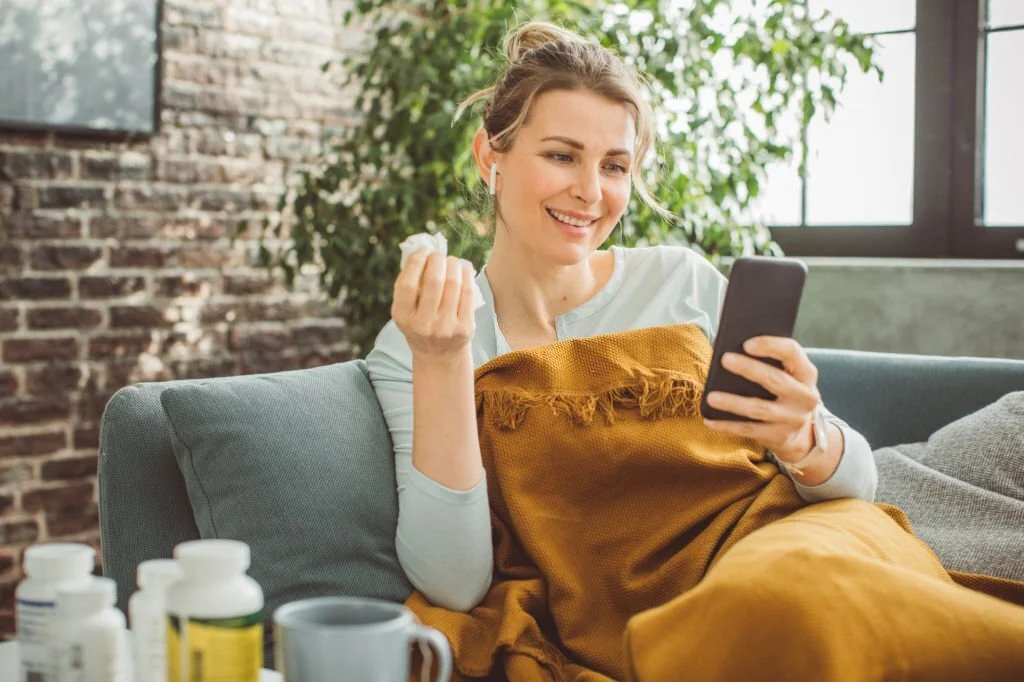 Get a Prescription for Imidazole (Clotrimazole) Online
Clotrimazole is an antifungal medication that treats fungal infections like Athlete's foot (tinea pedis) and Ringworm (tinea corporis). You can get an imidazole (clotrimazole) prescription online by connecting with our online doctor at Your Doctors Online, who will ask you to describe your symptoms to determine the best course of treatment. Then, if deemed necessary, they may recommend a follow-up appointment or a visit to a clinic.
However, please note a prescription will only be provided after consultation with the doctor and if the treatment is considered suitable and safe for you.
How to Connect with an Online Doctor?
Connect with a health care professional online in 3 easy steps.
Download our app, register and tell us about your medical issue to get started.
Skin
Anemia
STD
UTI
Skin
Covid
Connect with a board-certified doctor. You can chat, send pictures and videos.
Hi I'm dr. Nicole. How may I help you?
Hi Dr. Nicole, I have ringworm, and it is itching bad. Can I get some form of treatment, please?

Our online doctors can help you with your medical issues and give you prescriptions.
Clotrimazole, Cream/ Ointment 1%

Loratadine, 10 mg, Take one tablet once a day, preferably at night.

Terbinafine,  250mg, Take one tablet once daily for 30 days.
Send Prescription
What is Imidazole (Clotrimazole) and How to Take It
Itraconazole (Sporanox), miconazole, and other synthetic antifungal medications in the imidazole class include clotrimazole. As an imidazole, clotrimazole affects the fungi's metabolic activities and lowers levels of ergosterol, an essential sterol for the cytoplasmic membrane.
With some resistance observed in Candida species, the drug clotrimazole is expected to be effective against the strains of Trichophyton rubrum, Trichophyton rubrum, and Epidermophyton floccosum. Sometimes, clotrimazole and betamethasone dipropionate (Diprolene) are combined to make a cream sold as Lotrisone for the topical treatment of tinea cruris, tinea corporis and tinea pedis.
Clotrimazole can also be used to treat yeast infections. Treatment for fungal skin infections like eczema, ringworm, athlete's foot, psoriasis, jock itch, and dermatoses involves clotrimazole and mometasone furoate.
Clotrimazole lozenges over the counter are not available. Clotrimazole tablets are meant to be held in the mouth, dissolving slowly for 15 to 30 minutes. Saliva can be swallowed during this time, but the tablets should not be chewed or swallowed whole. It is essential to complete the entire course of treatment, even if symptoms are improving, to ensure the infection is fully cleared. Kids under three years old should not use the tablets.
For thrush treatment in adults and children over three years old, one 10-milligram tablet should be dissolved in the mouth five times a day for at least two weeks. For thrush prevention, the exact dosage is taken three times a day. For topical, a thin layer on the lesion can be applied twice a day, 12 hours apart.  Follow your doctor's instructions and do not miss any doses.
Important Information About Imidazole (Clotrimazole)
Following are some points that you should know about imidazole (clotrimazole):
Clotrimazole may interact with certain drugs, such as anticoagulants and oral hypoglycemic agents. 

Clotrimazole may not be effective against bacterial or viral infections. It is designed explicitly for fungal infections, and its use for other conditions should be avoided.

While generally well taken, clotrimazole, like other antifungal drugs, can have adverse effects. At the application location, clotrimazole cream might cause redness, irritation, discomfort, and atrophy. Other adverse effects of using clotrimazole include striae and growth retardation.

People who have previously had hypersensitivity or an adverse reaction to the prescription drug clotrimazole shouldn't take it. 

Alcohol and clotrimazole shouldn't be combined. 
FAQs About imidazole (Clotrimazole)
Can you buy clotrimazole over the counter?
Clotrimazole is a medication that may be purchased without a prescription over the counter (OTC) in many nations. It is typically available without a prescription from a doctor in the form of creams, lotions, powders, and vaginal suppositories that can be bought from pharmacies and drugstores.
How long does clotrimazole troche take to work?
After swallowing your dose, the clotrimazole lozenge is absorbed by the body and starts to cure oral thrush within 30 to 60 minutes. Most individuals begin to feel better in about a week, but it takes two weeks to entirely eradicate the fungus that is the source of your problem.
Is imidazole the same as clotrimazole?
Clotrimazole is one of the original imidazole compounds created for topical, broad-spectrum antifungal therapy.
How can I refill my Imidazole prescription?
You will need to consult with our online doctor at Your Doctors Online to refill your Imidazole online prescription. After discussing our medical concerns and history, our online doctor can send your prescription to your preferred local pharmacy.
Who should not take Imidazole?
Since there is a large family of chemicals known as imidazoles, it is crucial to identify the particular imidazole in concern. However, in general, persons allergic to or have previously experienced negative responses to medications based on imidazole should avoid taking those prescriptions.
What are the dangers of Imidazole?
Imidazole itself is generally considered safe when used in appropriate amounts. However, specific imidazole derivatives, such as certain medications or chemicals, may pose dangers if misused or ingested in large quantities. Potential hazards can include allergic reactions, skin irritation, or adverse effects on health.
What happens if I take too much Imidazole?
Imidazole overdose symptoms and allergic reactions are all possible consequences of taking too much imidazole or its derivatives.
This is the best app..You ask anything and the doctors answer you within minutes, i love it

-Phindile Mkhatshwa


It is a good app, it can be helpful with pictures and be very detailed.

-brooke snow


Wow, these people are such a blessing. Dey give accurate answered to questions asked. Its really too good

-Okiti Stephanie


Impressive work !! Connecting to a doctor was so quick. I am really impressed.

-ASIF Khan


Doctor was really great, fast at responding very helpful

-Chelsey


Chat with them the doctor that I chat with very helpful and answer all my questions I recommend to anyone

-edith bien aime


The best patient doctors that understand and give you useful information ..I'm really thankful.

-Lesego Thejane


Very informative and very detailed in explanations.Also pleasant and courteous.I would recommend to anyone.

-Stephanie Brown


Very helpful, very polite and answers every question in a well mannered way.

-kulwinder gill


I really rate this website a lot, you people don't stick and and im sure you try your best to take swift actions for your patients.

-Elijah Mark


Talk to online doctors now and get medical advice, online prescriptions, and referrals within minutes. On-demand healthcare services at your fingertips.