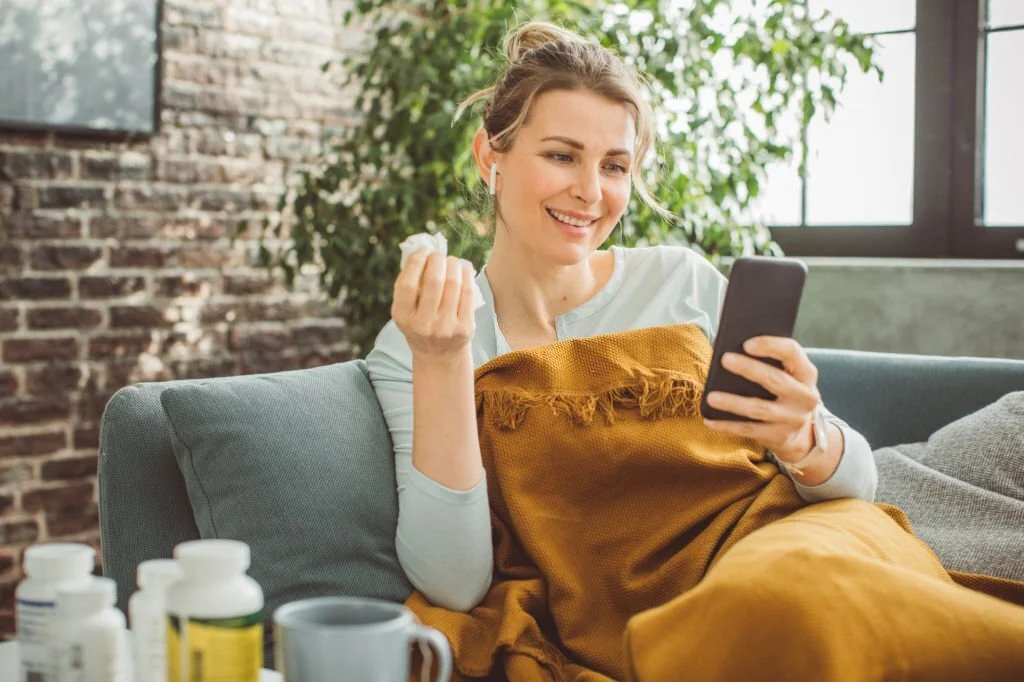 Get a Tranexamic Acid Prescription Refill Online
Tranexamic Acid is a medicine that is prescribed to help women with heavy periods. It is also prescribed to address nosebleeds and hereditary angioedema and as a short-term preventive measure for patients with hemophilia. If you have these conditions, you can refill Tranexamic Acid online. Obtaining a Tranexamic Acid prescription online is simple; visit Your Doctors Online and connect with a doctor anytime, anywhere. Our online doctor will ask about your symptoms to determine treatment. They may suggest a follow-up appointment or clinic visit.
Please know that a Tranexamic Acid refill will only be provided after a consultation with our doctor and if the medication is appropriate and safe.
How to Connect with an Online Doctor?
Connect with a health care professional online in 3 easy steps.
Download our app, register and tell us about your medical issue to get started.
Period Issues
Anemia
STD
UTI
Skin
Covid
Connect with a board-certified doctor. You can chat, send pictures and videos.
Hi I'm dr. Nicole. How may I help you?
Dr. Nicole, I experience heavy menstrual bleeding; Can you give me a Tranexamic Acid refill?

Our online doctors can help you with your medical issues and give you prescriptions.
Tranexamic Acid 650 mg tablet.

Take two tablets thrice daily.
Send Prescription
What is Tranexamic Acid and How to Take It
Tranexamic Acid belongs to the class of antifibrinolytics and is commercially available under the brand names Lysteda and Cyklokapron. You can get it as a pill in either 500 mg or 650 mg strengths. IV injection of Tranexamic Acid with a concentration of 100 mg/ml as a single vial dose is also available. Aminocaproic acid and Desmopressin are members of the same class.
Tranexamic Acid acts as a competitive inhibitor and targets the activation of plasminogen to plasmin. Plasmin is responsible for breaking down fibrin. By interfering with the plasminogen activation process, Tranexamic Acid slows down the breaking of blood clots and reduces bleeding.

For adults, the typical dose of Tranexamic Acid tablets is two tablets (500-650 mg per tablet) taken three times a day, with or without food, for five days for heavy menstrual bleeding. It is recommended not to break, crush, or chew the tablets and to swallow the tablet whole with a glass of water.
Important Information About Tranexamic Acid
Tranexamic Acid is a type of medication that helps prevent excessive bleeding. You need a doctor's prescription to get Tranexamic Acid. Here are some essential points that you should know about this drug:

Common side effects of Tranexamic Acid include nausea, stomach upset, headache, fatigue, joint or muscle pain, mild itch or rash, and lightheadedness.




Serious side effects associated with Tranexamic Acid include seizures, pulmonary embolism, deep vein thrombosis, allergic reactions such as hives, difficulty breathing, and swelling of the face and lips.
Tranexamic Acid has the potential to interact with various other drugs, such as blood thinners (anticoagulants) like warfarin and heparin, drugs that inhibit bleeding, and anti-inhibitor coagulant complex, chlorpromazine, and tretinoin.
FAQs About Tranexamic Acid
Do you need a prescription for Tranexamic acid?
Yes, Tranexamic Acid requires a prescription from a licensed doctor. You need a prescription from a doctor to obtain it from a pharmacy. Get in touch with our doctor to obtain prescription for Tranexamic acid online.
How many Tranexamic Acid can I take to stop bleeding?
The dosage of Tranexamic Acid may vary depending on the condition being treated. For heavy menstrual bleeding, the usual adult dose is two tablets orally three times a day for five days of menstruation.
Can Tranexamic Acid stop periods?
Tranexamic Acid can help reduce heavy menstrual bleeding but does not stop periods. You can always discuss Tranexamic Acid with one of our qualified professionals online if you notice any serious adverse effects.
Which tablet is best for stopping bleeding in periods?
Tranexamic Acid tablets are prescribed to help women with heavy periods. But if you experience any unusual side effects, you can always reach out to our doctor online without the need to see a doctor in person.
How do you stop heavy bleeding fast?
If you have a lot of bleeding, make sure to get in touch with your doctor. Your doctor might suggest taking medications like Tranexamic Acid to help decrease bleeding. Other treatments for this condition might involve using birth control that affects hormones, taking drugs that reduce inflammation without steroids, or having surgery if the condition is very serious.
Who should not take tranexamic?
Tranexamic Acid should not be used in patients with subarachnoid hemorrhage if they are allergic to Tranexamic Acid or any of its ingredients or those with active blood clotting in the blood vessels. Tranexamic Acid should not be used in women who have stopped having periods (postmenopausal).
This is the best app..You ask anything and the doctors answer you within minutes, i love it

-Phindile Mkhatshwa


It is a good app, it can be helpful with pictures and be very detailed.

-brooke snow


Wow, these people are such a blessing. Dey give accurate answered to questions asked. Its really too good

-Okiti Stephanie


Impressive work !! Connecting to a doctor was so quick. I am really impressed.

-ASIF Khan


Doctor was really great, fast at responding very helpful

-Chelsey


Chat with them the doctor that I chat with very helpful and answer all my questions I recommend to anyone

-edith bien aime


The best patient doctors that understand and give you useful information ..I'm really thankful.

-Lesego Thejane


Very informative and very detailed in explanations.Also pleasant and courteous.I would recommend to anyone.

-Stephanie Brown


Very helpful, very polite and answers every question in a well mannered way.

-kulwinder gill


I really rate this website a lot, you people don't stick and and im sure you try your best to take swift actions for your patients.

-Elijah Mark


Talk to online doctors now and get medical advice, online prescriptions, and referrals within minutes. On-demand healthcare services at your fingertips.