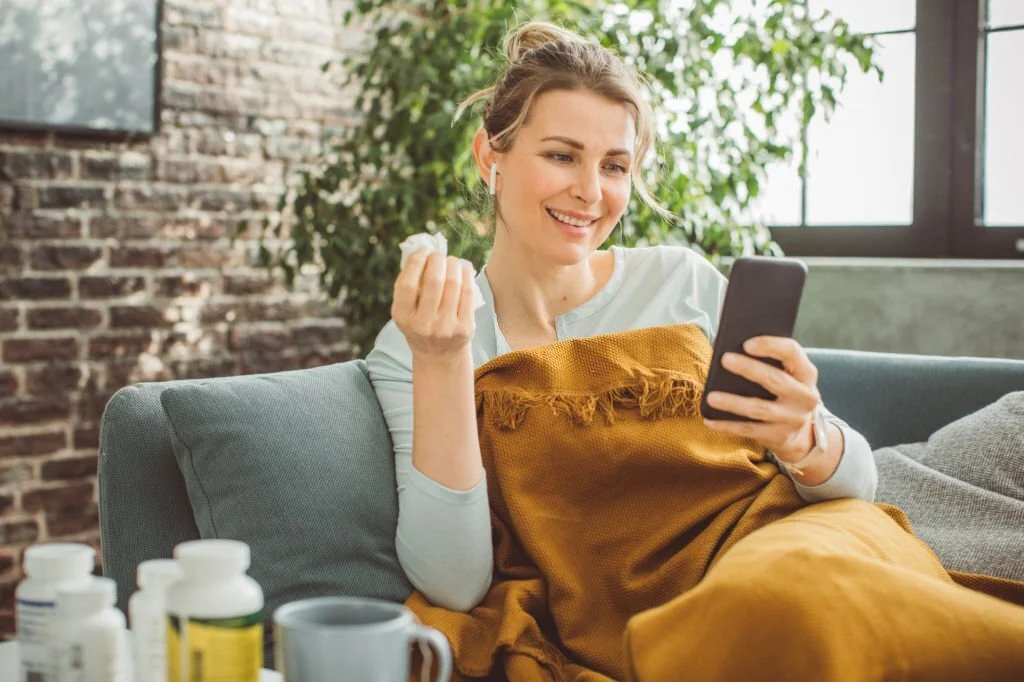 Get Zpack Azithromycin prescription online
Azithromycin® can be used to treat various bacterial infections, including throat infections, ear infections, pneumonia, sinusitis, and traveller's diarrhea. 
Getting an Azithromycin online prescription is very straightforward; you can connect with a doctor at any time and place of your choice at Your Doctors Online. However, please note a prescription will only be provided after consultation with the doctor and if the treatment is considered suitable and safe for you.
Request Azithromycin prescription online
Get online prescription for Azithromycin in three easy steps.
Download our app, register and tell us about your medical issue to get started.
Cold & Flu
Sexual Health
Anemia
UTI
Skin
Covid
Connect with a board-certified doctor. You can chat, send pictures and videos.
Hi I'm Dr. Nicole. How may I help you?
Hi Dr. Nicole, I have a fever and a terrible sore throat. Can I get antibiotics for that, please?



Our online doctors can help you with your medical issues and give you prescriptions.
Azithromycin 250mg


Two tablets on day 1 and then one tablet for the next 4 days
Send Prescription
Z-pack antibiotics can be prescribed for pharyngitis, COPD exacerbations, and skin infections. Azithromycin for chlamydia treatment is another use.
Azithromycin prescription medication is available under the brand names of Zithromax and Z-pak. Azithromycin is available as a tablet or oral suspension. It can be taken with or without food and preferably at the same time every day.
Azithromycin medication binds to a ribosomal subunit in a bacteria. This, in turn, blocks protein synthesis and stops the bacteria from multiplying.
Important information about Azithromycin
While it is easy to get azithromycin online prescription, here are some points that you should know:
Commonly experienced side effects of Zpack include diarrhoea, nausea, vomiting and abdominal pain.

Some severe side effects that require immediate medical attention include dark urine, difficulty speaking, hearing disturbances, dizziness, severe abdominal pain, irregular heartbeat and yellowing of the eyes.

Do not take Zpack if you are allergic to Azithromycin.
Do I need a prescription for Azithromycin?
You can't buy Azithromycin without a prescription or z pack over the counter. Azithromycin is a prescription-only medication, and hence you will require a prescription from a licensed physician. You can get an Azithromycin Zpack prescription online by consulting with an online doctor at Your Doctors Online.
How do you use Azithromycin?
When you are provided with an online azithromycin prescription, the doctor will explain the dosage and duration of the treatment according to your condition and age. However, please keep in mind that if you miss a dose and remember after twelve hours have passed, please skip that particular dose and take the next one on time. You must finish taking the pills as prescribed, even if symptoms have resolved.
How can I refill my Z-Pack (Azithromycin) prescription?
You can't get Zithromax online without a prescription and must consult a doctor to get a refill. You can get an azithromycin prescription online by consulting with an online doctor like Your Doctors Online.
What is the usual prescription for Azithromycin?
Azithromycin is available in 250 and 500mg strength tablets. For instance, the Z pack for covid and the Z pack for bronchitis may be prescribed in different dosages, azithromycin 250 mg and azithromycin 500 mg tablets.
How quickly does Azithromycin work?
This antibiotic starts working within a few hours of consumption. However, for symptoms to significantly improve, it can take a few days.
Why is Azithromycin given for 3 days only?
The duration of treatment depends on the type of the illness/infection. Azithromycin can be prescribed for 3-10 days.
Will 500mg of Azithromycin cure chlamydia?
A 1g of a single dose of Azithromycin is usually sufficient and prescribed to cure Chlamydia. This can be taken as four tablets of 250mg or 2 tablets of 500mg of Azithromycin pills.
What can I take instead of Z-Pack?
Some alternatives commonly prescribed instead of azithromycin include: Amoxicillin, Clindamycin, Cephalexin, Ceftriaxone, Ciprofloxacin, Metronidazole.
Is a Zpack good for a sinus infection?
Amoxicillin-clavulanate is the first-line treatment for such kinds of infections. The use of Z-pack may be reserved for individuals who have certain drug allergies.
Can you drink alcohol with Azithromycin?
Drinking alcohol while taking Azithromycin is not recommended as they have an interaction. Doing so may result in exacerbated side effects, including headache, lightheadedness, vomiting, diarrhoea and liver issues.
What bacteria does Azithromycin not treat?
Azithromycin is more effective against gram-positive bacteria and may not be that effective against severe infections caused by gram-negative ones.
Is Azithromycin safe during pregnancy?
In case of an infection, Azithromycin is generally considered to be safe if taken during pregnancy. The treatment depends on the type of infection, and your doctor will determine if you have other safer or better options.
Should I avoid certain drugs while taking Azithromycin?
Medications that interact with Azithromycin include warfarin, digoxin, and birth control pills. It is best to avoid taking antacids such as Magnesium or Aluminum two hours before taking Azithromycin as these can make Azithromycin less effective.
Can Azithromycin be used to treat ear infections?
Azithromycin can be used to treat different bacterial infections. Treatment depends on the symptoms and the condition. It is best to consult a doctor first for proper diagnosis and treatment.
What time of day should Z-Pack (Azithromycin) be taken?
It is advisable to take Azithromycin at the same time each day. Usually, the morning time is recommended, as some patients have reported trouble sleeping after taking the pills. The pills should be taken at least 1 hour before food or 2 hours after a eating.
This is the best app..You ask anything and the doctors answer you within minutes, i love it

-Phindile Mkhatshwa


It is a good app, it can be helpful with pictures and be very detailed.

-brooke snow


Wow, these people are such a blessing. Dey give accurate answered to questions asked. Its really too good

-Okiti Stephanie


Impressive work !! Connecting to a doctor was so quick. I am really impressed.

-ASIF Khan


Doctor was really great, fast at responding very helpful

-Chelsey


Chat with them the doctor that I chat with very helpful and answer all my questions I recommend to anyone

-edith bien aime


The best patient doctors that understand and give you useful information ..I'm really thankful.

-Lesego Thejane


Very informative and very detailed in explanations.Also pleasant and courteous.I would recommend to anyone.

-Stephanie Brown


Very helpful, very polite and answers every question in a well mannered way.

-kulwinder gill


I really rate this website a lot, you people don't stick and and im sure you try your best to take swift actions for your patients.

-Elijah Mark


Talk to online doctors now and get medical advice, online prescriptions, and referrals within minutes. On-demand healthcare services at your fingertips.