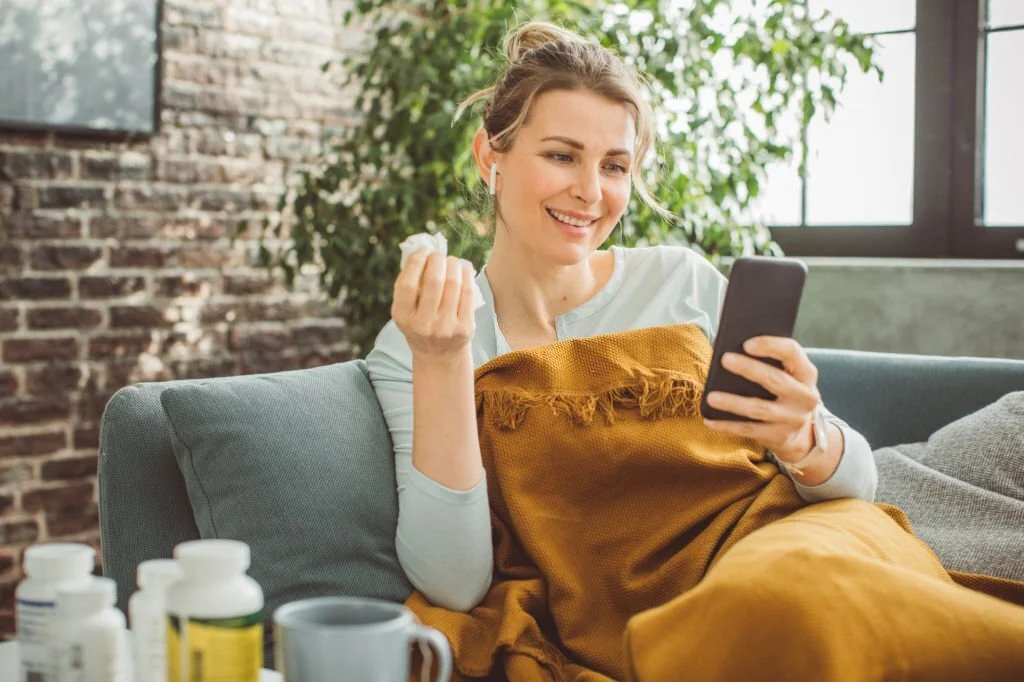 Get Seasonique Prescription Refill Online
Seasonique commonly belongs to the contraceptive class of drugs. It is used as a birth control pill. Seasonique is a hormone combination, usually consisting of the estrogen ethinyl estradiol and the progestin levonorgestrel. Obtaining a Seasonique prescription online is straightforward; visit Your Doctors Online and connect with a doctor anytime, anywhere. To determine the best course of treatment, our online doctor will ask you to describe your symptoms. They may then recommend a follow-up appointment or a visit to a clinic if deemed necessary. Please know that a Seasonique refill will only be provided after a consultation with our doctor and if the medication is deemed appropriate and safe.
How to Connect with an Online Doctor?
Connect with a health care professional online in 3 easy steps.
Download our app, register and tell us about your medical issue to get started.
Birth Control
Anemia
STD
UTI
Skin
Covid
Connect with a board-certified doctor. You can chat, send pictures and videos.
Hi I'm dr. Nicole. How may I help you?
Dr. Nicole, I am taking birth control pills as I don't want to conceive for now. Can you give me a Seasonique refill?

Our online doctors can help you with your medical issues and give you prescriptions.
Seasonique (0.15 mg of levonorgestrel/0.03 mg of ethinyl estradiol)
Take one light blue-green tablet for 84 days.
Send Prescription
Uses of Seasonique and How to Take It
Seasonique is a contraceptive used as a combination medicine that has the active ingredient Levonorgestrel which is a progestin, and ethinyl estradiol. Other brands that have these active ingredients, like Seasonique, include, Afirmelle, Altavera, Amethia, Ashlyna, Camrese, Daysee, Fayosim, Quartette, and Rivelsa are available in the market. It is available in extensive cycle tablet dispensers, yellow dispensers, and light blue-green tablets.
Seasonique, an extended-cycle hormonal contraceptive, prevents ovulation, thickens cervical mucus to block sperm, and changes the uterine lining to reduce implantation. The extended-cycle format has four periods per year, with active hormone pills taken for 84 days, followed by a shorter period of hormone-free or placebo pills for seven days. Its synthetic estrogen and progestin hormones prevent pregnancy.
Start taking one light blue-green levonorgestrel/ethinyl estradiol, Seasonique tablet daily on the first Sunday after the onset of your menstruation. If your period starts on Sunday, take the first tablet that day. Take the pill at the same time for 84 days. After the light blue-green tablets, take one yellow ethinyl estradiol tablet daily for seven days. For maximum contraceptive efficacy, Seasonique must be taken daily at the same time and not more than 24 hours apart. Use condoms or spermicide until you have taken the light blue-green tablets for seven days. Yellow tablets should be taken for seven days within a scheduled period.
Important Information About Seasonique
Seasonique is a contraceptive drug. You will require a prescription for Seasonique. Here are some essential points that you should know about this drug:
Seasonique can cause various unwanted side effects, such as mild nausea, dizziness, headache, acne, mood changes, weight gain, nausea, bloating, and vaginal bleeding between periods.
Seasonique can interact with other drugs; for example, HIV/AIDs medications, barbiturate sedatives, and hepatitis C medications. These can reduce the efficacy of Seasonique in preventing pregnancy.
Some people may have more severe side effects, blood clots, liver problems, strokes, heart attack, and gallbladder disease. See your doctor if you notice a severe allergic reaction, yellowing of the skin or eyes, or unusual tiredness or weakness after taking Seasonique.
Does Seasonale make you gain weight?
No, Seasonale and other contraceptive medications are not associated with weight gain.
Is Seasonique a low-dose pill?
Seasonique is not considered a low-dose pill, as it combines two hormones called progestin (levonorgestrel) and estrogen (ethinyl estradiol) taken for 84 consecutive days.
What medications are similar to Seasonique?
Some medications similar to Seasonique include Amethia, Daysee, Camrese, Ashlyna, and Jamiess.
Which is better, Seasonale or Seasonique?
Seasonale has 84 active pills and seven placebo pills, resulting in a period that lasts for seven days every three months. Seasonique causes a period that lasts for four days every three months with 84 active pills and seven low-dose estrogen pills. Seasonique is better for shorter periods and heavy bleeding, while Seasonale is better for predictable cycles. Both are effective birth control with similar side effects and risks.
What is the difference between Jolessa and Seasonique?
Jolessa and Seasonique, extended-cycle combination hormonal contraceptives, limit menstrual cycles to four per year. Periods last seven days every three months with Jolessa, while with Seasonique, periods last four days. Individual preferences for period duration and intensity may determine the choice of medication. Both are effective birth control methods with similar side effects and risks.
How long before Seasonique is effective?
Start Seasonique on Day 1 of your menstrual cycle to prevent pregnancy immediately. This allows unprotected sexual activity without backup contraception. If you start Seasonique at any other time during your menstrual cycle, use condoms for the first seven days. Seasonique's hormones may take seven days to fully suppress ovulation and provide maximum contraception.
What precautions should I be aware of with Seasonique?
Seasonique should be used safely and effectively. Use condoms or spermicide for the first week. Smoking may increase cardiovascular risk. To avoid interactions, tell your doctor about your medications, conditions, and supplements. Report adverse reactions. Since Seasonique doesn't prevent STIs, use a barrier contraceptive like condoms.
How do I stop taking Seasonique birth control?
Your doctor should advise you before stopping Seasonique. To maximize contraceptive efficacy and prevent unintended pregnancy, finish your current cycle. To remain safe after discontinuing Seasonique, use condoms or spermicide for seven days. Be aware of side effects like mood, menstrual bleeding, and breast tenderness, which should resolve within a few weeks. Consult your doctor if side effects worsen.
Who should not take Seasonique?
You should avoid Seasonique, especially if you are pregnant or breastfeeding or have a history of blood clots, heart disease, stroke, severe liver disease, certain cancers, uncontrolled high blood pressure, migraines with aura, or are a smoker over 35.
This is the best app..You ask anything and the doctors answer you within minutes, i love it

-Phindile Mkhatshwa


It is a good app, it can be helpful with pictures and be very detailed.

-brooke snow


Wow, these people are such a blessing. Dey give accurate answered to questions asked. Its really too good

-Okiti Stephanie


Impressive work !! Connecting to a doctor was so quick. I am really impressed.

-ASIF Khan


Doctor was really great, fast at responding very helpful

-Chelsey


Chat with them the doctor that I chat with very helpful and answer all my questions I recommend to anyone

-edith bien aime


The best patient doctors that understand and give you useful information ..I'm really thankful.

-Lesego Thejane


Very informative and very detailed in explanations.Also pleasant and courteous.I would recommend to anyone.

-Stephanie Brown


Very helpful, very polite and answers every question in a well mannered way.

-kulwinder gill


I really rate this website a lot, you people don't stick and and im sure you try your best to take swift actions for your patients.

-Elijah Mark


Talk to online doctors now and get medical advice, online prescriptions, and referrals within minutes. On-demand healthcare services at your fingertips.