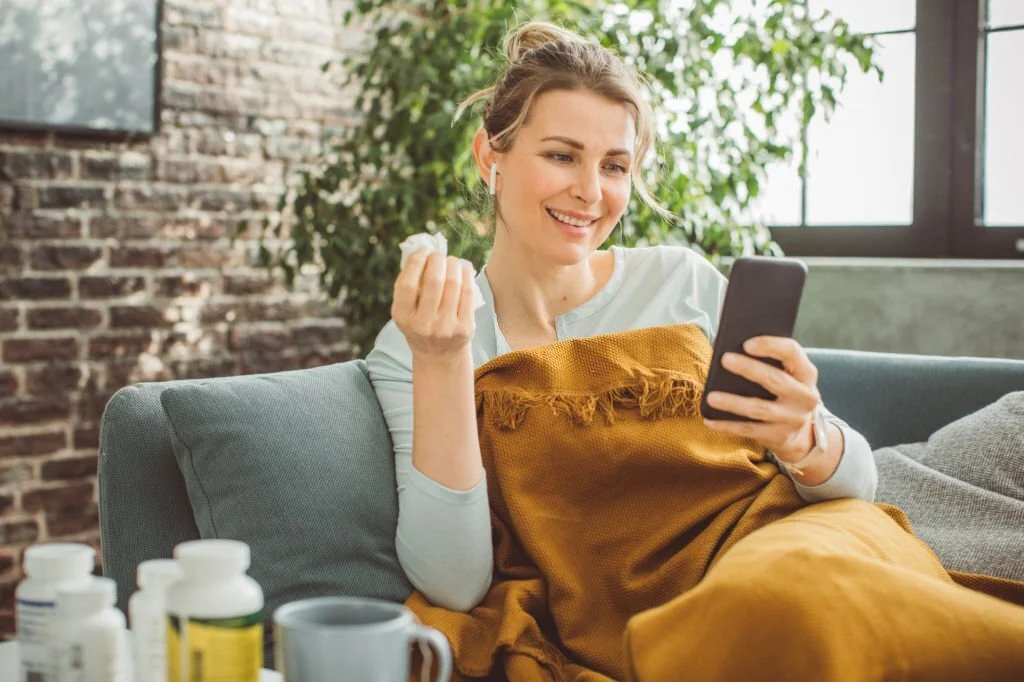 Get a Prescription for Ketotifen Eye Drops online
Ketotifen Eye Drops are used to treat and counteract itching of the eyes caused by allergies. You can get Ketotifen Ophthalmic prescription Eye Drops online by connecting with our online doctor at Your Doctors Online, who will ask you to describe your symptoms in order to determine the best course of treatment. Then, if deemed necessary, they may recommend a follow-up appointment or a visit to a clinic.
However, please note a prescription will only be provided after consultation with the doctor and if the treatment is considered suitable and safe for you.
How to Connect with an Online Doctor?
Connect with a health care professional online in 3 easy steps.
Download our app, register and tell us about your medical issue to get started.
Eye Infection 
Anemia
STD
UTI
Skin
Covid
Connect with a board-certified doctor. You can chat, send pictures and videos.
Hi I'm dr. Nicole. How may I help you?
Hi Dr Nicole, I have an acne pink eye, and it is really bad. Can I get some form of treatment, please?

Our online doctors can help you with your medical issues and give you prescriptions.
Topical Ketotifen 0.025% X 2 drops BID X 5 days.
Send Prescription
What is Ketotifen Eye Drops and How to Take It
Ketotifen eye drops are used to treat allergic conjunctivitis, an eye inflammation brought on by allergies. The active component, ketotifen, is an antihistamine that aids in easing common allergic reaction symptoms like itching, redness, and watery eyes. These eye drops prevent the release of histamine, a chemical that sets off allergic reactions. Ketotifen allergy eye drops are frequently used twice daily and are a well-liked over-the-counter remedy due to their success in relieving eye irritation from allergies. Before taking any drug, it's crucial to follow the directions for use and speak with a health professional, especially if you have a medical condition or are already on another medication.
Ketotifen Over the counter are available. Before using the Ketotifen Eye Drops, remove your contact lenses and wait 10 minutes after applying the drops before reinserting your lenses. To administer the eye drops, begin by washing your hands. Gently tilt your head backward and use your fingertip to create a small gap under your lower eyelid, then place a drop of the medicine into this space. Please close your eyes gently without blinking and keep them shut for 1 to 2 minutes, allowing the medication to be absorbed. If you need more clarification about a proper application, use another drop.
Avoid touching the applicator tip on any surface, including the eye, to maintain sterility, and tightly seal the container. If you miss a dose, take it promptly unless it's nearly time for the next one. Protect the medication from heat, moisture, and light by keeping it in a closed container at room temperature. As instructed by your healthcare provider, dispose of unused or expired medication and keep it out of the reach of children.
Important Information About Ketotifen Eye Drops
Following are some points that you should know about Ketotifen Eye Drops:
Ketotifen eye drops generally have a low potential for interactions with other medications. Still, informing your doctor about all your medicines, including over-the-counter drugs and supplements, is wise.

Ketotifen eye drops are not intended to counteract severe eye conditions, infections, or injuries. They're specifically designed for allergic conjunctivitis and should not be used to address unrelated eye issues.

Ketotifen side effects include temporary stinging or burning upon application, dry eyes, mild eye discomfort, and blurred vision. These side effects are typically mild and transient.

While rare, allergic reactions to ketotifen may occur. Discontinue use and seek medical attention if you experience itching, swelling, severe redness, or difficulty breathing after Using the drops.

Ketotifen in pregnancy should be used if the benefit outweighs the risk to the fetus. 
FAQs About Ketotifen Eye Drops
No, ketotifen is not a steroid. It is an antihistamine medication. Histamine, a substance secreted during allergic responses that causes symptoms like itching, redness, and swelling, is what ketotifen blocks from leaving the body. Contrarily, a class of drugs known as steroids has anti-inflammatory characteristics and functions by reducing the immune system's response.
How long can you use ketotifen eye drops?
Ketotifen eye drops are typically safe for short-term use, ranging from a few weeks to a few months. Prolonged usage beyond the recommended duration should be discussed with a healthcare professional, as extended use might lead to reduced effectiveness or potential side effects.
Is ketotifen over the counter?
Yes, ketotifen is available over the counter in many countries as an eye drop medication to relieve allergic conjunctivitis symptoms.
Who should avoid ketotifen?
Individuals with a known allergy or hypersensitivity to ketotifen or any ingredient in the eye drops should avoid using ketotifen. Pregnant or breastfeeding women and individuals with certain eye conditions or other eye medications should consult their doctors before using ketotifen. Children under three should also avoid using ketotifen eye drops unless specifically directed by a doctor.
What not to use with ketotifen?
Avoid using other eye medications simultaneously with ketotifen, which can lead to potential interactions or decreased effectiveness. Moreover, refrain from wearing contact lenses while applying ketotifen eye drops and wait at least 10 minutes after using the drops before reinserting lenses. Alcohol consumption is generally safe, but caution is advised as it might exacerbate potential side effects.
How long does it take for ketotifen to work?
The symptoms usually improve after using ketotifen eye drops for 15 to 30 minutes. However, because the drug progressively lessens itching, redness, and other allergic conjunctivitis symptoms, it may take a few days to a few weeks before the full impact of the treatment becomes apparent.
This is the best app..You ask anything and the doctors answer you within minutes, i love it

-Phindile Mkhatshwa


It is a good app, it can be helpful with pictures and be very detailed.

-brooke snow


Wow, these people are such a blessing. Dey give accurate answered to questions asked. Its really too good

-Okiti Stephanie


Impressive work !! Connecting to a doctor was so quick. I am really impressed.

-ASIF Khan


Doctor was really great, fast at responding very helpful

-Chelsey


Chat with them the doctor that I chat with very helpful and answer all my questions I recommend to anyone

-edith bien aime


The best patient doctors that understand and give you useful information ..I'm really thankful.

-Lesego Thejane


Very informative and very detailed in explanations.Also pleasant and courteous.I would recommend to anyone.

-Stephanie Brown


Very helpful, very polite and answers every question in a well mannered way.

-kulwinder gill


I really rate this website a lot, you people don't stick and and im sure you try your best to take swift actions for your patients.

-Elijah Mark


Talk to online doctors now and get medical advice, online prescriptions, and referrals within minutes. On-demand healthcare services at your fingertips.