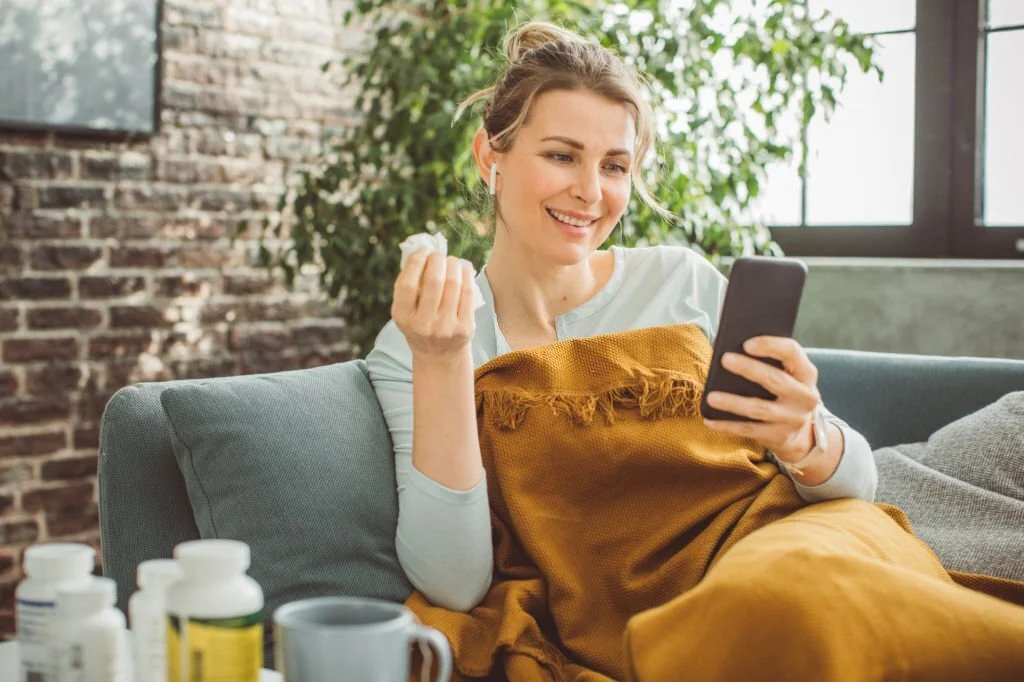 Get Mirtazapine Prescription Refill Online
Mirtazapine is a type of medication that is mainly used to treat adults with major depressive disorder. Sometimes, doctors prescribe the medication for things like anxiety, trouble sleeping, and post-traumatic stress disorder (PTSD), even though it's not officially approved for those uses. If you have these conditions, you can refill Mirtazapine online. Obtaining a Mirtazapine prescription online is simple; visit Your Doctors Online and connect with a doctor anytime, anywhere. Our online doctor will ask about your symptoms to determine treatment. They may suggest a follow-up appointment or clinic visit. Please know that a Mirtazapine refill will only be provided after a consultation with our doctor and if the medication is appropriate and safe.
How to Connect with an Online Doctor?
Connect with a health care professional online in 3 easy steps.
Download our app, register and tell us about your medical issue to get started.
Depression
Anemia
STD
UTI
Skin
Covid
Connect with a board-certified doctor. You can chat, send pictures and videos.
Hi I'm dr. Nicole. How may I help you?
Dr. Nicole, I have been am taking Mirtazapine for depression. Can you give me a Mirtazapine refill?

Our online doctors can help you with your medical issues and give you prescriptions.
Mirtazapine 15 mg tablet.

Take one tablet once daily before bedtime
Send Prescription
Uses of Mirtazapine (Remeron) and How to Take It
Mirtazapine is an antidepressant medication classified as a tetracyclic antidepressant. The medicine comes in different forms, like tablets that you can swallow or tablets that dissolve in your mouth. Mirtazapine is a type of antidepressant that belongs to a group of drugs that includes maprotiline and trazodone. These medications can also be used to treat severe depression in adults.
Mirtazapine exerts its action in two ways. Firstly, it antagonizes alpha-2-adrenergic receptors resulting in an increased release of serotonin and norepinephrine. Secondly, it blocks histamine receptors, which contributes to its sedative action.
The suggested amount of Mirtazapine is one 15 mg tablet daily, taken before bed. Your healthcare provider may tell you to increase the dose every 1-2 weeks. Mirtazapine can be taken anytime without food.
Important Information About Mirtazapine
Mirtazapine is an antidepressant drug. You will require a prescription for Mirtazapine. Here are some essential points that you should know about this drug:

Common side effects of mirtazapine may include drowsiness, dry mouth, increased appetite and weight gain, constipation, dizziness, headache, nausea, fatigue or weakness, changes in mood or behavior, and increased cholesterol levels.

Mirtazapine may cause rare but serious side effects, including suicidal thoughts, serotonin syndrome (agitation, hallucinations, rapid heart rate, fever, muscle stiffness), allergic reactions (rash, itching, swelling, severe dizziness, difficulty breathing), severe drowsiness or confusion, changes in blood pressure (low or high), and seizures. If you encounter any of these serious side effects, seek immediate medical advice.



Mirtazapine can interact with other drugs and medications. These include Monoamine oxidase inhibitors (isocarboxazid, phenelzine, etc.), serotonergic medicines (fluoxetine, sertraline, etc.), benzodiazepines like alprazolam, lorazepam, and anticholinergic drugs (diphenhydramine, oxybutynin, etc.).
Can you buy mirtazapine over the counter?
No, mirtazapine is not available over the counter and requires a prescription from a healthcare provider.
What can you not take with mirtazapine?
Mirtazapine should not be taken with MAO inhibitors or within 14 days of using an MAO inhibitor due to the risk of a dangerous drug interaction. It should be used with caution when taken with other drugs that have similar effects on serotonin levels, such as certain antidepressants or triptans, as it can increase the risk of serotonin syndrome.
How can I refill my Remeron prescription?
You can get a Mirtazapine prescription refill online without seeing a doctor via the Your Doctors Online app. One of our qualified healthcare professionals will evaluate your need for Mirtazapine before prescribing a refill.
How long does it take to fall asleep after taking Remeron?
Remeron causes drowsiness, so it may help you fall asleep faster. However, the exact time it takes to fall asleep after taking Remeron may vary depending on the individual and other factors.
What happens if I miss a dose of Remeron?
If you forget to take a dose of Remeron, just take it as soon as you remember. If it's almost time for your next dose, you can skip the missed dose and continue taking your medication as usual. Do not take two doses to make up for the one you missed.
What happens if I take too much Remeron?
If you overdose on Remeron, it can cause some severe problems like QT interval prolongation, Torsades de Pointes, and serotonin syndrome. If you think you have taken too much Remeron, get medical help right away.
This is the best app..You ask anything and the doctors answer you within minutes, i love it

-Phindile Mkhatshwa


It is a good app, it can be helpful with pictures and be very detailed.

-brooke snow


Wow, these people are such a blessing. Dey give accurate answered to questions asked. Its really too good

-Okiti Stephanie


Impressive work !! Connecting to a doctor was so quick. I am really impressed.

-ASIF Khan


Doctor was really great, fast at responding very helpful

-Chelsey


Chat with them the doctor that I chat with very helpful and answer all my questions I recommend to anyone

-edith bien aime


The best patient doctors that understand and give you useful information ..I'm really thankful.

-Lesego Thejane


Very informative and very detailed in explanations.Also pleasant and courteous.I would recommend to anyone.

-Stephanie Brown


Very helpful, very polite and answers every question in a well mannered way.

-kulwinder gill


I really rate this website a lot, you people don't stick and and im sure you try your best to take swift actions for your patients.

-Elijah Mark


Talk to online doctors now and get medical advice, online prescriptions, and referrals within minutes. On-demand healthcare services at your fingertips.