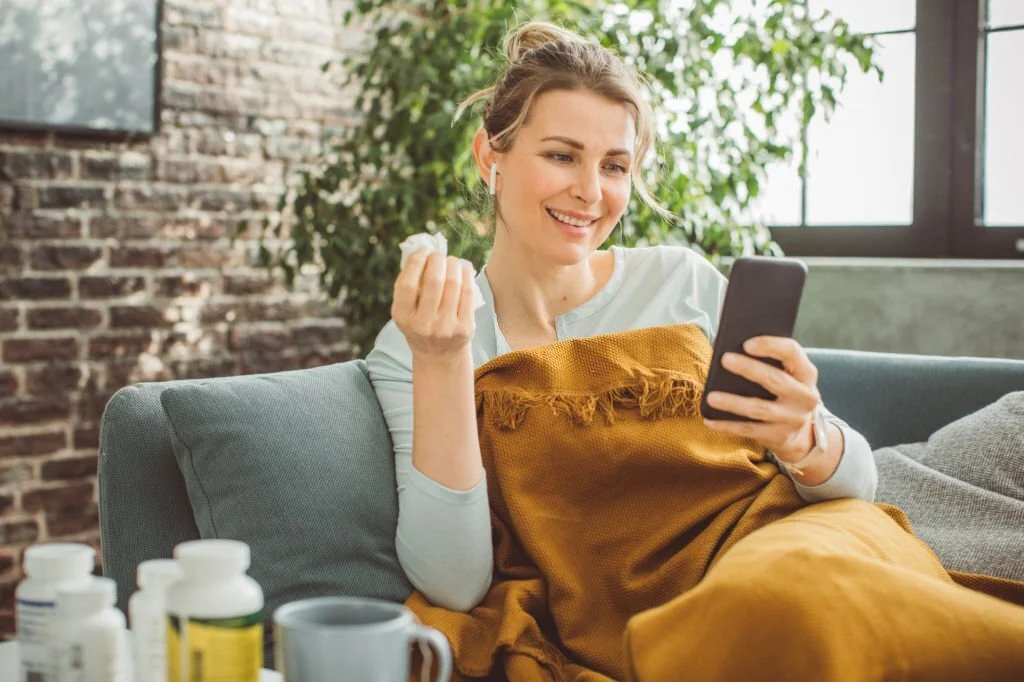 Get a Prescription for Flovent
Flovent is an inhaler corticosteroid medication prescribed to control and prevent inflammation in the airways, improving breathing and relieving asthma, bronchitis and COPD symptoms. You can get a prescription for Flovent online by connecting with our doctor at Your Doctors Online. Our online doctor will ask you to describe your symptoms to determine the best course of treatment. Then, if deemed necessary, they may recommend a follow-up appointment or a visit to a clinic. However, please note a prescription will only be provided after consultation with the doctor and if the treatment is considered suitable and safe for you.
How to Connect with an Online Doctor?
Connect with a health care professional online in 3 easy steps.
Download our app, register and tell us about your medical issue to get started.
Respiratory System
Anemia
STD
UTI
Skin
Covid
Connect with a board-certified doctor. You can chat, send pictures and videos.
Hi I'm dr. Nicole. How may I help you?
Hi Dr Nicole, I have a wheeze and shortness of breath. Can I get treatment for asthma, please? 

Our online doctors can help you with your medical issues and give you prescriptions.
Albuterol MDI 100mcg,  Take two puffs thrice daily, as required

.

Fluticasone propionate MDI 250 mcg,  Take two puffs twice daily.
Send Prescription
What is Flovent and How to Take It
Flovent (fluticasone propionate) is an inhaled corticosteroid medication used to treat asthma, Bronchitis or chronic respiratory diseases and conditions characterized by inflammation and narrowing of the airways, e.g. COPD. It reduces inflammation in the airways, which helps prevent symptoms like wheezing, shortness of breath, and coughing. Flovent is not meant for immediate relief during asthma attacks but rather as a long-term maintenance treatment to prevent symptoms from occurring. It comes as an inhaler and is typically used daily, even when symptoms are absent, to control asthma and reduce the frequency and severity of attacks.
Flovent over the counter is not available. It is a prescription medicine after proper consultation with a doctor. To take Flovent, Shake the inhaler and remove the cap to check the mouthpiece. Breathe out completely to empty your lungs. Hold the inhaler with your index and middle fingers on the canister and your thumb at the base. Put the mouthpiece between your teeth while snugly enclosing it with your lips. Inhale slowly and deeply while pressing firmly on the canister to release one puff of medication into your lungs. Hold your breath for about 10 seconds, then exhale slowly through your nose. If instructed to take more than one puff, wait 30 seconds to 1 minute before repeating the process. Remember to rinse your mouth with water and spit it out after each use. Always read the specific instructions provided with the inhaler or by your doctor for proper usage guidelines.
Important Information About Flovent
Following are some points that you should know about Flovent :
Flovent medication can cause headaches, throat discomfort, hoarseness, coughing fits, and fungal mouth or throat infections.

Side effects are generally mild and may improve with proper inhaler technique or mouth rinsing.

In rare cases, Flovent can cause allergic reactions.

Prolonged or high-dose use of Flovent may increase the risk of systemic corticosteroid side effects.

Adhere to the prescribed dosage and schedule to reduce the risk.

Before beginning Flovent, tell your healthcare provider about all your drugs, vitamins, and herbal products.

Certain medications may interact with Flovent, including antifungal drugs (such as ketoconazole), HIV protease inhibitors, and certain antibiotics.
How long does it take for flovent to work?
It may take several days to weeks of consistent use for flovent to start working and provide noticeable improvement in asthma symptoms.
Yes, a generic for flovent HFA is available, which is called fluticasone propionate inhalation aerosol.
Who should not take flovent ?
Individuals allergic to fluticasone propionate or any of the medication's constituents should not use Flovent. Patiens using medications which have interactions with flovent should also avoid it. Before beginning Flovent, discussing any allergies or medical concerns with your healthcare professional is critical.
Is flovent inhaler a steroid?
Yes, the flovent inhaler contains fluticasone propionate, a corticosteroid medication used to reduce inflammation in the airways. It is not a rescue inhaler but intended for long-term asthma management, not immediate relief during an asthma attack.
Is flovent a rescue inhaler?
No, flovent is not a life-saving inhaler. It is a long-term management medicine for asthma symptoms and should not be taken for quick relief during an asthma attack. Albuterol rescue inhalers are specifically intended to ease acute symptoms.
How can I refill my flovent prescription?
Contact your healthcare provider, or online medical platform like Your Doctors Online to refill your Flovent prescription. They will guide you through filling the prescription, which may involve calling in a refill or scheduling an appointment.
What is the overdose for flovent?
The particular flovent overdose amount varies depending on factors such as the individual's age, weight, and overall health. Maximum flovent dosage for adults is considered to be 1000 mcg twice a day.Seek emergency medical treatment or contact a poison control centre if you suspect an overdose or have accidentally taken too much flovent.
This is the best app..You ask anything and the doctors answer you within minutes, i love it

-Phindile Mkhatshwa


It is a good app, it can be helpful with pictures and be very detailed.

-brooke snow


Wow, these people are such a blessing. Dey give accurate answered to questions asked. Its really too good

-Okiti Stephanie


Impressive work !! Connecting to a doctor was so quick. I am really impressed.

-ASIF Khan


Doctor was really great, fast at responding very helpful

-Chelsey


Chat with them the doctor that I chat with very helpful and answer all my questions I recommend to anyone

-edith bien aime


The best patient doctors that understand and give you useful information ..I'm really thankful.

-Lesego Thejane


Very informative and very detailed in explanations.Also pleasant and courteous.I would recommend to anyone.

-Stephanie Brown


Very helpful, very polite and answers every question in a well mannered way.

-kulwinder gill


I really rate this website a lot, you people don't stick and and im sure you try your best to take swift actions for your patients.

-Elijah Mark


Talk to online doctors now and get medical advice, online prescriptions, and referrals within minutes. On-demand healthcare services at your fingertips.