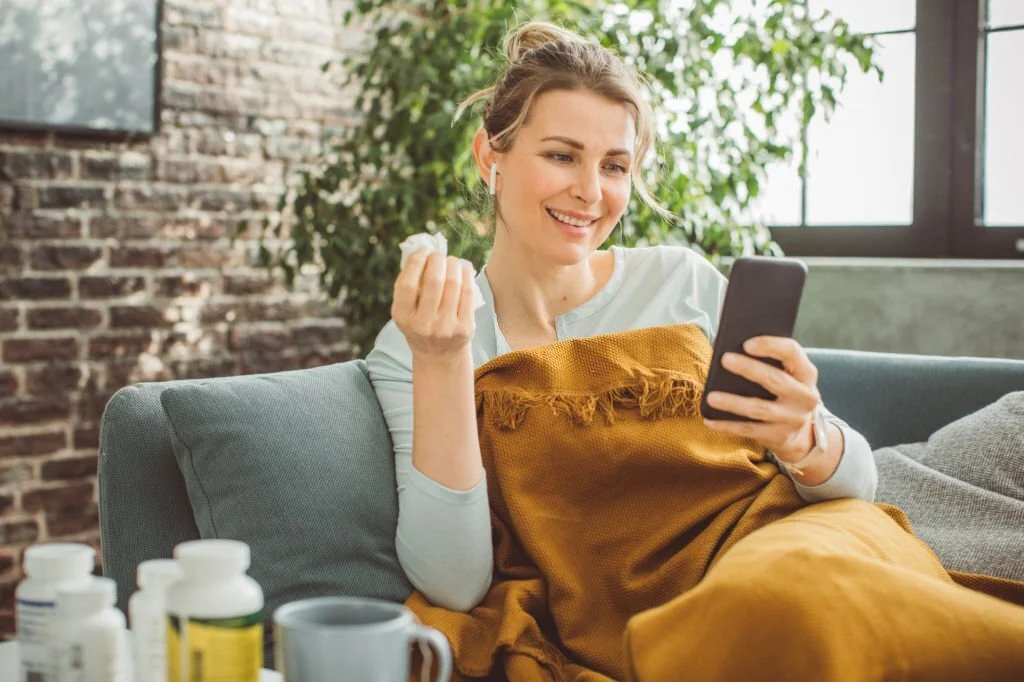 Get Letrozole Prescription Refill Online
Letrozole is a medication that is used to help treat breast cancer in women. It helps women who have been through menopause and now have breast cancer that is affected by hormones. Letrozole can also be used to help women with polycystic ovary syndrome get pregnant. If you have these conditions, you can refill Letrozole online. Obtaining a Letrozole prescription online is simple; visit Your Doctors Online and connect with a doctor anytime, anywhere. Our online doctor will ask about your symptoms to determine treatment.
How to Connect with an Online Doctor?
Connect with a health care professional online in 3 easy steps.
Download our app, register and tell us about your medical issue to get started.
Breast Cancer
Anemia
STD
UTI
Skin
Covid
Connect with a board-certified doctor. You can chat, send pictures and videos.
Hi I'm dr. Nicole. How may I help you?
Dr. Nicole, can you help me get a Letrozole refill for my breast cancer treatment?

Our online doctors can help you with your medical issues and give you prescriptions.
Letrozole 2.5 mg tablet

Take one tablet once daily.
Send Prescription
What is Letrozole and How to Take It
Letrozole belongs to the aromatase inhibitors group and is used to treat breast cancer in postmenopausal women. It is also used to enhance ovulation in women with polycystic ovarian syndrome. It is available under various brand names, such as Femara, Feofer, and Letroz. Letrozole comes in the form of film-coated tablets for oral use. Anastrozole and Exemestane also belong to the same class of drugs.
Letrozole reduces estrogen levels in the body. It does this by stopping an enzyme called aromatase from converting certain hormones (called androgens) into estrogen. This prevents the stimulation of breast tissue and lowers the chances of tumor recurrence in post-menopausal women. In women with polycystic ovary syndrome (PCOS) or unexplained infertility, reducing estrogen levels has been shown to stimulate ovulation.
Letrozole is taken orally with or without food. The suggested daily dosage is 2.5 mg. You should swallow Letrozole tablets whole with some water and not chew or crush them. Letrozole works best when taken daily at the same time.

Important Information About Letrozole
Letrozole is a hormone therapy drug. You will require a prescription for Letrozole. Here are some essential points that you should know about this drug:
The most common side effects of Letrozole include hot flashes, night sweats, nausea, vomiting, heartburn, joint pain, stiffness, swelling, muscle pain, bone pain, fatigue, difficulty sleeping, low mood, or depression.




Interactions between letrozole and other estrogen-blocking drugs have been reported. In addition, it can heighten preexisting conditions like liver disease and osteoporosis. Medications like Rifampin, Carbamazepine, Amiodarone, Quinidine, and Heparin can interact with Letrozole. Letrozole can also interact with estrogen-rich foods, such as soy and black cohosh. Share the complete list of medications with your doctor to avoid any drug-drug interactions.

Serious side effects of Letrozole can include allergic reactions, osteoporosis, bone fractures, edema, depression, severe dizziness, trouble breathing, and nervousness. Please seek medical help, if that is the case.
What foods to avoid while taking Letrozole for fertility?
While taking Letrozole for fertility, it is advisable to avoid consuming soy products or other estrogen-rich foods, grapefruit, pomegranate, alcohol, and high-fat foods.
How many cycles of Letrozole are needed to get pregnant?
There is no definite number of Letrozole cycles that guarantees pregnancy; it's usually prescribed for 3-6 cycles.
What is the typical starting dose of Letrozole?
The usual dose of Letrozole is 2.5mg once a day. Letrozole is a medication used for fertility treatment. It is taken by mouth for five days, usually starting between days 2 and 5 of menstrual bleeding. You can take it anytime, but taking it on the same time every day is essential.
Can I get Letrozole over the counter?
Letrozole is a prescription-only medicine. To get a refill or prescription of Letrozole, you will need a prescription from a licensed healthcare provider.
What should you avoid when taking Letrozole?
When taking Letrozole, avoid estrogen and estrogen conjugates like ethinyl estradiol and estrogen blockers including Anastrozole and Tamoxifen. Other medications that may interact with Letrozole include rifampin, carbamazepine, amiodarone, quinidine, and heparin.
How do you feel when you first start taking Letrozole?
If you begin taking Letrozole, you might have some side effects, like getting hot flashes, feeling tired, dizzy, or having an upset stomach. As your body learns to adapt to these side effects, they usually go away on their own.
What happens if I miss a dose of Letrozole?
If you forget to take your Letrozole, the general advice is to take the missed dose as soon as possible. However, if your next dose is almost due, it's best to skip the missed one and continue with your regular dosing schedule.
What happens if I take too much Letrozole?
If you overdose on Letrozole, you may have a higher chance of experiencing serious side effects or negative reactions. As a result of an overdose, you might experience some signs like feeling really dizzy, passing out, having difficulty breathing, or having a fast heartbeat.
This is the best app..You ask anything and the doctors answer you within minutes, i love it

-Phindile Mkhatshwa


It is a good app, it can be helpful with pictures and be very detailed.

-brooke snow


Wow, these people are such a blessing. Dey give accurate answered to questions asked. Its really too good

-Okiti Stephanie


Impressive work !! Connecting to a doctor was so quick. I am really impressed.

-ASIF Khan


Doctor was really great, fast at responding very helpful

-Chelsey


Chat with them the doctor that I chat with very helpful and answer all my questions I recommend to anyone

-edith bien aime


The best patient doctors that understand and give you useful information ..I'm really thankful.

-Lesego Thejane


Very informative and very detailed in explanations.Also pleasant and courteous.I would recommend to anyone.

-Stephanie Brown


Very helpful, very polite and answers every question in a well mannered way.

-kulwinder gill


I really rate this website a lot, you people don't stick and and im sure you try your best to take swift actions for your patients.

-Elijah Mark


Talk to online doctors now and get medical advice, online prescriptions, and referrals within minutes. On-demand healthcare services at your fingertips.