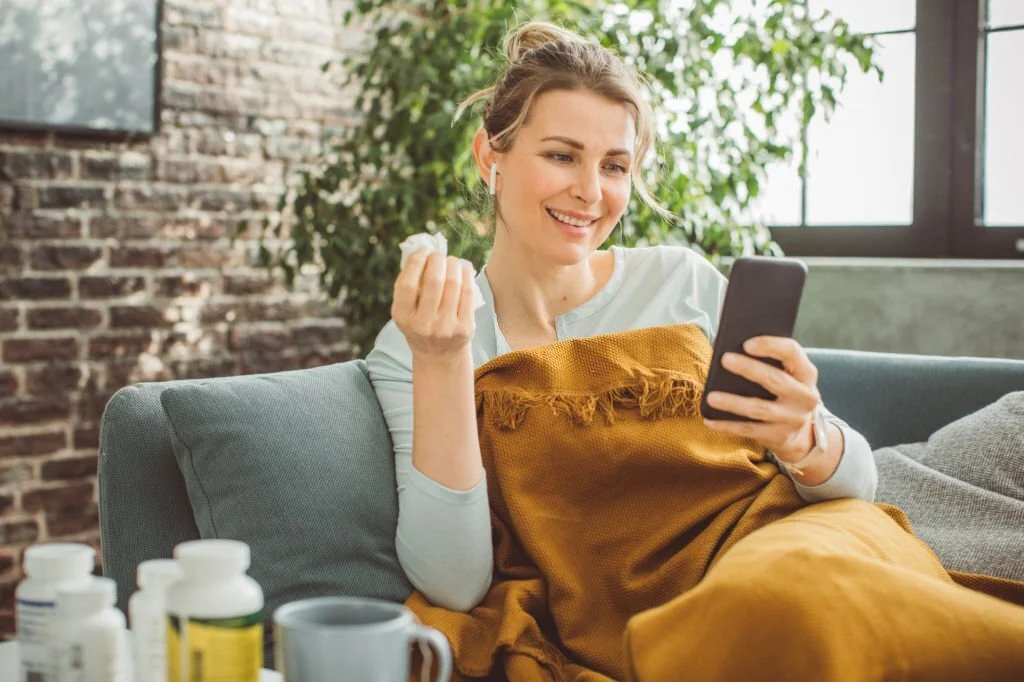 Get Zolmitriptan Prescription Online
Zolmitriptan is prescribed for severe migraines that are sometimes accompanied by sensitivity to light and noise. If you have these conditions, you can get Zolmitriptan prescription online. Obtaining a Zolmitriptan prescription online is simple; visit Your Doctors Online and connect with a doctor anytime, anywhere. Our online doctor will ask about your symptoms to determine treatment. They may suggest a follow-up appointment or clinic visit.
Please know that a Zolmitriptan refill will only be provided after a consultation with our doctor and if the medication is appropriate and safe.
How to Connect with an Online Doctor?
Connect with a health care professional online in 3 easy steps.
Download our app, register and tell us about your medical issue to get started.
Migraine
Anemia
STD
UTI
Skin
Covid
Connect with a board-certified doctor. You can chat, send pictures and videos.
Hi I'm dr. Nicole. How may I help you?
Dr. Nicole, I have severe migraine. Can you give me something that can help?

Our online doctors can help you with your medical issues and give you prescriptions.
Zolmitriptan 1.5 mg tablet,

Take one tablet once daily.
Send Prescription
What is Zolmitriptan and How to Take It
Zolmitriptan is a selective serotonin reuptake inhibitor (SSRI) used as an anti-migraine agent. Tablets, orally disintegrating tablets, and nasal spray formulations are all commercially available under the brand name Zomig. Other drugs in the same class include Sumatriptan, Eletriptan, and Rizatriptan.

Selective Serotonin receptor agonists like Zolmitriptan are used to treat migraines. These drugs are specifically designed to target and activate serotonin receptors in the brain. This is how Zolmitriptan reduces migraine and cluster headache symptoms. It works by constricting blood vessels The mechanism of action of this medication involves its ability to selectively bind to specific serotonin receptors located in the brain.
By doing so, it triggers a series of physiological responses that result in the constriction of blood vessels. Furthermore, this medication also exerts its therapeutic effects by modulating the release of pain-causing substances within the brain. By reducing the release of these substances, it helps to dampen the pain signals that are transmitted to the brain, providing relief from the intense discomfort experienced during a migraine episode.

Zolmitriptan comes in tablets, disintegrating tablets, and nasal sprays. The dosage formulation and dosing frequency are recommended by the doctor. It's usually taken as soon as a migraine attack starts. Zolmitriptan works with or without food. Tablets are swallowed with water, orally disintegrating tablets are placed on the tongue to dissolve, and nasal spray is sprayed into one nostril.
Important Information About Zolmitriptan
Zolmitriptan is a Selective Serotonin Reuptake Inhibitor commonly prescribed for treating migraines. A prescription is necessary to obtain Zolmitriptan. Here are key points to understand about this medication:
Some common side effects of Zolmitriptan include a

tingling or warmth sensation, dizziness, drowsiness, nausea, and dry mouth. Speak to one of our qualified professionals online if any of these symptoms occur and persist 

Serious side effects of Zolmitriptan include

chest pain or tightness,

rapid or irregular heartbeats, shortness of breath, sudden numbness or weakness, and vision changes. If you notice any of these serious symptoms, seek medical help immediately to avoid serious complications.

Drug interactions with Zolmitriptan include

other migraine medications,

MAO inhibitors, and serotonin-enhancing drugs. If you are taking other medications, always share the complete list of drugs with your doctor before you start taking Zolmitriptan.
How long does Zolmitriptan stay in your system?
The duration of Zolmitriptan in the body can vary from person to person, but on average, its effects typically last between 2.5 to 3 hours. Individual factors like metabolism, dosage, and health can affect the medication's effectiveness. Thus, it is best to consult a doctor for personalized advice on Zolmitriptan's effects and duration.
Is Zolmitriptan prescription only?
Yes, it is indeed true that Zolmitriptan, a medication commonly used to treat migraines, requires a valid prescription from a qualified healthcare provider. This means that individuals who wish to obtain Zolmitriptan must consult with a healthcare professional, such as a doctor or nurse practitioner, who will assess their medical condition and determine if Zolmitriptan is an appropriate treatment option for them.
Is Zolmitriptan stronger than Sumatriptan?
2.5 mg-5 mg Zolmitriptan is considered equally effective to Sumatriptan 25mg to 50mg. Zolmitriptan and Sumatriptan effectiveness depends on individual responses. Each individual's unique physiological and genetic makeup can influence how their body reacts to these medications. Consequently, while some individuals may experience significant relief from their migraines when using Zolmitriptan or Sumatriptan, others may find these medications to be less effective in managing their symptoms.
What is similar to Zomig?
Several medications are similar to Zomig, such as Sumatriptan and Rizatriptan. Triptans are prescribed for migraines and cluster headaches. Triptans relieve headaches by constricting brain blood vessels and blocking pain signals.
What is the typical starting dose of Zolmitriptan?
The initial tablet dosage depends on individual factors, but 2.5 mg is recommended. A doctor may adjust the dosage based on the patient's needs and response to the medication. Consult with one of our doctors online via our app to discuss your individual condition.
How long can you be on Zolmitriptan?
Zolmitriptan and other headache medications should not be taken more than ten days a month. Your doctor will determine the use duration. Speak to one of our qualified professionals online to discuss your individual symptoms.
Can I take Zolmitriptan every day?
No, it is generally not recommended to use Zolmitriptan on a daily basis due to the potential occurrence of side effects. Follow as recommended by your doctor. You can always discuss your individual condition and questions about Zolmitriptant with our qualified doctors online.
Is Zomig hard on the liver?
The impact of Zomig on the liver is generally regarded as minimal. Consulting with a doctor will provide you with personalized guidance and ensure that you make informed decisions about your medication. By discussing your specific circumstances and medical history, your doctor can assess any potential risks or interactions that may arise with Zomig and your liver.
What is an alternative to Zomig?
Sumatriptan which is another triptan, is a preferred alternative to Zomig. The alternatives to Zomig may include other triptans or migraine medications, depending on individual response and medical history.
This is the best app..You ask anything and the doctors answer you within minutes, i love it

-Phindile Mkhatshwa


It is a good app, it can be helpful with pictures and be very detailed.

-brooke snow


Wow, these people are such a blessing. Dey give accurate answered to questions asked. Its really too good

-Okiti Stephanie


Impressive work !! Connecting to a doctor was so quick. I am really impressed.

-ASIF Khan


Doctor was really great, fast at responding very helpful

-Chelsey


Chat with them the doctor that I chat with very helpful and answer all my questions I recommend to anyone

-edith bien aime


The best patient doctors that understand and give you useful information ..I'm really thankful.

-Lesego Thejane


Very informative and very detailed in explanations.Also pleasant and courteous.I would recommend to anyone.

-Stephanie Brown


Very helpful, very polite and answers every question in a well mannered way.

-kulwinder gill


I really rate this website a lot, you people don't stick and and im sure you try your best to take swift actions for your patients.

-Elijah Mark


Talk to online doctors now and get medical advice, online prescriptions, and referrals within minutes. On-demand healthcare services at your fingertips.