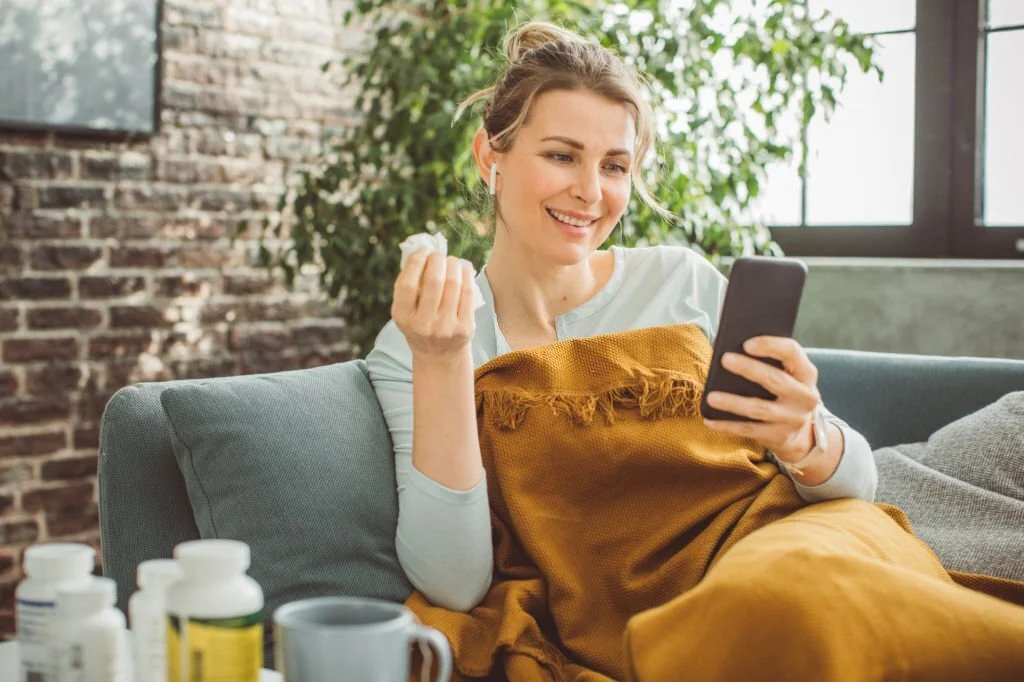 Get a Prescription for Oxymetazoline Online
Oxymetazoline is often recommended to relieve
nasal congestion resulting from ailments like the common cold, allergies, or sinusitis. If you have these conditions, you can refill Oxymetazoline online. Obtaining an Oxymetazoline prescription online is simple; visit Your Doctors Online and connect with a doctor anytime, anywhere. Our online doctor will ask about your symptoms to determine treatment. They may suggest a follow-up appointment or clinic visit.
Please know that an Oxymetazoline refill will only be provided after a consultation with our doctor and if the medication is appropriate and safe.
How to Connect with an Online Doctor?
Connect with a health care professional online in 3 easy steps.
Download our app, register and tell us about your medical issue to get started.
Decongestant
Anemia
STD
UTI
Skin
Covid
Connect with a board-certified doctor. You can chat, send pictures and videos.
Hi I'm dr. Nicole. How may I help you?
Dr. Nicole, I am experiencing Sinusitis; I feel better after taking Oxymetazoline. Can you give me an Oxymetazoline refill?

Our online doctors can help you with your medical issues and give you prescriptions.
Two sprays in each nostril every 10 to 12 hours, with a maximum of two doses within a 24-hour period.
Send Prescription
What is Oxymetazoline and How to Take It
Oxymetazoline is a medication classified under the therapeutic class of nasal decongestants. It is available under various brand names, such as Afrin, Nasivin, and Vicks Sinex, and is commonly found in the form of nasal sprays. Other drugs in the same class include phenylephrine and pseudoephedrine.
Oxymetazoline operates through vasoconstriction as its primary mechanism of action (MOA). When applied to the nasal passages, it narrows the blood vessels within the nasal tissues, resulting in reduced blood flow, diminished swelling, and alleviated congestion. Consequently, this facilitates the relief of nasal congestion and enhances the ease of breathing.
Oxymetazoline is commonly available as a nasal spray, and its administration should adhere to the guidelines provided on the product label or as prescribed by a healthcare professional. Typically, it is applied by spraying into the nostrils, and the frequency of dosage may differ based on the particular product and the individual's health status. A standard dosage regimen involves one to two sprays in each nostril every 10 to 12 hours, with a maximum of two doses within a 24-hour period. Oxymetazoline is primarily intended for the short-term alleviation of nasal congestion.
Important Information About Oxymetazoline
Oxymetazoline is a nasal decongestant. You will not require a prescription for Oxymetazoline. Here are some essential points that you should know about this drug:

Common side effects of Oxymetazoline nasal spray may include temporary stinging or burning sensations in the nasal passages, sneezing, and dryness. If these side effects persist or worsen, consult your doctor.



Uncommon side effects of oxymetazoline include severe allergic reactions. If you experience symptoms such as swelling, rash, difficulty breathing, itching, or severe dizziness after using oxymetazoline, seek immediate medical attention, as these may be signs of a severe allergic response. It's essential to use this medication as directed and be aware of any unusual or severe reactions while using it.




Severe allergic reactions to Oxymetazoline are uncommon but can occur. If you experience symptoms such as swelling, severe dizziness, or difficulty breathing after using oxymetazoline, seek immediate medical attention. It's important to use this medication as directed and be aware of any unusual or severe reactions while using it.
Can I use Oxymetazoline nasal spray when pregnant?
The use of Oxymetazoline nasal spray is not suggested during pregnancy. To ensure the well-being of both the pregnant individual and the developing baby, it's crucial to seek guidance from a healthcare provider before considering using oxymetazoline nasal spray during pregnancy.
How long does Oxymetazoline stay in your system?
The duration of Oxymetazoline's effects can vary among individuals, but it is generally a short-acting nasal decongestant. It is typically used to relieve congestion temporarily and may need to be reapplied as needed.
Can I get Oxymetazoline over the counter?
Yes, Oxymetazoline spray is available as an over-the-counter medication, but you can discuss with your doctor online via our app whether you need it for you or not. The availability may vary depending on your location and the specific product.
Who should avoid Oxymetazoline?
People who have specific medical conditions like severe hypertension, heart conditions, thyroid disorders, or certain eye conditions should exercise caution when considering the use of Oxymetazoline.
What happens if you use too much Oxymetazoline?
Overuse of Oxymetazoline nasal spray can lead to a condition known as rebound congestion, where nasal congestion worsens when the medication wears off. Follow the recommended dosage instructions and consult a healthcare provider if you have concerns.
Which is better, Oxymetazoline or phenylephrine?
Oxymetazoline can provide relief from nasal congestion for up to 12 hours, which is a longer duration compared to phenylephrine, which typically lasts up to four hours. This extended duration of action is one of the benefits of using Oxymetazoline for nasal congestion. However, it's important to use any nasal decongestant medication, including oxymetazoline, as directed by a healthcare provider or according to the product label to avoid potential side effects and rebound congestion.
How long can you use Oxymetazoline?
Oxymetazoline is typically recommended for short-term use, usually no more than three to five days. Prolonged use can cause rebound congestion, and it's important to consult with a healthcare provider if ongoing relief is needed.
What happens if you swallow Oxymetazoline hydrochloride?
Swallowing oxymetazoline hydrochloride, commonly found in nasal sprays, can lead to potential systemic side effects. If accidentally ingested, seek immediate medical attention to address any adverse reactions. It's crucial to use nasal sprays only as directed and avoid ingestion.
Is Oxymetazoline hydrochloride a steroid?
No, Oxymetazoline hydrochloride is not a steroid. It is a nasal decongestant constricting blood vessels in the nasal passages to relieve congestion. Steroids are a different class of medications primarily used for their anti-inflammatory properties.
This is the best app..You ask anything and the doctors answer you within minutes, i love it

-Phindile Mkhatshwa


It is a good app, it can be helpful with pictures and be very detailed.

-brooke snow


Wow, these people are such a blessing. Dey give accurate answered to questions asked. Its really too good

-Okiti Stephanie


Impressive work !! Connecting to a doctor was so quick. I am really impressed.

-ASIF Khan


Doctor was really great, fast at responding very helpful

-Chelsey


Chat with them the doctor that I chat with very helpful and answer all my questions I recommend to anyone

-edith bien aime


The best patient doctors that understand and give you useful information ..I'm really thankful.

-Lesego Thejane


Very informative and very detailed in explanations.Also pleasant and courteous.I would recommend to anyone.

-Stephanie Brown


Very helpful, very polite and answers every question in a well mannered way.

-kulwinder gill


I really rate this website a lot, you people don't stick and and im sure you try your best to take swift actions for your patients.

-Elijah Mark


Talk to online doctors now and get medical advice, online prescriptions, and referrals within minutes. On-demand healthcare services at your fingertips.