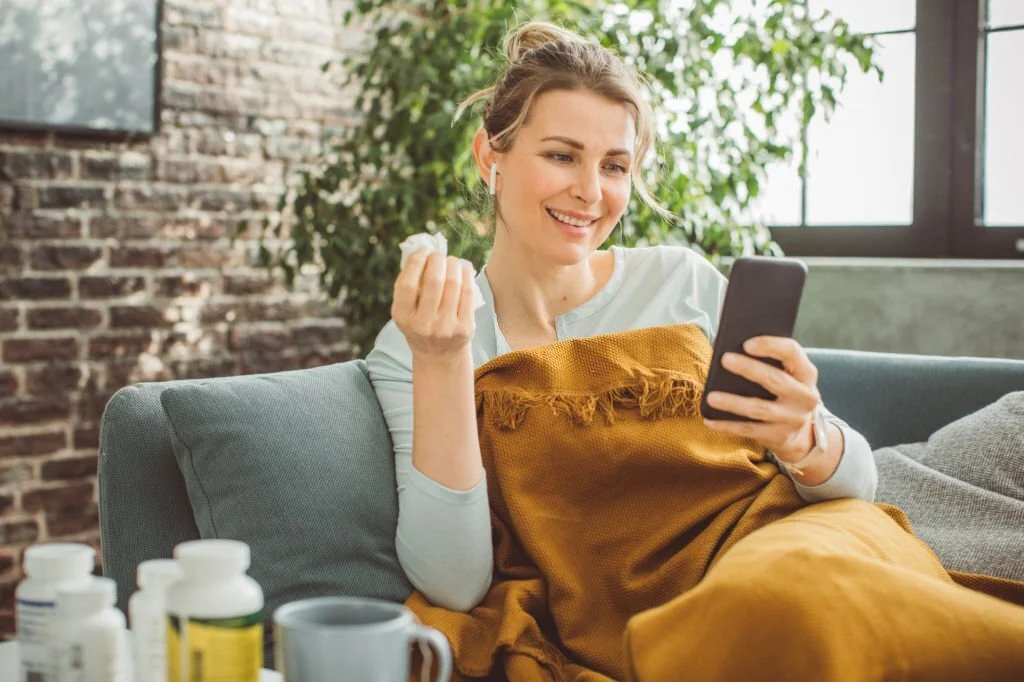 Get a Refill for Armour Thyroid Online
Armour Thyroid helps treat hypothyroidism. If you have hypothyroidism, you can refill Armour Thyroid online. Obtaining an Armour Thyroid prescription online is simple; visit Your Doctors Online and connect with a doctor anytime, anywhere. Our online doctor will ask about your symptoms to determine treatment. They may suggest a follow-up appointment or clinic visit.
Please know that an Armour Thyroid refill will only be provided after a consultation with our doctor and if the medication is appropriate and safe. 
How to Connect with an Online Doctor?
Connect with a health care professional online in 3 easy steps.
Download our app, register and tell us about your medical issue to get started.
Hypothyroidism
Anemia
STD
UTI
Skin
Covid
Connect with a board-certified doctor. You can chat, send pictures and videos.
Hi I'm dr. Nicole. How may I help you?
Dr. Nicole, I have hypothyroidism; I have been taking Armour Thyroid but ran out of my supply. Can you give me an Armour Thyroid refill?

Our online doctors can help you with your medical issues and give you prescriptions.
Armour Thyroid 60 mg tablet

Take one tablet once daily
Send Prescription
What is Armour Thyroid and How to Take It
Armour Thyroid is a drug obtained naturally from porcine (pig) thyroid glands and contains a hormone combination such as Levothyroxine and Levothyronine. It comes as a tablet in various dosing strengths, such as 300mg, 240mg, 180mg, 120mg, 90mg, 60mg, 30mg, and 15mg.
Armour Thyroid is given as a supplemental therapy in hypothyroidism patients. In hypothyroidism, the thyroid gland produces lesser thyroid hormone, which is actually compensated through Armour Thyroid, a natural substance containing the thyroid.

Armour Thyroid comes as a tablet and is swallowed as a whole with water. The dosage frequency of medicine can vary depending on your individual needs, and your doctor will determine that. The usual recommended dose is 30 mg for Armour Thyroid, but the dosing may vary depending on your age and other factors. It is recommended to take Armour Thyroid about 30 minutes before breakfast in fasting condition on an empty stomach.
Important Information About Armour Thyroid
Armour Thyroid is a Thyroid drug. You will require a prescription for Armour Thyroid. Here are some essential points that you should know about this drug:

Common side effects of Armour Thyroid include changes in menstrual cycle, headache, and hair loss. These are common side effects and may go away as your body adjusts to the medication, but sometimes they may persist. If these side effects are of serious concern, you can discuss your condition with your doctor.



Serious side effects of Armour Thyroid include increased sweating, mental or mood changes, headaches, and shortness of breath. If you notice these serious side effects, you should immediately discuss them with your doctor.




Armour Thyroid can interact with other medications such as salicylates like aspirin, insulin, blood thinners, birth control pills, and other oral diabetic medications, as well as medications containing iodine. If you are taking any of these medications, your doctor won't prescribe Armour Thyroid to you therefore, always clearly share all the medications you are already taking.
FAQs About Armour Thyroid
Do you need a prescription for Armour Thyroid?
Yes, Armour Thyroid is a prescription medication; you will need a prescription from a registered healthcare provider to obtain Armour Thyroid. You can get a prescription online by downloading our app. Describe your issue to our qualified doctor, and he will prescribe Armour Thyroid if he finds it necessary.
Can an online doctor prescribe thyroid medication?
Yes, you can get an Armour Thyroid refill via Your Doctors Online app. Share your symptoms and condition with our qualified doctor in detail, and we will prescribe a refill if it is found necessary for you. You can consult our doctor anytime, anywhere, via our app.
What is a good substitute for Armour Thyroid?
A good substitute for Armour Thyroid is NP Thyroid, which is available in the market. You can discuss with your doctor if you have problems while taking Armour Thyroid. Sometimes, your doctor may prescribe NPThyroid if Armour Thyroid does not suit you.
Why is Armour better than Synthroid?
Synthroid is a synthetic compound that is identical to levothyroxine T4, while Armour Thyroid is a natural product. You can discuss the suitable alternatives for Armour with your doctor if you do not feel positive about taking Armour Thyroid.
What foods should I avoid while taking Armour Thyroid?
You can avoid eating soybean flour, walnuts, dietary fibre, calcium-fortified juices, and calcium within several hours of dosing.
Does Armour Thyroid cause hair thinning?
Armour Thyroid can cause partial hair loss, particularly in children during the first few months of therapy. Discuss with your doctor if you notice any severe side effects while taking Armour Thyroid.
Can I drink coffee with Armour Thyroid?
You must avoid taking coffee, tea, and other beverages for 30-60 minutes before or after taking Armour Thyroid. You can only take water with Armour Thyroid.
What happens if I stop taking Armour Thyroid?
If you stop taking Armour Thyroid suddenly, it may cause serious side effects such as changes in blood pressure, muscle weakness, joint pain, fatigue, and depression. You should not stop taking Armour Thyroid without discussing it with your doctor.
How much Armour is too much in a day?
You should not take Armour more than 120 mg a day as it may cause serious complications. If you have accidentally overdosed on Armour, you should speak to your doctor in detail about your condition.
This is the best app..You ask anything and the doctors answer you within minutes, i love it

-Phindile Mkhatshwa


It is a good app, it can be helpful with pictures and be very detailed.

-brooke snow


Wow, these people are such a blessing. Dey give accurate answered to questions asked. Its really too good

-Okiti Stephanie


Impressive work !! Connecting to a doctor was so quick. I am really impressed.

-ASIF Khan


Doctor was really great, fast at responding very helpful

-Chelsey


Chat with them the doctor that I chat with very helpful and answer all my questions I recommend to anyone

-edith bien aime


The best patient doctors that understand and give you useful information ..I'm really thankful.

-Lesego Thejane


Very informative and very detailed in explanations.Also pleasant and courteous.I would recommend to anyone.

-Stephanie Brown


Very helpful, very polite and answers every question in a well mannered way.

-kulwinder gill


I really rate this website a lot, you people don't stick and and im sure you try your best to take swift actions for your patients.

-Elijah Mark


Talk to online doctors now and get medical advice, online prescriptions, and referrals within minutes. On-demand healthcare services at your fingertips.