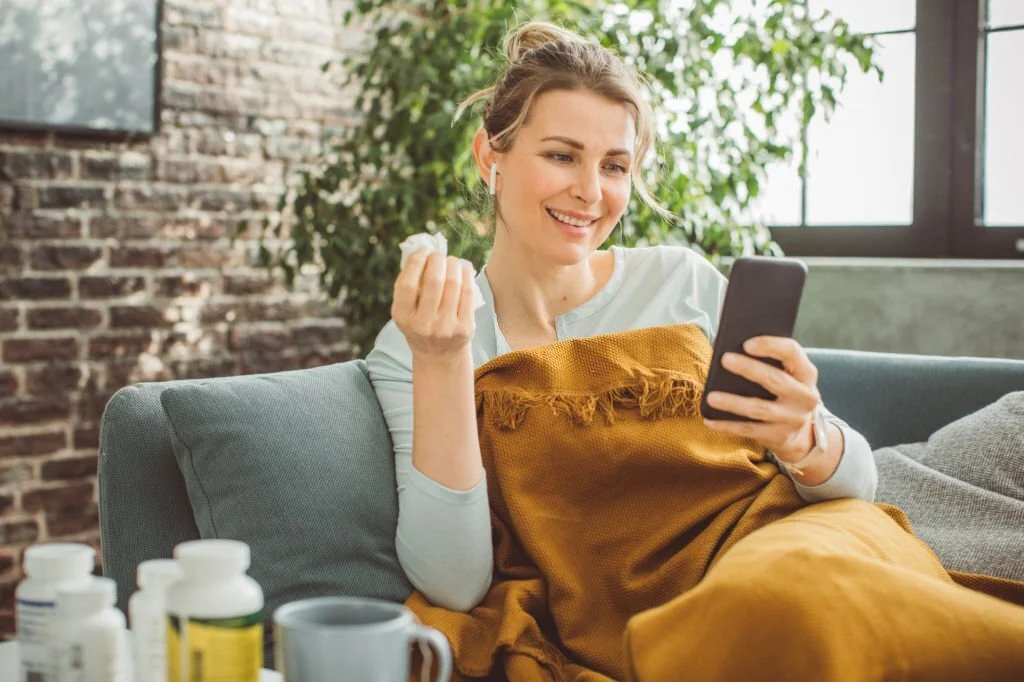 Get a Prescription Refill for Rexulti Online
Mood and mental disorders like depression and schizophrenia can be treated with prescription drugs, including atypical antipsychotics such as Rexulti. If you have these conditions, you can refill Rexulti online. Obtaining a Rexulti prescription online is simple; visit Your Doctors Online and connect with a doctor anytime, anywhere. Our online doctor will ask about your symptoms to determine treatment.
They may suggest a follow-up appointment or clinic visit. Please know that a Rexulti refill will only be provided after a consultation with our doctor and if the medication is appropriate and safe.
How to Connect with an Online Doctor?
Connect with a health care professional online in 3 easy steps.
Download our app, register and tell us about your medical issue to get started.
Major Depressive Disorders
Anemia
STD
UTI
Skin
Covid
Connect with a board-certified doctor. You can chat, send pictures and videos.
Hi I'm dr. Nicole. How may I help you?
Dr. Nicole, I feel difficulty in breathing; I feel better after taking Rexulti. Can you give me a Rexulti refill?

Our online doctors can help you with your medical issues and give you prescriptions.
Rexulti 1 mg tablet,

Take one tablet once daily.
Send Prescription
What is Rexulti and How to Take It
The therapeutic class of Rexulti is atypical antipsychotics. It is a group of medications that are commonly used in the treatment of various psychiatric conditions. It comes in the form of tablets, which are intended for oral administration.
Several other atypical antipsychotic medications belong to the same class as Rexulti. These include Abilify, which contains the active ingredient aripiprazole, Latuda, which contains lurasidone; and Vraylar, which contains cariprazine. These medications are commonly prescribed for treating various mental health conditions, such as schizophrenia and bipolar disorder.
Rexulti, which is used in the treatment of various mental health conditions, is thought to exert its therapeutic effects through the modulation of specific neurotransmitters within the brain. These neurotransmitters, such as dopamine and serotonin, play an important role in regulating mood, cognition, and overall mental well-being. By precisely targeting and influencing the activity of dopamine and serotonin, Rexulti is believed to restore the delicate balance of these neurotransmitters, which may be disrupted in individuals experiencing mental health disorders.
The recommended dosage for Rexulti is to take it once daily. You can choose whether you prefer to take it with or without a meal. This decision can be based on your personal preference or any specific instructions your doctor provides. To ensure proper ingestion, it is recommended that you swallow the tablet in its entirety, without breaking or crushing it, accompanied by a generous amount of water. This will facilitate the tablet's journey through your digestive system, allowing for optimal absorption of its intended effects.
Important Information About Rexulti
Rexulti is a Mood stabilizer medication. You will require a prescription for Rexulti. Here are some essential points that you should know about this drug:
Rexulti is a prescription medication, which means you need a doctor's prescription to obtain it. It's primarily used to treat conditions such as schizophrenia and major depressive disorder (as an add-on treatment to antidepressants).

Some of the common side effects that may occur with the use of Rexulti include nausea, weight gain, restlessness, and akathisia, which is characterized by a persistent feeling of inner restlessness. These side effects are known to be associated with the medication and are experienced by many individuals who take Rexulti. It is important to note that not everyone will experience these side effects, and their severity and duration may vary from person to person.

While undergoing treatment with Rexulti, it is important to know that specific individuals may encounter significant side effects that warrant attention. These potential adverse effects encompass a range of conditions, such as movement disorders, metabolic alterations, and changes in heart rhythm.

It is important to be aware that Rexulti has the potential to interact with other medications that you may be taking concurrently. These interactions can vary in their nature and severity and may have an impact on the effectiveness and safety of both Rexulti and the other medications involved. The medications and food that usually interact with Rexulti include Metoclopramide, grapefruit, and alcohol. There are over 571 drugs that are known to have an interaction with Rexulti.
Is Rexulti an antipsychotic?
Yes, Rexulti is an atypical antipsychotic medication that is known for its unique properties and is widely recognized for its effectiveness in managing the symptoms associated with these mental health conditions.
How long does Rexulti take to work?
To experience a more pronounced difference while taking Rexulti, it is typically recommended to engage in regular usage for a period of approximately 6 to 8 weeks. During this time, consistent and diligent consumption of the medication can potentially yield more noticeable effects and improvements in one's condition.
Is Rexulti a controlled substance?
No, Rexulti is not classified as a controlled substance by regulatory authorities. It is used as a mood stabilizer and for schizophrenia. If you have any concerns about Rexulti, you can contact one of our qualified doctors.
What time of day to take Rexulti?
It is highly recommended to adhere to a consistent daily schedule when taking Rexulti, ensuring you take it simultaneously daily. Whether you choose to consume it with or without food is entirely up to your personal preference.
Is Rexulti the same as Abilify?
No, Rexulti and Abilify are different medications, even though both are atypical antipsychotics. While they share similarities in their classification, they possess unique characteristics and compositions that set them apart from each other. Abilify is not only used to treat MDD and Schizophrenia; it is also used for other conditions.
Can you drink alcohol with Rexulti?
No, Alcohol can increase the likelihood of side effects like drowsiness, dizziness, and difficulty concentrating, so it's best to avoid it if you're taking Rexulti. Dosing instructions provided by your doctor should be strictly adhered to.
How can I refill my Rexulti prescription?
You can refill your Rexulti prescription via Your Doctors Online. You can download our app, describe your issue, and speak to our healthcare provider for personalized advice.
Does Rexulti make you emotional?
Rexulti may cause emotional side effects such as anxiety, restlessness, and agitation in some people. If you experience any unusual changes in mood or behavior while taking Rexulti, contact your healthcare provider immediately.
Who should not take Rexulti?
Rexulti is not recommended for people who are allergic to Brexpiprazole or any of its ingredients. It is also not recommended for people with a history of neuroleptic malignant syndrome, tardive dyskinesia, or a recent heart attack or stroke. Pregnant and breastfeeding women should also avoid taking Rexulti.
Is Rexulti a mood stabilizer?
No, Rexulti is not a mood stabilizer. It is an atypical antipsychotic medication used to treat adults with schizophrenia or depression. Mood stabilizers are another class of medication that is used to treat mood disorders, bipolar disorders. These may include Valproic acid, lithium, and carbamazepine.
What happens if I miss a dose of Rexulti?
Take Rexulti as soon as you remember if you miss a dose. If it is almost time for your next dose, however, you should not take the one you missed. A missed dose should not be made up by taking two doses at once.
What happens if I take too much Rexulti?
Taking too much Rexulti can cause serious side effects such as drowsiness, confusion, agitation, and seizures. You can discuss this with our doctor online for personalized guidance.
What is an alternative to Rexulti?
Several other atypical antipsychotic medications can be used as an alternative to Rexulti, including Abilify, Latuda, and Seroquel. However, the choice of medication will depend on your individual needs and medical history and should be determined by your healthcare provider.
This is the best app..You ask anything and the doctors answer you within minutes, i love it

-Phindile Mkhatshwa


It is a good app, it can be helpful with pictures and be very detailed.

-brooke snow


Wow, these people are such a blessing. Dey give accurate answered to questions asked. Its really too good

-Okiti Stephanie


Impressive work !! Connecting to a doctor was so quick. I am really impressed.

-ASIF Khan


Doctor was really great, fast at responding very helpful

-Chelsey


Chat with them the doctor that I chat with very helpful and answer all my questions I recommend to anyone

-edith bien aime


The best patient doctors that understand and give you useful information ..I'm really thankful.

-Lesego Thejane


Very informative and very detailed in explanations.Also pleasant and courteous.I would recommend to anyone.

-Stephanie Brown


Very helpful, very polite and answers every question in a well mannered way.

-kulwinder gill


I really rate this website a lot, you people don't stick and and im sure you try your best to take swift actions for your patients.

-Elijah Mark


Talk to online doctors now and get medical advice, online prescriptions, and referrals within minutes. On-demand healthcare services at your fingertips.