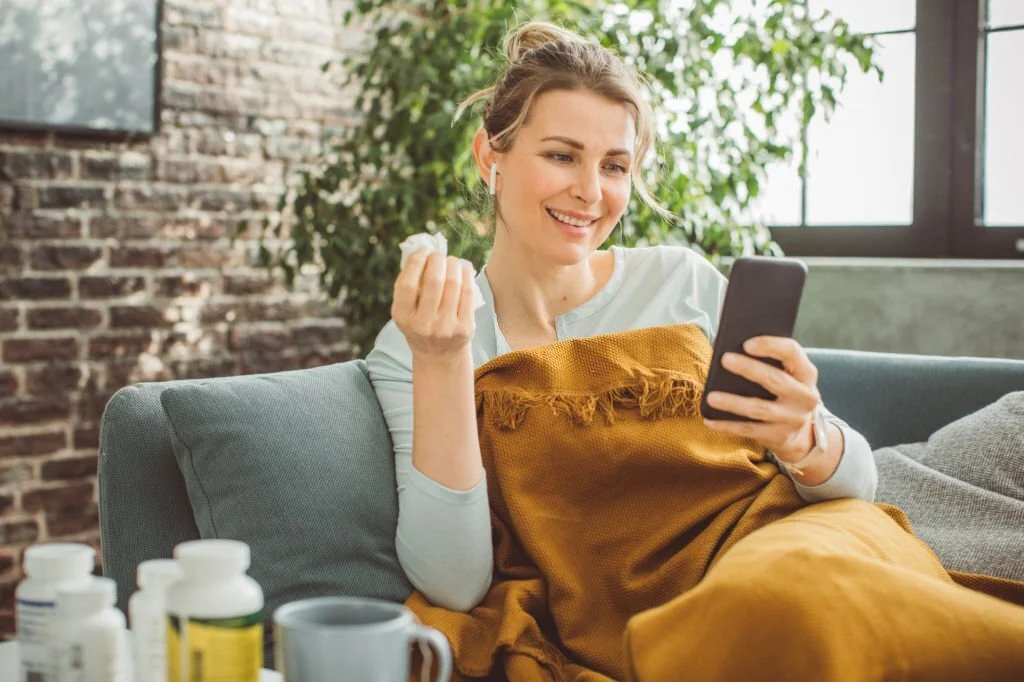 Get a Prescription for Acyclovir (Zovirax®) Online
Acyclovir (Zovirax) treats viral infections like herpes, chickenpox, and shingles. With Your Doctors Online, you can quickly get an Acyclovir prescription online from licensed doctors anytime and anywhere. Our personalized prescriptions and treatment plans are tailored to your health condition.
However, a prescription will be provided after a consultation with the doctor to ensure suitability and safety.
How to Connect with an Online Doctor?
Connect with a health care professional online in 3 easy steps.
Download our app, register and tell us about your medical issue to get started.
Skin Infections

Anemia
STD
UTI
Skin
Covid
Connect with a board-certified doctor. You can chat, send pictures and videos.
Hi I'm dr. Nicole. How may I help you?
Hi Dr. Nicole, I'm experiencing symptoms of a viral infection like herpes. Can you provide me with a prescription?

Our online doctors can help you with your medical issues and give you prescriptions.
What is Acyclovir (Zovirax®) and How to Take It
Acyclovir is an antiviral medication that blocks viral replication. It comes in different forms for specific infections. Buccal tablets are for recurrent cold sores, oral capsules for chickenpox, genital herpes, and shingles, and topical ointment for weakened immune systems or persistent cold sores.
Dosage varies. Oral tablets 400-800mg are taken 4-5 times daily, while topical ointment is applied 5-6 times daily. Side effects of oral tablets include diarrhea, nausea, and vomiting, while a common side effect of ointment is skin irritation. Acyclovir requires a prescription due to the risks of misuse and high dosage side effects.
Important Information About Acyclovir
Acyclovir may interact with certain medicines like asthma, gout, stomach ulcer, or organ transplant medicines, including theophylline, probenecid, cimetidine, and mycophenolate mofetil, respectively.

Allergic reactions like rash, sneezing, itching, and swelling should be reported immediately. 

Adjustments to the dosage may be needed for individuals with impaired kidney function. 

Acyclovir reduces the severity and duration of outbreaks but does not cure genital herpes infections.
How can I get acyclovir without a doctor?
Over-the-counter options are available for cold sores, but oral forms require a prescription. Oral Acyclovir is more effective for early-stage cold sores.
How much acyclovir can I take for an outbreak?
Depending on the severity and age group, a dose ranging from 200 to 800mg is typically prescribed. Children are given lower doses and are spaced for at least 4 hours. Per your doctor's advice, you can take acyclovir 2-5 times daily.
What is equivalent to acyclovir?
Some medicines are equivalent to acyclovir (Zovirax®), like famciclovir (Famvir®) and valacyclovir (Valtrex®)—all of these work as antiviral medications for herpes simplex virus 1 and 2.
Which is better, acyclovir or valacyclovir?
Valacyclovir requires a lower dose and stays in the body longer, effectively treating cold sores and preventing spread.
This is the best app..You ask anything and the doctors answer you within minutes, i love it

-Phindile Mkhatshwa


It is a good app, it can be helpful with pictures and be very detailed.

-brooke snow


Wow, these people are such a blessing. Dey give accurate answered to questions asked. Its really too good

-Okiti Stephanie


Impressive work !! Connecting to a doctor was so quick. I am really impressed.

-ASIF Khan


Doctor was really great, fast at responding very helpful

-Chelsey


Chat with them the doctor that I chat with very helpful and answer all my questions I recommend to anyone

-edith bien aime


The best patient doctors that understand and give you useful information ..I'm really thankful.

-Lesego Thejane


Very informative and very detailed in explanations.Also pleasant and courteous.I would recommend to anyone.

-Stephanie Brown


Very helpful, very polite and answers every question in a well mannered way.

-kulwinder gill


I really rate this website a lot, you people don't stick and and im sure you try your best to take swift actions for your patients.

-Elijah Mark


Talk to online doctors now and get medical advice, online prescriptions, and referrals within minutes. On-demand healthcare services at your fingertips.