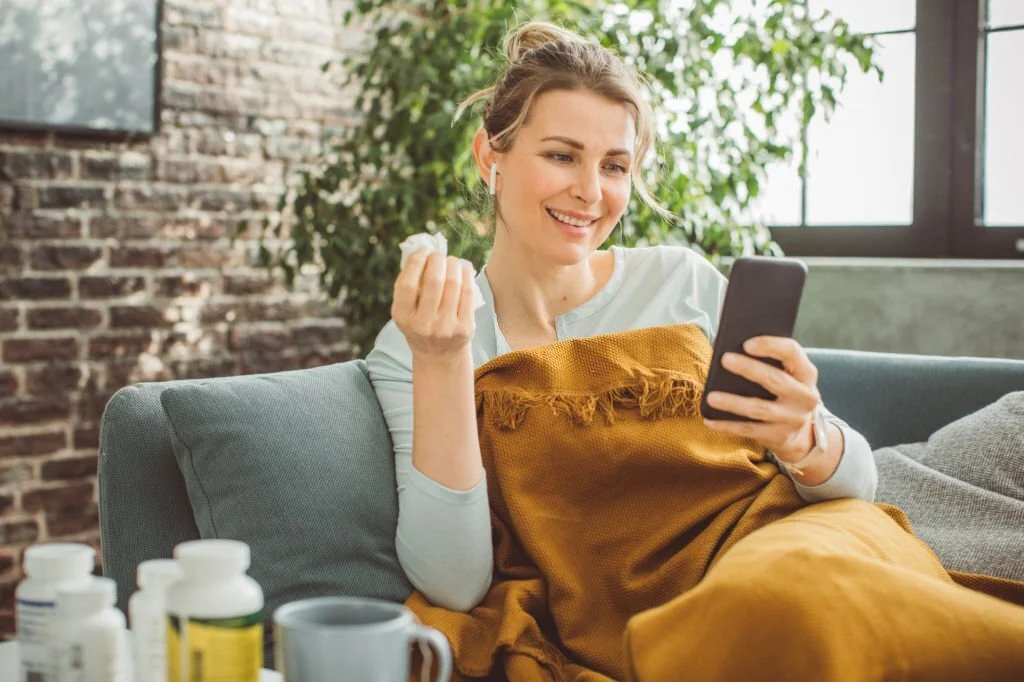 Get a prescription refill for Ubrelvy online
You can get a Ubrelvy prescription refill online to treat migraine headaches.
GettingUbrelvy (ubrogepant) online is very straightforward; you can connect with a doctor at any time and place of your choice at Your Doctors Online. However, please note that Ubrelvy online will only be provided after consultation with the doctor and if the treatment is suitable and safe for you.
Request Ubrelvy prescription refill
Get a prescription refill for Ubrelvy online in three easy steps.
Download our app, register and tell us about your medical issue to get started.
Headache
Anemia
STD
UTI
Skin
Covid
Connect with a board-certified doctor. You can chat, send pictures and videos.
Hi I'm Dr. Nicole. How may I help you?
Hi Dr Nicole, I have a migraine, and it is really bad. Can I get some form of treatment, please?

Our online doctors can help you with your medical issues and give you prescriptions.
Take 50 mg Ubrevly as per need.
Take a second dose two hours after the first if required.
Take less than 200 mg of the medication in 24 hours.
Send Prescription
Ubrelvy is available as ubrogepant in the generic form. 
Ubrelvy belongs to the CGRP receptor antagonist class of drugs. Migraines are linked to blood vessel dilation in the brain, and CGRP is a neuropeptide involved in this process. By blocking CGRP receptors, Ubrelvy helps reduce the frequency and severity of migraine attacks by preventing CGRP from causing blood vessels to dilate excessively. This constriction of blood vessels can alleviate migraine symptoms.
Ubrelvy (ubrogepant) is available in tablet form, specifically in two dosage strengths: ubrelvy 50 mg and ubrelvy 100 mg. 
Important information about Ubrelvy
Common side effects of Ubrelvy (ubrogepant) may include nausea, dry mouth, fatigue, dizziness, throat or neck irritation, and drowsiness. 

Serious side effects are less common but can include severe allergic reactions, chest pain, changes in vision, and signs of heart problems, such as an irregular heartbeat or severe chest pain. 
FAQs about Ubrelvy prescription refill
Do you need a prescription for ubrelvy?
Ubrelvy is a prescription medication used to treat migraine headaches. You would typically need a prescription from a doctor to obtain it.
Can I take ubrelvy with ibuprofen?
There are no known interactions between Ubrelvy and ibuprofen (Motrin) or acetaminophen (Tylenol). However, if your doctor approves, you should only use Ubrelvy with one of these extra painkillers. Remember that Ubrelvy is used for treating a migraine attack without additional medications.
How often can you take ubrelvy?
Ubrelvy is taken when you require prompt relief from a migraine attack. Then, if necessary, take a second dose two hours after the first. You should take less than 200 mg of the medication in 24 hours. (This is the drug's maximum recommended dosage).
The typical recommended dosage instructions of Ubrelvy is 50 mg taken orally as needed to treat a migraine headache. You can take it with or without food.
Does ubrelvy make you sleepy?
As a side effect of using Ubrelvy, sleepiness is a possibility. One of the more frequent adverse effects reported by users of the medication in clinical trials was this one. Compared to the 100-mg dose of Ubrelvy, the 50-mg dose may be less likely to induce sleepiness.
Is ubrelvy a controlled substance?
The Ubrelvy tablet is not a prohibited substance or an opioid narcotic, according to classification. Once a migraine attack begins, this calcitonin gene-related peptide (CGRP) receptor antagonist aids in reducing pain and inflammation. It is effective for migraines both with and without auras.
What can you not take with ubrelvy?
It would help if you did not take Ubrelvy with other CGRP or potent CYP3A4 inhibitors, as it can lead to interactions and potential side effects. Additionally, it's advisable to avoid alcohol, as it can increase the risk of dizziness and drowsiness when combined with Ubrelvy.
Can you drink alcohol with ubrelvy?
There are no documented interactions between taking Ubrelvy and alcohol. However, Ubrelvy and alcohol can produce some of the same adverse effects, such as nausea and tiredness. Your risk of experiencing these adverse effects may rise if you take the two drugs together.
How long does ubrelvy stay in your system?
The half-life of Ubrelvy is approximately 5 to 7 hours. It takes about five half-lives for a drug to be eliminated from the body, so Ubrelvy may stay in your system for around 25 to 35 hours after the last dose. However, individual factors can affect the clearance rate, which may vary from person to person.
How many ubrelvy can you take in a day?
Ubrelvy is to be taken orally in doses of 50 mg or 100 mg with or without food. If additional medication is required, it can be taken at least two hours after the first dose. The maximum dose is 200 mg per 24 hours.
How long does ubrelvy take to work?
Ubrelvy begins to operate after around 1.5 to 2 hours, and its effect lasts 3 to 8 hours at its peak. After two hours in Ubrelvy clinical trials, 11.8% of patients receiving placebo were in pain versus 21.2% of patients on Ubrelvy 100mg.
What are the ubrelvy alternatives?
Adults who suffer from migraines take the medications Ubrelvy, Qulipta, and Nurtec ODT. Although they all belong to the same class of drugs collectively known as "gepants," their names are calcitonin gene-related peptide (CGRP) receptor antagonists.
Does ubrelvy work on tension headaches?
The medication Ubrelvy is authorized to treat migraines. For the treatment of tension headaches, it is not permitted. During these headaches, your forehead may feel like a tight band encircles your head.
Can I take ubrelvy and rizatriptan together?
Taking Ubrelvy and rizatriptan together is generally only recommended if specifically instructed by your healthcare provider. Both medications are used to treat migraines and may have interactions or increase the risk of side effects when taken concurrently.
Is ubrelvy safe during pregnancy?
Whether ubrogepant will harm an unborn child is unknown. However, migraine headaches during pregnancy may result in side effects like diabetes or eclampsia (dangerously high blood pressure that may affect the health of both the mother and the unborn child).
This is the best app..You ask anything and the doctors answer you within minutes, i love it

-Phindile Mkhatshwa


It is a good app, it can be helpful with pictures and be very detailed.

-brooke snow


Wow, these people are such a blessing. Dey give accurate answered to questions asked. Its really too good

-Okiti Stephanie


Impressive work !! Connecting to a doctor was so quick. I am really impressed.

-ASIF Khan


Doctor was really great, fast at responding very helpful

-Chelsey


Chat with them the doctor that I chat with very helpful and answer all my questions I recommend to anyone

-edith bien aime


The best patient doctors that understand and give you useful information ..I'm really thankful.

-Lesego Thejane


Very informative and very detailed in explanations.Also pleasant and courteous.I would recommend to anyone.

-Stephanie Brown


Very helpful, very polite and answers every question in a well mannered way.

-kulwinder gill


I really rate this website a lot, you people don't stick and and im sure you try your best to take swift actions for your patients.

-Elijah Mark


Talk to online doctors now and get medical advice, online prescriptions, and referrals within minutes. On-demand healthcare services at your fingertips.