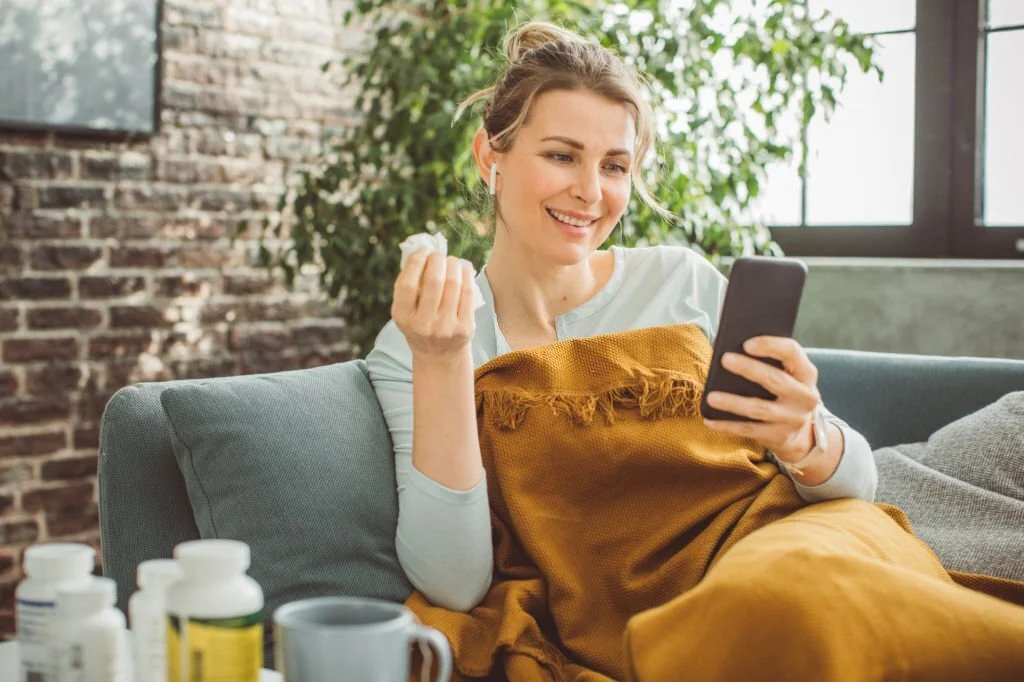 Get Methylprednisolone (Medrol) Refill Online
Methylprednisolone is prescribed for conditions such as arthritis, blood disorders, severe allergic reactions, skin diseases, kidney disorders, asthma, and immune system disorders. If you have these conditions, you can refill Methylprednisolone (Medrol) online.
Obtaining a Methylprednisolone (Medrol) prescription online is simple; visit Your Doctors Online and connect with a doctor anytime, anywhere. Our online doctor will ask about your symptoms to determine treatment. They may suggest a follow-up appointment or clinic visit.
Please know that a Methylprednisolone (Medrol) refill will only be provided after a consultation with our doctor and if the medication is appropriate and safe.
How to Connect with an Online Doctor?
Connect with a health care professional online in 3 easy steps.
Download our app, register and tell us about your medical issue to get started.
Arthritis
Anemia
STD
UTI

Infections

Covid
Connect with a board-certified doctor. You can chat, send pictures and videos.
Hi I'm dr. Nicole. How may I help you?
Dr. Nicole, I have been taking Methylprednisolone for arthritis. Can you give me a Medrol refill?

Our online doctors can help you with your medical issues and give you prescriptions.
Methylprednisolone (Medrol) 24 mg tablet

Take one tablet once daily.
Send Prescription
What is Methylprednisolone (Medrol) and How to Take It
Methylprednisolone is classified as a corticosteroid Corticosteroids are known for their anti-inflammatory properties, and they work by imitating the effects of naturally occurring corticosteroid hormones that are produced by the adrenal glands. The brand name Medrol is commonly used to refer to the medication Methylprednisolone. 
Methylprednisolone, also known as Medrol, is offered in different forms for administration. These include oral tablets, injectable solutions, and intravenous formulations. Other corticosteroids in the same class include prednisone, prednisolone, dexamethasone, and hydrocortisone.

Methylprednisolone reduces inflammation and suppresses the immune system. This is accomplished by reducing the activity of inflammatory molecules and stopping immune cells from damaging healthy tissue. This treatment aids in reducing symptoms related to arthritis and other inflammatory conditions.
Methylprednisolone for arthritis is often prescribed as oral tablets. The dosage frequency can vary based on the severity of the arthritis and the doctor's recommendation. It's usually prescribed as a daily dose, but the exact regimen will be determined by your healthcare provider.
Methylprednisolone tablets can typically be taken with a full glass of water. It's advisable to follow the specific instructions provided by your healthcare provider. If the medication causes stomach upset, your doctor may suggest taking it with food or milk.

Important Information About Methylprednisolone (Medrol)
Methylprednisolone (Medrol) is a prescription medication for treating arthritis and other inflammatory conditions. You will need a prescription for it. It's important to take this medication exactly as prescribed by your healthcare provider.

It is important to consult your doctor before discontinuing Methylprednisolone abruptly, as sudden cessation can cause adrenal insufficiency and other withdrawal symptoms. You should tell your doctor about all the drugs you're taking and any health problems you have before starting methylprednisolone. Increased hunger, weight gain, fluid retention, and mood changes are possible side effects of this medication.




Prolonged use of methylprednisolone can result in more severe side effects, including osteoporosis, increased susceptibility to infections, and adrenal suppression. There are several significant side effects associated with this medication. These include severe allergic reactions, vision problems, mental or mood changes, and signs of infection.




Excessive corticosteroid levels can cause a condition called Cushing's syndrome, which is characterized by a variety of symptoms such as obesity, increased fat around the neck, reddish blue stretch marks, severe tiredness, type 2 diabetes, sleeplessness, skin darkening, and stunted growth in children. Long-term use of high doses of corticosteroids is known to contribute to the development of this syndrome.

Methylprednisolone has the potential to interact with various medications, such as certain antibiotics, antifungals, and drugs that have an impact on liver enzymes. It's crucial that you tell your doctor or pharmacist about any and all medications you're taking.
FAQs About Methylprednisolone (Medrol)
How long does it take for Methylprednisolone to work?
It is absorbed quickly into your system following your first dose within 1-2 hrs. So it starts working soon after oral administration within a few hours. If you notice anything unusual after oral administration, you can always talk to your doctor.
How long does it take for Methylprednisolone to work for back pain?
The duration it takes for Methylprednisolone to work may depend upon the severity of pain and individual factors. Oral steroids are generally prescribed for a limited time; it generally takes one or two weeks after oral administration.
Can you take Celebrex with Methylprednisolone?
No, it is recommended not to take Celebrex (Celecoxib) with Methylprednisolone because this combination may have adverse effects such as increased risk of side effects such as gastric inflammation, bleeding, and more.
Is Medrol dose packed over the counter?
Medrol dose packs containing Methylprednisolone are not available for use over the counter. You will require a prescription to obtain Medrol. You can get a Methylprednisolone refill online by connecting with one of our qualified doctors online.
What to avoid while taking Methylprednisolone?
Methylprednisolone can weaken your immune system, so avoid contact with people who have viral or bacterial infections because you are susceptible to infectious diseases due to a weakened immune system. Avoid taking alcohol, grapefruit, and smoking while taking methylprednisolone. You should also avoid taking any herbal supplements, vitamins, or other prescription or over-the-counter medications without discussing them with your doctor.
How long does Methylprednisolone stay in your system?
Methylprednisolone stays in your system for about twelve to thirteen hours after oral administration. You can discuss with one of our doctors online via our app if you have any questions about Methylprednisolone.
Does Methylprednisolone make you sleepy?
Methylprednisolone does not generally makes you sleepy, as drowsiness is not one of its side effects; however, you can discuss it with your doctor if you notice any unusual side effects.
Can you drink alcohol while taking Methylprednisolone?
No, it is not advisable to take alcohol with Methylprednisolone as it may cause serious gastric issues and lead to side effects such as gastric bleeding, dizziness, and drinking alcohol.
What is the difference between Prednisone and Methylprednisolone?
Methylprednisolone is slightly stronger than Prednisone; if we look into the dosage strengths comparison, Methylprednisolone is effective at 4mg, and Prednisone is effective at 5mg.
How can I refill my Medrol prescription?
You can get a refill for the Medrol prescription online by connecting to one of our doctors online. It is simple, download our app, describe your issue, and get a refill if our doctor finds it necessary.
How many days can Medrol be taken?
Medrol is not prescribed for long durations it is typically recommended to take it for 4-6 days, but you should follow your doctor's recommendation as the exact dosage and duration may vary depending on your individual condition.
Who should not take Medrol?
You should not take Medrol if you have known hypersensitivity to Methylprednisolone or any of its ingredients. You should also avoid taking Medrol if you have systemic fungal infections. Medrol is also prohibited in people who have taken vaccines of live attenuated viruses because Medrol suppresses the immune system, and the person can easily get infected. It is also recommended to avoid Medrol during pregnancy or breastfeeding.
What happens if I take too much Medrol?
If you take too much Medrol, you may experience heightened side effects, including stomach pain, confusion, urination, and weakness. You should seek medical attention immediately if you think you have overdosed on Medrol.
What happens if I miss a dose of Medrol?
Methylprednisolone should be taken as soon as remembered if a dose was missed. If you miss a dose and think it might be close to the time for your next dose, don't take two. If you suspect that incorrect dosing is the cause of any unusual symptoms, you should contact your healthcare provider immediately.
This is the best app..You ask anything and the doctors answer you within minutes, i love it

-Phindile Mkhatshwa


It is a good app, it can be helpful with pictures and be very detailed.

-brooke snow


Wow, these people are such a blessing. Dey give accurate answered to questions asked. Its really too good

-Okiti Stephanie


Impressive work !! Connecting to a doctor was so quick. I am really impressed.

-ASIF Khan


Doctor was really great, fast at responding very helpful

-Chelsey


Chat with them the doctor that I chat with very helpful and answer all my questions I recommend to anyone

-edith bien aime


The best patient doctors that understand and give you useful information ..I'm really thankful.

-Lesego Thejane


Very informative and very detailed in explanations.Also pleasant and courteous.I would recommend to anyone.

-Stephanie Brown


Very helpful, very polite and answers every question in a well mannered way.

-kulwinder gill


I really rate this website a lot, you people don't stick and and im sure you try your best to take swift actions for your patients.

-Elijah Mark


Talk to online doctors now and get medical advice, online prescriptions, and referrals within minutes. On-demand healthcare services at your fingertips.