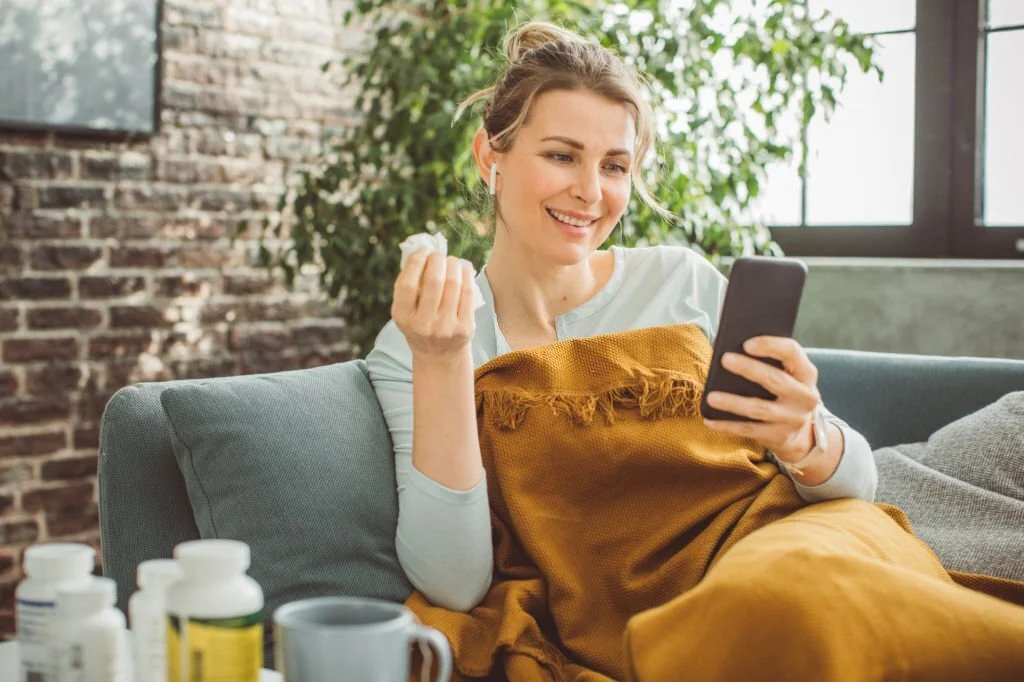 Get Zoloft (Sertraline) online prescription
Sertraline is an antidepressant used for treating mental disorders such as premenstrual dysphoric disorder, PTSD, social anxiety disorder, OCD, and depression.
Obtaining a Sertraline prescription online is straightforward; visit Your Doctors Online and connect with a doctor anytime, anywhere. Please know that a Sertraline prescription will only be provided after a consultation with our doctor and if the medication is deemed appropriate and safe.
Request Zoloft prescription online
Get online prescription for Zoloft in three easy steps.
Download our app, register and tell us about your medical issue to get started.
Depression
Anemia
STD
UTI
Skin
Covid
Connect with a board-certified doctor. You can chat, send pictures and videos.
Hi I'm dr. Nicole. How may I help you?
Dr. Nicole, I often feel anxious and depressed all the time. Can you prescribe me an anti-depressant?

Our online doctors can help you with your medical issues and give you prescriptions.
Sertraline 50 mg tablet
Take one tablet once daily
Send Prescription
What is Zoloft (Sertraline)?
Sertraline is a medication used to treat depression and other mental conditions. It is a type of drug called a selective serotonin reuptake inhibitor (SSRI). It treats various mental disorders, including depression, anxiety, and panic attacks.
Sertraline is sold under the brand names Zoloft, Actiser, Assert, Atline, Alin, Daxid, Lustral, Denzy, Dazolin, Lustral, Serdip, and Zosert. Other drugs from the Sertraline (Zoloft) class include Citalopram, Fluvoxamine, Paroxetine, Fluoxetine, Vilazodone, and Escitalopram.
Important Information About Zoloft (Sertraline)
Sertraline is an antidepressant drug. You will require a prescription for Sertraline. Here are some essential points that you should know about this drug:
Sertraline may cause side effects in some people, such as nausea, dizziness, dry mouth, upset stomach, diarrhea, trouble sleeping, increased sweating, headaches, agitation, restlessness, sexual problems, and weight loss.

Sertraline may cause some severe side effects for some people, such as an increased risk of suicidal thoughts, high risk of bleeding, rapid heart rate, and high blood pressure. Seek medical help if any of these side effects occur.
FAQs About Zoloft online prescription
Can you buy Sertraline over the counter?
No, Sertraline is a prescription medication and can not be purchased over the counter without the prescription of a registered medical practitioner.
Does Sertraline cause weight gain?
No, it does not cause weight gain as a common side effect for everyone; however, it may cause weight gain for some individuals.
What should you avoid when taking Sertraline?
You should avoid taking Mono Amine Oxidase Inhibitors (MAOIs), Non-steroidal Anti-inflammatory drugs (NSAIDs), blood thinners, grapefruit juice, tyramine-rich foods, and St. John's Wort as these can cause adverse effects with Sertraline.
How does Sertraline (Zoloft) work?
Sertraline is a Selective Serotonin Reuptake Inhibitor (SSRI) that prevents serotonin reabsorption into neurons, thereby increasing the levels of this neurotransmitter in the brain. Sertraline improves mood, sleep, appetite, and energy levels while also potentially reducing anxiety, fear, unwanted thoughts, and panic attacks. It aids in restoring serotonin balance in the brain, which is necessary for regulating various bodily functions.
What to do if I overdose on Sertraline?
Sertraline overdose symptoms may include sweating, dizziness, nausea, seizures, and confusion.
How long does Sertraline take to work for anxiety?
It can take Sertraline anywhere from two to six weeks to alleviate anxiety symptoms. However, the effects of drugs may vary according to individual conditions.
How can I get Zoloft without going to the doctor?
It is easy to get Zoloft online. You can connect with one of our doctors online via the Your Doctors Online app to get Zoloft without going to a doctor from the comfort of your home.
What is a good substitute for Zoloft?
Some substitutes for Zoloft that may help treat the same symptoms/conditions include: Escitalopram, Venlafaxine, Clonazepam, Hydroxyzine.
How can I refill my Zoloft prescription?
You can get a Zoloft refill online by talking to one of our qualified professionals at Your Doctors Online.
As directed by your doctor, take one Sertraline tablet daily with or without food. For the Sertraline solution, use the dropper to mix the oral liquid form with 4 ounces (1/2 cup) of water, lemon-lime soda, orange juice, ginger ale, or lemonade. Avoid mixing with any liquid other than these. Mix Sertraline with liquid only when ready to take it. Drink it right away after mixing.
How long can you stay on Sertraline?
The duration of the treatment depends on multiple factors, such as the condition that you are treated for. For depression, you may be required to stay on the medicine for 6 months or more.
Is Zoloft similar to Xanax?
Zoloft is classified as an SSRI and is prescribed for a longer duration, while Xanax is a benzodiazepine prescribed for a short duration as it is a controlled substance. However, both drugs are used to treat similar mental health conditions.
Who should not take Zoloft?
To avoid dangerous drug interaction, you should wait 14 days after stopping an MAO inhibitor before taking sertraline. Isocarboxazid, linezolid, phenelzine, and tranylcypromine are MAO inhibitors if you've taken any of these MAOIs like Linezolid or methylene blue in the past two weeks, don't take Zoloft (sertraline). Sertraline can also cause serious heart problems in patients taking MAOIs like linezolid, intravenous methylene blue, and pimozide. People with known allergies to sertraline or its ingredients should not take sertraline. People taking liquid Antabuse (disulfiram) should also avoid taking Sertraline.
What happens if I miss a dose of Zoloft?
If you have missed a dose of Zoloft, you may experience symptoms of discontinuation, for example, drowsiness, nausea, headache, flu-like symptoms, and irritability. Take Zoloft as soon as you remember, and do not double dose if it is time for your next dose.
Can I drink alcohol with Zoloft?
If alcohol is taken with Zoloft, it intensifies the side effects of Zoloft, such as drowsiness, nausea, and difficulty in concentration.
Why is it better to take Zoloft at night?
It is better to take Zoloft at night if it makes you sleepy or drowsy so that you can function during the day.
This is the best app..You ask anything and the doctors answer you within minutes, i love it

-Phindile Mkhatshwa


It is a good app, it can be helpful with pictures and be very detailed.

-brooke snow


Wow, these people are such a blessing. Dey give accurate answered to questions asked. Its really too good

-Okiti Stephanie


Impressive work !! Connecting to a doctor was so quick. I am really impressed.

-ASIF Khan


Doctor was really great, fast at responding very helpful

-Chelsey


Chat with them the doctor that I chat with very helpful and answer all my questions I recommend to anyone

-edith bien aime


The best patient doctors that understand and give you useful information ..I'm really thankful.

-Lesego Thejane


Very informative and very detailed in explanations.Also pleasant and courteous.I would recommend to anyone.

-Stephanie Brown


Very helpful, very polite and answers every question in a well mannered way.

-kulwinder gill


I really rate this website a lot, you people don't stick and and im sure you try your best to take swift actions for your patients.

-Elijah Mark


Talk to online doctors now and get medical advice, online prescriptions, and referrals within minutes. On-demand healthcare services at your fingertips.