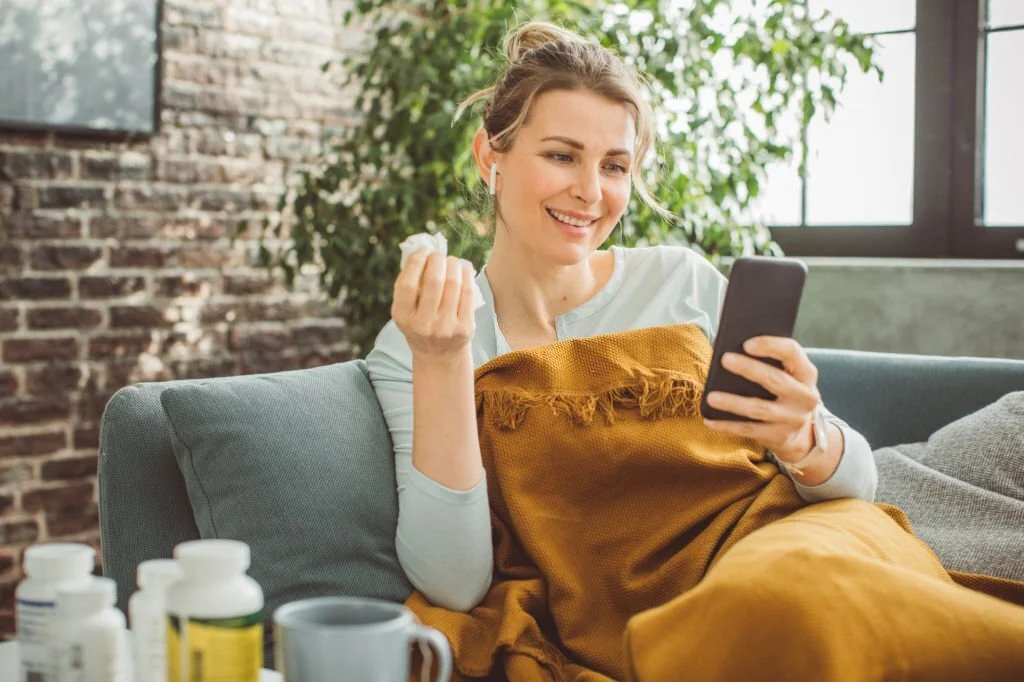 Get a Prescription for Ezetimibe Online

Ezetimibe is used to reduce cholesterol, LDL, HDL, and fatty substances in the blood. It is also used in homozygous sitosterolimia and familial hypercholesterolimia. If you have these conditions, you can refill Ezetimibe online. Obtaining an Ezetimibe prescription online is simple; visit Your Doctors Online and connect with a doctor anytime, anywhere.
Our online doctor will ask about your symptoms to determine treatment. They may suggest a follow-up appointment or clinic visit. Please know that an Ezetimibe refill will only be provided after a consultation with our doctor and if the medication is appropriate and safe.
How to Connect with an Online Doctor?
Connect with a health care professional online in 3 easy steps.
Download our app, register and tell us about your medical issue to get started.
Hyprlipidemia
Anemia
STD
UTI
Skin
Covid
Connect with a board-certified doctor. You can chat, send pictures and videos.
Hi I'm dr. Nicole. How may I help you?
Dr. Nicole, I have been taking Ezitimibe for high cholesterol; I ran out of Ezitimibe. Can you give me an Ezetimibe refill?

Our online doctors can help you with your medical issues and give you prescriptions.
Ezetimibe 10 mg tablet

Take one tablet once daily.
Send Prescription
What is Ezetimibe (Zetia) and How to Take It
Ezetimibe belongs to the cholesterol absorption inhibitors class of drugs. It comes under the brand name Zetia. There are other cholesterol absorption inhibitors from the same class includingColesevelam, Mipomersen, Sitagliptin, Lomitapide, Simvastatin, and Sitosterol. It comes as a 10 mg tablet.
Ezetimibe is a cholesterol absorption inhibitor that is taken orally and is absorbed into the systemic circulation. It targets Niemann-Pick C1-Like 1 (NPC1L1) protein in the small intestine. Cholesterol is absorbed less into the bloodstream from the digestive tract when this protein is inhibited.
With a full glass of water, ezetimibe should be taken orally. It's a pill you can swallow, with or without a meal. For best results, take your daily dose at the same time each day. Follow your doctor's instructions.

Important Information About Ezetimibe
Ezetimibe is an antihypertensive drug. You will require a prescription for Ezetimibe. Here are some essential points that you should know about this drug:
Serious side effects of Ezetimibe may include muscle pain, inflammation of the pancreas, low platelet counts, inflammation of the gallbladder, tenderness, inflammation of the liver, and serious allergic reactions.



Some commonly known drug interactions of Ezetimibe include Atorvastatin, Rosuvastatin, Warfarin, Gemfibrozil, Cyclosporine, Finofinrate, Colesevelam, Simvastatin, Rifampin, Clarithromycin, Niacin, Fibrates, Digoxin, Anticoagulants, oral contraceptives and thyroid hormones.
What medications should not be taken with Zetia?
Vitamin supplements, thyroid hormones, anti-coagulants, oral contraceptives, and immunosuppressants are some of the drug classes that are contraindicated with Zetia. Always share the complete list of medications that you are already taking before starting Zetia.
Is Ezetimibe the same as Zetia?
Yes, Ezetimibe is the generic name for the brand name Zetia. Ezetimibe is the active ingredient in Zetia that comes packed in the form of tablets of 10 mg.
Who should not take Zetia?
Zetia should not be used if you are allergic to any of its ingredients or if you have liver disease, are pregnant, breastfeeding, or have certain types of dyslipidemias. Share with your healthcare provider about any pre-existing conditions before you start taking Zetia.
Does Zetia cause hair loss?
No, hair loss is not a commonly reported side effect of Zetia. If you notice any unusual side effects while taking Zetia, you can discuss them with one of our qualified professionals via our app.
How can I refill my Zetia prescription?
You can get a refill for Zetia by downloading our app and discussing it with one of our qualified doctors online. If they find it necessary, they will provide a refill.
What happens if I miss a dose of Zetia?
If you happen to miss a dose of Zetia, it is recommended that you take it as soon as you remember. If it is almost time for your next dose, do not double the dose. If you have any questions, please consult your healthcare provider.
What happens if I take too much Zetia?
If you overdose on Zetia, you may experience side effects such as headache, sore throat, dizziness, and liver damage. No anecdote exists to Zetia, and only supportive treatment or management is done, such as gastric lavage, etc.
What foods should be avoided when taking Ezetimibe?
It is recommended to take healthy foods while taking Ezetimibe. These include high-fat dairy products, saturated fat like coconut oil, full-fat dairy products, and foods with more fat content, such as egg yolks, creams, etc.
How long does Ezetimibe stay in your system?
Ezetimibe has a half-life of 22 hours, so it is excreted from the body in about one day. However, individual factors like liver disease may affect the absorption of Ezetimibe.
Should Ezetimibe be taken at night?
Take Ezetinmibe at a time when you can remember it every day. There is no specific restriction for day or night. When determining the timing of taking Ezetimibe, it is crucial to take into account any other medications you may be taking to prevent potential interactions.
This is the best app..You ask anything and the doctors answer you within minutes, i love it

-Phindile Mkhatshwa


It is a good app, it can be helpful with pictures and be very detailed.

-brooke snow


Wow, these people are such a blessing. Dey give accurate answered to questions asked. Its really too good

-Okiti Stephanie


Impressive work !! Connecting to a doctor was so quick. I am really impressed.

-ASIF Khan


Doctor was really great, fast at responding very helpful

-Chelsey


Chat with them the doctor that I chat with very helpful and answer all my questions I recommend to anyone

-edith bien aime


The best patient doctors that understand and give you useful information ..I'm really thankful.

-Lesego Thejane


Very informative and very detailed in explanations.Also pleasant and courteous.I would recommend to anyone.

-Stephanie Brown


Very helpful, very polite and answers every question in a well mannered way.

-kulwinder gill


I really rate this website a lot, you people don't stick and and im sure you try your best to take swift actions for your patients.

-Elijah Mark


Talk to online doctors now and get medical advice, online prescriptions, and referrals within minutes. On-demand healthcare services at your fingertips.