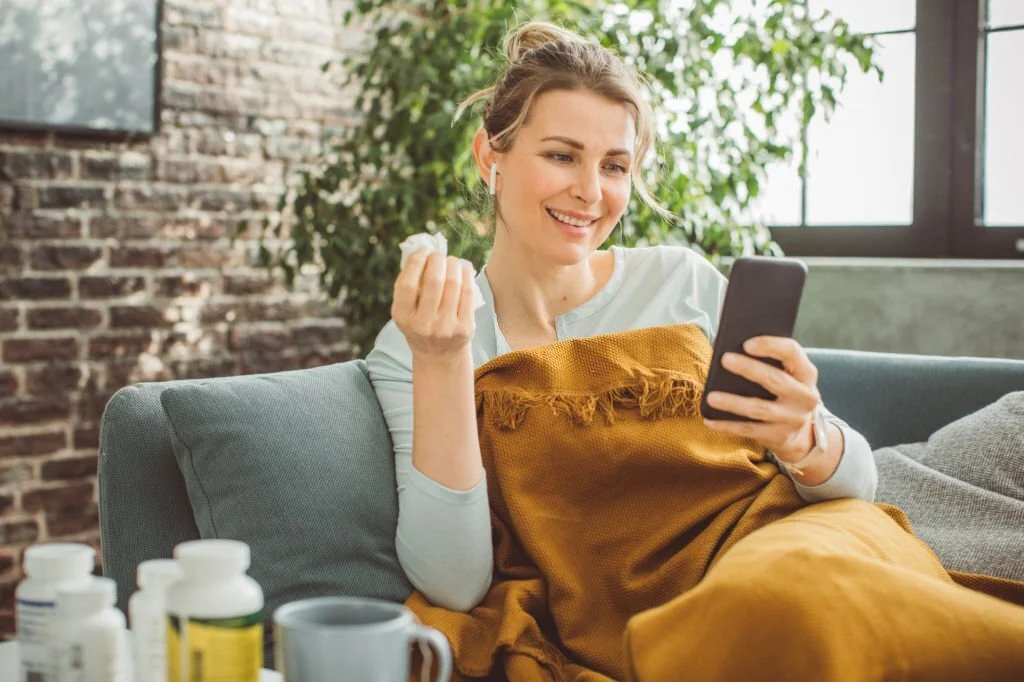 Get a Prescription for Naproxen Online
Naproxen is a nonsteroidal anti-inflammatory medicine (NSAID) used to treat pain or inflammation. It accomplishes this by inhibiting the development of enzymes that induce inflammation. You can get a Naproxen prescription online by connecting with our online doctor at Your Doctors Online, who will ask you to describe your symptoms to determine the best course of treatment. Then, if deemed necessary, they may recommend a follow-up appointment or a visit to a clinic.
However, please note a prescription will only be provided after consultation with the doctor and if the treatment is considered suitable and safe for you. 
How to Connect with an Online Doctor?
Connect with a health care professional online in 3 easy steps.
Download our app, register and tell us about your medical issue to get started.
Back Pain
Anemia
STD
UTI
Skin
Covid
Connect with a board-certified doctor. You can chat, send pictures and videos.
Hi I'm dr. Nicole. How may I help you?
Hi Dr. Nicole, I have had severe lower back pain for 2 days. Can I get some form of treatment?

Our online doctors can help you with your medical issues and give you prescriptions.
Naproxen,500 mg,  1 tablet per oral 8 hours a day as per need for pain.

Omeprazole, 20 mg, 30 minutes before breakfast on an empty stomach.
Send Prescription
What is Naproxen and How to Take It
Naproxen (generic for Naprosyn) is a prescription medicine for treating pain and discomfort associated with musculoskeletal disorders. Osteoarthritis, rheumatoid arthritis, ankylosing spondylitis (spine arthritis), juvenile arthritis (arthritis in youngsters), tendonitis, bursa, and acute gout are examples of these disorders. Arthritis is a common ailment characterized by joint inflammation and swelling. Naproxen may also be used to relieve menstrual discomfort. Non-prescription Naproxen is widely used to treat common non-urgent symptoms such as colds, fevers, headaches, and other minor ailments. It is important to note that Naproxen does not treat these problems. Instead, it aids in the relief of symptoms and the management of discomfort associated with these illnesses.
Naproxen is available in tablet form with strengths of 250mg, 375mg, and 500mg, while the liquid form contains either 25mg or 50mg in 1 ml. The appropriate dose of naproxen depends on various factors such as the reason for use, age, liver and kidney function, and symptom relief. Typical amounts include 500mg to 1,000mg per day for joint conditions, 500mg initially followed by 250mg every 6 to 8 hours as needed for muscle and bone disorders and painful periods, and 750mg followed by 250mg every 8 hours for gout attacks. Dosages are usually lower for older individuals and those with heart, liver, or kidney issues. Children's doses are based on weight. Naproxen should be taken after a meal to minimize stomach-related effects. Gastro-resistant tablets should be swallowed whole, while effervescent tablets should be dissolved in water before consumption. The liquid form is measured with a syringe or spoon provided.
Important Information About Naproxen
Following are some points that you should know about Naproxen:
Naproxen may interact with blood thinners, corticosteroids, diuretics, and certain antidepressants. 

If you are allergic to other NSAIDs (nonsteroidal anti-inflammatory medicines), such as aspirin or ibuprofen, you may experience cross-reactions. 

Common side effects of naproxen may include stomach pain, heartburn, nausea, dizziness, and headache. Serious side effects like allergic reactions, stomach bleeding, liver or kidney problems, and high blood pressure may also occur. 

Elderly individuals may be more prone to side effects like stomach bleeding and kidney problems.

Naproxen should be used cautiously during pregnancy, particularly in the third trimester, as it may harm the unborn baby.

Breastfeeding individuals should consult their doctor before using naproxen, as it can pass into breast milk and may harm the nursing infant.
How long does it take naproxen to work?
Naproxen will begin to function within an hour of being taken. Naproxen is a fast-acting analgesic which will help reduce pain and swelling immediately. However, the inflammation may take a few days to disappear. It may take up to three days to notice a consistent symptom improvement.
Is Naprosyn a controlled substance?
No, Naprosyn (naproxen) is not considered a controlled substance. It is a nonsteroidal anti-inflammatory medicine (NSAID) used to treat pain, inflammation, and fever.
How much Aleve is too much?
Do not take more than two pills, gelcaps, caplets, or liquid gels in 12 hours, and no more than three tablets, caplets, gelcaps, or liquid gels in 24 hours.
What is equivalent to prescription naproxen?
Low-dose ibuprofen (up to 1200mg/day) is considered an alternative to naproxen; however, larger ibuprofen dosages (up to the recommended maximum of 2400mg/day) are associated with an increased risk of cardiovascular events.
How can I refill my Aleve prescription?
You must consult with our online doctor at Your Doctors Online to refill your Naproxen online prescription. After discussing our medical concerns and history, our online doctor can send your prescription to your preferred local pharmacy.
Who should not take Aleve?
If you are allergic to aspirin or other NSAIDs or have a history of gastrointestinal bleeding, do not take Aleve.
Is naproxen stronger than ibuprofen?
No, naproxen is not stronger than ibuprofen. A dose of 400 mg naproxen is approximately equivalent to a dose of 400 mg ibuprofen. However, naproxen is often more effective for mild to moderate pain relief. Because ibuprofen is short-acting, it can help relieve acute pain. Meanwhile, naproxen is long-acting, making it more suitable for chronic conditions.
What is the typical starting dose of Naproxen?
Naproxen prescription dosage is determined by the patient's medical history and needs. Naproxen is often recommended as a yellow-coloured 500 mg pill to be taken twice a day, or every 6 to 8 hours, to relieve symptoms of arthritis, gout, and chronic pain. An overdose of Naproxen can result in serious side effects such as vomiting, nausea, and gastrointestinal bleeding.
This is the best app..You ask anything and the doctors answer you within minutes, i love it

-Phindile Mkhatshwa


It is a good app, it can be helpful with pictures and be very detailed.

-brooke snow


Wow, these people are such a blessing. Dey give accurate answered to questions asked. Its really too good

-Okiti Stephanie


Impressive work !! Connecting to a doctor was so quick. I am really impressed.

-ASIF Khan


Doctor was really great, fast at responding very helpful

-Chelsey


Chat with them the doctor that I chat with very helpful and answer all my questions I recommend to anyone

-edith bien aime


The best patient doctors that understand and give you useful information ..I'm really thankful.

-Lesego Thejane


Very informative and very detailed in explanations.Also pleasant and courteous.I would recommend to anyone.

-Stephanie Brown


Very helpful, very polite and answers every question in a well mannered way.

-kulwinder gill


I really rate this website a lot, you people don't stick and and im sure you try your best to take swift actions for your patients.

-Elijah Mark


Talk to online doctors now and get medical advice, online prescriptions, and referrals within minutes. On-demand healthcare services at your fingertips.