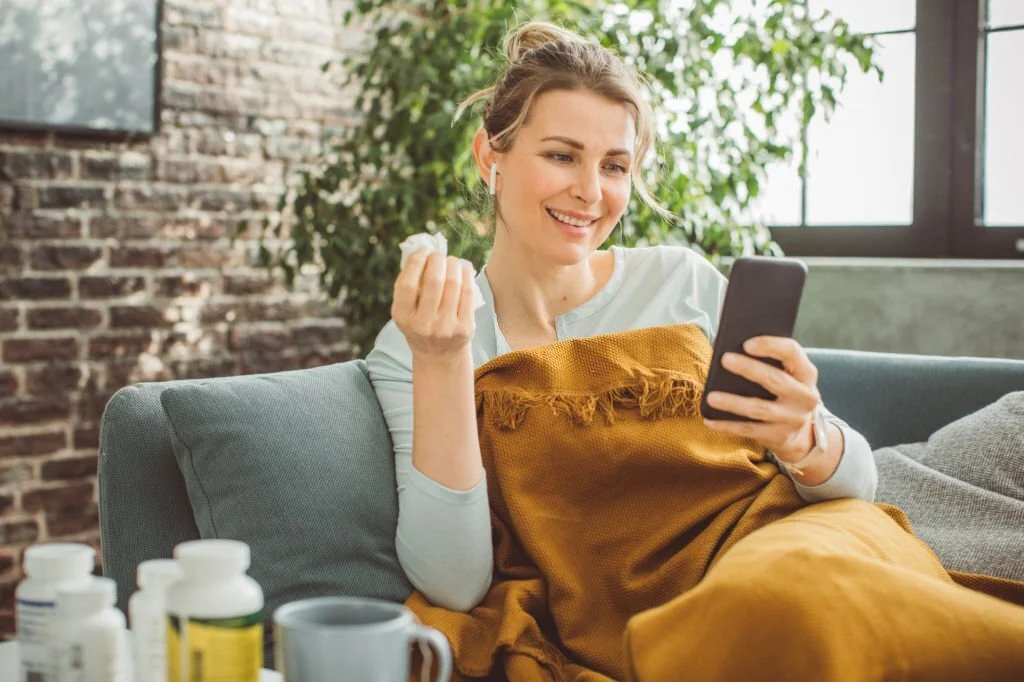 Get Rifaximin Prescription Refill Online
Rifaximin is prescribed for a number of different conditions, including Irritable Bowel Syndrome (IBS-D), hepatic encephalopathy, and traveler's diarrhea. If you have these conditions, you can get a Rifaximin refill online. Obtaining a Rifaximin prescription online is simple; visit Your Doctors Online and connect with a doctor anytime, anywhere. Our online doctor will ask about your symptoms to determine your treatment plan. They may suggest a follow-up appointment or clinic visit.
Please know that a Rifaximin refill will only be provided after a consultation with our doctor and if the medication is appropriate and safe.
How to Connect with an Online Doctor?
Connect with an online doctor in 3 easy steps.
Download our app, register and tell us about your medical issue to get started.
IBS
Anemia
STD
UTI
Skin
Covid
Connect with a board-certified doctor. You can chat, send pictures and videos.
Hi I'm dr. Nicole. How may I help you?
Dr. Nicole, I have been taking Rifaximin for irritable bowel syndrome. Can you give me a Rifaximin refill?

Our online doctors can help you with your medical issues and give you prescriptions.
Rifaximin 400 mg tablet

 




Take one tablet thrice daily for 2 weeks
Send Prescription
What is Rifaximin and how to take it
What is Rifaximin?
It is an antibiotic containing Rifamycin with a broad spectrum of action mainly used to treat gastrointestinal diseases. It is available as Xifaxan tablets 200 mg and 550 mg in the market and belongs to the antibiotics and antidiarrheals class of drugs.
How does it work?
The exact mechanism of action is not known, but Rifaximin acts locally in the gut. It is a gastrointestinal-specific antibiotic. It inhibits bacterial RNA synthesis by binding to the beta subunit of the bacterial DNA, thus relieving symptoms of irritable bowel syndrome and leading to improved gut health.
How to take Rifaximin?
Take Rifaximin with a glass full of water and do not chew or crush the tablet. You can take it with or without food, but exactly as prescribed by your health care provider.
Important information about Rifaximin
Rifaximin is a broad-spectrum antibiotic drug. You will require a prescription for Rifaximin. Some essential points that you should know about this drug include:

The common side effects of Rifamixin include headache, flatulence, rectal tenesmus, bowel urgency, and abdominal pain. Share with your doctor if you notice any of these side effects.




Serious side effects of Rifaximin may include watery or bloody diarrhea, allergic reaction, severe stomach pain, fever, abnormal liver function test, and fluid buildup in the stomach.

Rifaximin is not indicated in case you are hypersensitive to it. It is also contraindicated with Micrbiota oral, Nelfinavir, and Metoclopramide intranasal as it may lead to serious adverse effects in that case.
FAQs About Rifaximin Refill
What is the typical starting dose of Rifaximin (Xifaxan)?
For irritable bowel syndrome, the recommended daily dose for adults is 550 mg daily. Do not overdose or underdose the recommended dose and follow the exact dosing schedule recommended by your doctor.
Can I get Rifaximin (Xifaxan) over the counter?
No, it is a prescription medication not available for use over the counter. You will need a prescription from your health care provider to purchase it from a pharmacy.
When is the best time to take Rifaximin?
It is recommended to take Rifaximin thrice daily at a dosing interval of 8 hours each. This means you should take it in the morning, noon, and evening. However, your doctor may prescribe it according to your individual needs.
Who should not take Rifaximin?
People hypersensitive to Rifamycin antibiotics or any Rifamixin ingredients should avoid taking it. People with bloody diarrhea or taking medications contraindicated with Rifaximin should avoid it.
What happens if I miss a dose of Rifaximin?
If you happen to forget a dose, make an effort to take it as soon as you recall. If it is time for your next dose, it is recommended to skip the previous dose and only take your next scheduled dose.
What happens if I take too much Rifaximin?
If you overdose on Rifaximin, you may experience an increased risk of side effects that may worsen, including stomach pain, fever, fluid buildup, and watery or bloody diarrhea.
Does Rifaximin kill good bacteria?
No, it only kills the pathogenic bacteria in the gut, and it has shown an overall good impact on the gut microbiota. It, however, does kill some of the gut bacteria, but the overall composition of gut bacteria does not change.
How does Rifaximin work for hepatic encephalopathy?
Rifaximin decreases the concentration of pro-inflammatory cytokines by reducing the concentration of toxins derived by the gut. The exact mechanism of action of Rifaximin against hepatic encephalopathy is not known.
This is the best app..You ask anything and the doctors answer you within minutes, i love it

-Phindile Mkhatshwa


It is a good app, it can be helpful with pictures and be very detailed.

-brooke snow


Wow, these people are such a blessing. Dey give accurate answered to questions asked. Its really too good

-Okiti Stephanie


Impressive work !! Connecting to a doctor was so quick. I am really impressed.

-ASIF Khan


Doctor was really great, fast at responding very helpful

-Chelsey


Chat with them the doctor that I chat with very helpful and answer all my questions I recommend to anyone

-edith bien aime


The best patient doctors that understand and give you useful information ..I'm really thankful.

-Lesego Thejane


Very informative and very detailed in explanations.Also pleasant and courteous.I would recommend to anyone.

-Stephanie Brown


Very helpful, very polite and answers every question in a well mannered way.

-kulwinder gill


I really rate this website a lot, you people don't stick and and im sure you try your best to take swift actions for your patients.

-Elijah Mark


Talk to online doctors now and get medical advice, online prescriptions, and referrals within minutes. On-demand healthcare services at your fingertips.