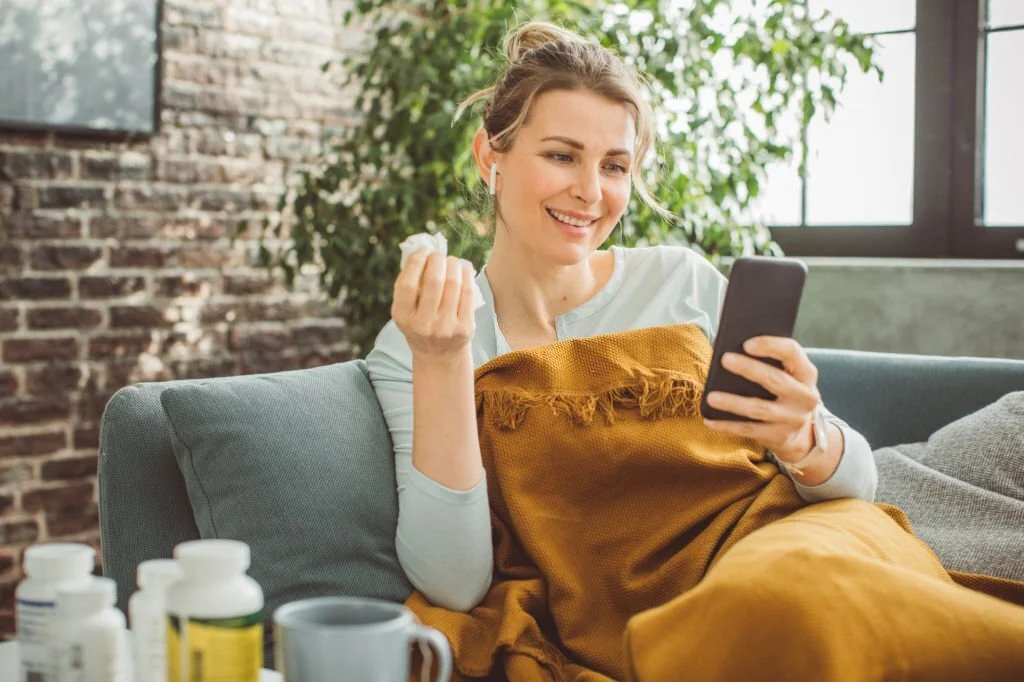 Get an inhaler Prescription Online
Inhaler use delivers medication directly to the lungs for effective treatment of respiratory conditions. You can get Inhaler online by connecting with our online doctor at Your Doctors Online, who will ask you to describe your symptoms to determine the best course of treatment.
Then, if deemed necessary, they may recommend a follow-up appointment or a visit to a clinic. However, please note a prescription will only be provided after consultation with the doctor and if the treatment is considered suitable and safe for you.
How to Connect with an Online Doctor?
Connect with a health care professional online in 3 easy steps.
Download our app, register and tell us about your medical issue to get started.
Respiratory
Anemia
STD
UTI
Skin
Covid
Connect with a board-certified doctor. You can chat, send pictures and videos.
Hi I'm dr. Nicole. How may I help you?
Hi Dr Nicole, I have asthma and shortness of breath. Can I get some form of treatment, please?

Our online doctors can help you with your medical issues and give you prescriptions.
Salbutamol Inhalational Aerosol 100 mcg / Pump actuation, use one puff as required.

Stay under 4 puffs ( 200 mcg ) per day.
Send Prescription
Inhalers are medical devices that deliver medication directly to the lungs to treat respiratory medical conditions like asthma and chronic obstructive pulmonary disease (COPD). It has a canister within that holds the drug, which is kept as a powder or fine mist. Shake the inhaler canister thoroughly before using it. After that, thoroughly exhalate, insert the mouthpiece between your lips, and close your mouth.
Press down on the canister to release the medication as you inhale slowly. Breathe in deeply and hold your breath for a moment before slowly expelling. If more than one dose is suggested, wait for the advised time between puffs. It's crucial to adhere to your doctor's instructions, and if you need clarification, ask them for the correct inhaler technique.
Important Information About Inhaler
Following are some points that you should know about an Inhaler :
Inhalers may interact with other medications or substances, so you must inform your healthcare provider about all the medicines, supplements, or herbs you take. Certain drugs, such as beta-blockers, may interfere with the effectiveness of some inhalers.

Inhalers may have contraindications, meaning they should not be used in certain situations. For example, some inhalers containing specific medications may not be suitable for people with certain heart conditions or allergies to their components.

Common side effects of inhalers may include headaches, tremors, increased heart rate, dry mouth, and throat irritation. However, these vary depending on the specific medication in the inhaler.

Cross-reactivity is a term used to describe how a person's body might react to similar medications or substances. Some people may be sensitive to specific ingredients in one type of inhaler, and it's essential to be cautious if switching to a new inhaler with similar components.

The use of inhalers during pregnancy and breastfeeding should be carefully evaluated. Some inhalers may be considered safe during pregnancy, while others might need to be adjusted or replaced with alternatives. The same applies to breastfeeding, as some inhaler medications can pass into breast milk.
Can you buy an inhaler over the counter?
Inhalers can be purchased over-the-counter (OTC) in different countries, depending on their laws. Some inhalers, including short-acting bronchodilators like albuterol (salbutamol), may be sold over the counter in several nations. These "rescue inhalers" are frequently used to alleviate asthma symptoms quickly.
How to get an inhaler in an emergency?
In an emergency, call for medical help (e.g., 911). Use your prescribed inhaler if available, or check nearby pharmacies for over-the-counter options while informing them about your condition. You can also get a prescription for asthma inhaler online at a telemedicine platform like Your Doctors Online. You will be assessed, and a prescription will be sent to your pharmacy.
How to get an inhaler without seeing a doctor?
You will need to consult with our online doctor at Your Doctors Online to get an inhaler online or an inhaler refill online. After discussing our medical concerns and history, our online doctor can send your prescription to your preferred local pharmacy.
Types of asthma inhalers?
1. Short-acting beta-agonists (SABA) inhalers (e.g., albuterol): Provide quick relief for acute asthma symptoms.
2. Long-acting beta-agonists (LABA) inhalers (e.g., salmeterol): Used for control and prevention of asthma symptoms.
3. Inhaled corticosteroids (ICS) inhalers (e.g., fluticasone): Reduce airway inflammation and are commonly used for daily maintenance.
4. Combination inhalers (e.g., fluticasone/salmeterol): Contain both an ICS and a LABA for combined long-term control and symptom relief.
5. Leukotriene receptor antagonists inhalers (e.g., montelukast): Offer additional control for some asthma cases.
6. Anticholinergic inhalers (e.g., ipratropium): May be used in combination with SABA for severe asthma exacerbations.
Do I need a prescription for an asthma inhaler?
It depends on the type of inhaler. Some inhalers, like short-acting beta-agonists (SABA), may be available without a prescription. In contrast, others, such as inhaled corticosteroids (ICS) or combination inhalers, typically require a prescription from a healthcare provider. You can also get a prescription at a telemedicine platform like Your Doctors Online. You will be assessed, and a prescription will be sent to your pharmacy.
Can I manage my asthma with an online doctor
Yes, you can manage your asthma with an online doctor in some cases. Online doctors can provide consultations, prescribe medications, and offer guidance for asthma management. However, for more complex or severe cases, in-person evaluation and monitoring may be necessary. You can also get a prescription at a telemedicine platform like Your Doctors Online. You will be assessed, and a prescription will be sent to your pharmacy.
Who shouldn't take asthma inhalers?
Asthma inhalers should be used cautiously or under medical supervision if you have glaucoma, heart disease, seizures, diabetes, weakened immune system, chronic infections, osteoporosis, thyroid disorder, or liver/kidney disease. Always consult your doctor before starting any new medication.
How long does it take for asthma inhalers to work?
Asthma inhalers can begin to work within 10-20 minutes, providing quick relief for acute symptoms. However, the exact onset of action may vary depending on the type of inhaler and the individual's response to the medication.
What should I avoid with asthma inhalers?
Avoid common triggers like tobacco smoke, dust mites, outdoor air pollution, pet fur, dander, mold, and certain cleaning products to control asthma symptoms.
Do people with asthma use inhalers every day?
Depending on their severity and prescribed treatment plan, people with asthma may use inhalers daily. Some individuals with mild asthma may only need inhalers occasionally when they experience symptoms or encounter triggers. However, those with more persistent or moderate to severe asthma often require daily use of controller medications, such as inhaled corticosteroids or combination inhalers, to manage and prevent symptoms. Regularly using these medications helps reduce airway inflammation and control asthma over the long term.
This is the best app..You ask anything and the doctors answer you within minutes, i love it

-Phindile Mkhatshwa


It is a good app, it can be helpful with pictures and be very detailed.

-brooke snow


Wow, these people are such a blessing. Dey give accurate answered to questions asked. Its really too good

-Okiti Stephanie


Impressive work !! Connecting to a doctor was so quick. I am really impressed.

-ASIF Khan


Doctor was really great, fast at responding very helpful

-Chelsey


Chat with them the doctor that I chat with very helpful and answer all my questions I recommend to anyone

-edith bien aime


The best patient doctors that understand and give you useful information ..I'm really thankful.

-Lesego Thejane


Very informative and very detailed in explanations.Also pleasant and courteous.I would recommend to anyone.

-Stephanie Brown


Very helpful, very polite and answers every question in a well mannered way.

-kulwinder gill


I really rate this website a lot, you people don't stick and and im sure you try your best to take swift actions for your patients.

-Elijah Mark


Talk to online doctors now and get medical advice, online prescriptions, and referrals within minutes. On-demand healthcare services at your fingertips.