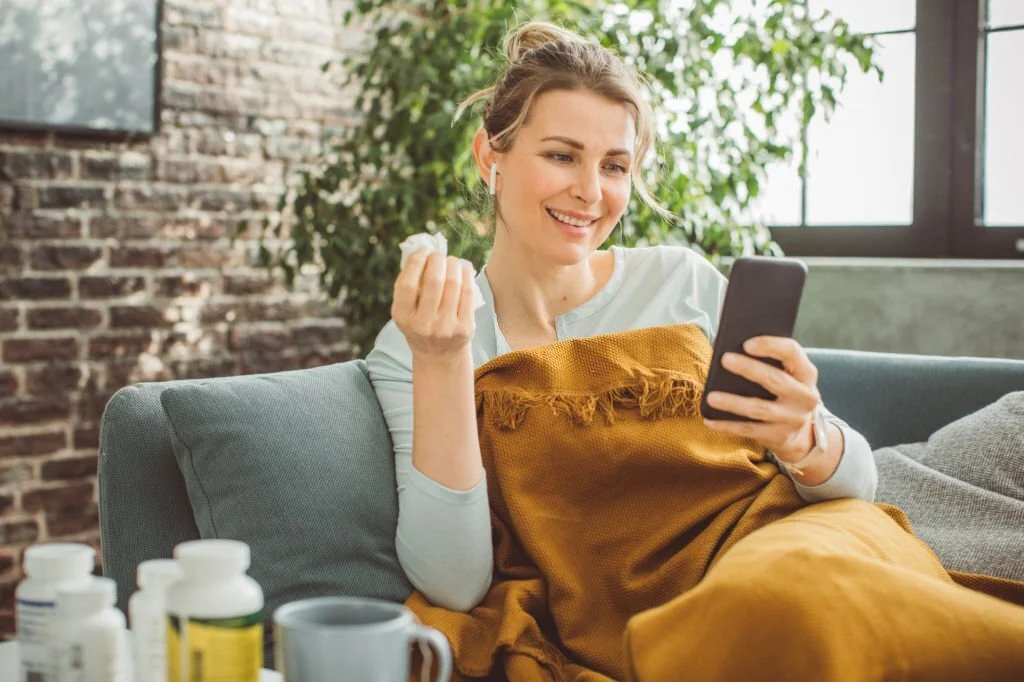 Get a prescription for Levothyroxine (Synthroid) online
You can get a Levothyroxine (Synthroid) refill prescription online to treat hypothyroidism and thyroid cancer.
Getting a Levothyroxine (Synthroid))refill online is very straightforward; you can connect with a doctor at any time and place of your choice at Your Doctors Online. However, please note that a Levothyroxine (Synthroid) refill online will only be provided after consultation with the doctor and if the treatment is suitable and safe for you.
Request Levothyroxine prescription online
Get an online prescription for Levothyroxine in three easy steps.
Download our app, register and tell us about your medical issue to get started.
Endocrinology
Anemia
STD
UTI
Skin
Covid
Connect with a board-certified doctor. You can chat, send pictures and videos.
Hi I'm Dr. Nicole. How may I help you?
Hi Dr. Nicole, I have hypothyroidism and have been taking Synthroid. Can you provide a refill, please?

Our online doctors can help you with your medical issues and give you prescriptions.
Synthroid, 50mcg

Take one tablet once daily as directed. 
Send Prescription
What is Levothyroxine (Synthroid)?
Levothyroxine is a form of thyroid hormone substitute or replacement prescription medicine used to replace the body's hormones in conditions when your thyroid gland is underactive and is producing insufficient hormone levels. Levothyroxine prescription can also be used to treat some types of thyroid cancer.
Over-the-counter Synthroid is unavailable. Levothyroxine is available under various brand names, including Synthroid, Unithroid, Tirosint, Levoxyl, and Euthyrox.
Levothyroxine is available in the form of a capsule tablet or syrup.
Important information about Levothyroxine/Synthroid
Common side effects of the pills include fever, chest pain, palpitations, irritability, hives, rash, irregular breathing, sweating, tremors, nausea, changes to menstruation, heat intolerance etc.

Serious side effects of levothyroxine can include heart-related complications such as arrhythmias or chest pain, confusion, slurred speech, disorientation, or loss of consciousness.
FAQs about Levothyroxine prescription online
Does Levothyroxine require a prescription?
Yes, Levothyroxine requires a prescription. Thyroid meds online are an option. After consulting with a licensed physician, you can get a Levothyroxine or Synthroid prescription online.
Is there a substitute for Levothyroxine?
Armour Thyroid, Thyrolar, Cytomel, and Levoxyl are some levothyroxine alternatives. Some options for natural synthroid alternatives include selenium, B-12, Vitamin D and specific supplements.
How long is Levothyroxine prescribed for?
Levothyroxine is typically prescribed for long-term use to manage thyroid conditions such as hypothyroidism—most individuals with hypothyroidism need to take levothyroxine indefinitely to maintain stable thyroid hormone levels and alleviate symptoms. The duration of the prescription may vary based on individual factors and the specific thyroid condition, but it is generally a lifelong medication.
How many days can you stay without levothyroxine pills?
The duration a person can go without taking levothyroxine (Synthroid) pills can vary based on individual factors and the severity of their hypothyroidism. However, taking at most 6 to 7 days of medication is generally advised, as thyroid hormone levels may drop, leading to symptoms like fatigue, weight gain, and mood changes.
What happens if I stop taking Levothyroxine for 2 weeks?
If you stop taking your medicine, symptoms of hypothyroidism can reappear. If you leave hypothyroidism untreated, it can cause severe health problems.
What should I avoid taking with Synthroid?
Keep in mind that some substances and meals can affect Synthroid. Soy and cottonseed meal-containing foods may reduce the effectiveness of Synthroid. Dietary fibre, grapefruit juice, and walnuts can all reduce the effectiveness of Synthroid.
How long does it take for Synthroid to take full effect?
It takes time for the body to adjust to the medicine. Generally, individuals notice an improvement 6 weeks after taking Levothyroxine. For others, it can take longer to see significant effects.
Who should not take Synthroid?
This side effect may occur in individuals with adrenal gland issues, such as insufficiency. Synthroid shouldn't be taken until your levels of adrenal hormones are within a normal range.
What happens if I take too much Synthroid?
Consuming doses higher than those advised by the manufacturer may result in adverse side effects. Confusion, convulsions, coma, and even death are possible side effects.
What are the interactions of levothyroxine?
Levothyroxine has several drug interactions. Some classes of drugs that it interacts with include Antacids, Bile acid sequestrants, PPIs, Beta-blockers, etc. It also interacts with beverages and food items, including coffee, grapefruit juice, alcohol, walnuts, etc.
How to Use Levothyroxine?
The medicine is to be taken orally. Levothyroxine is available in various dosage strengths, typically ranging from 25 micrograms to 200 micrograms or higher. The prescribed dosage depends on the individual's thyroid hormone levels, age, weight, and other factors, and it is usually taken orally in the morning on an empty stomach. Dosage adjustments and monitoring may be necessary to maintain thyroid hormone levels within the desired range.
What does levothyroxine do for hyperthyroidism?
Levothyroxine (Levoxyl, Synthroid, etc.) must be taken lifelong by individuals who have undergone a thyroidectomy or radioiodine therapy. It provides thyroid hormones to the body. Medication is also required to maintain a healthy blood calcium level if the parathyroid glands have been removed during surgery.
Can I fix my thyroid without medication?
You cannot manage hypothyroidism by taking pills or eating particular meals. However, they can also improve your mood, reduce stress, and shield you from illness. Make sure you take the medication as directed by your doctor. Natural ones cannot replace traditional treatments.
This is the best app..You ask anything and the doctors answer you within minutes, i love it

-Phindile Mkhatshwa


It is a good app, it can be helpful with pictures and be very detailed.

-brooke snow


Wow, these people are such a blessing. Dey give accurate answered to questions asked. Its really too good

-Okiti Stephanie


Impressive work !! Connecting to a doctor was so quick. I am really impressed.

-ASIF Khan


Doctor was really great, fast at responding very helpful

-Chelsey


Chat with them the doctor that I chat with very helpful and answer all my questions I recommend to anyone

-edith bien aime


The best patient doctors that understand and give you useful information ..I'm really thankful.

-Lesego Thejane


Very informative and very detailed in explanations.Also pleasant and courteous.I would recommend to anyone.

-Stephanie Brown


Very helpful, very polite and answers every question in a well mannered way.

-kulwinder gill


I really rate this website a lot, you people don't stick and and im sure you try your best to take swift actions for your patients.

-Elijah Mark


Talk to online doctors now and get medical advice, online prescriptions, and referrals within minutes. On-demand healthcare services at your fingertips.