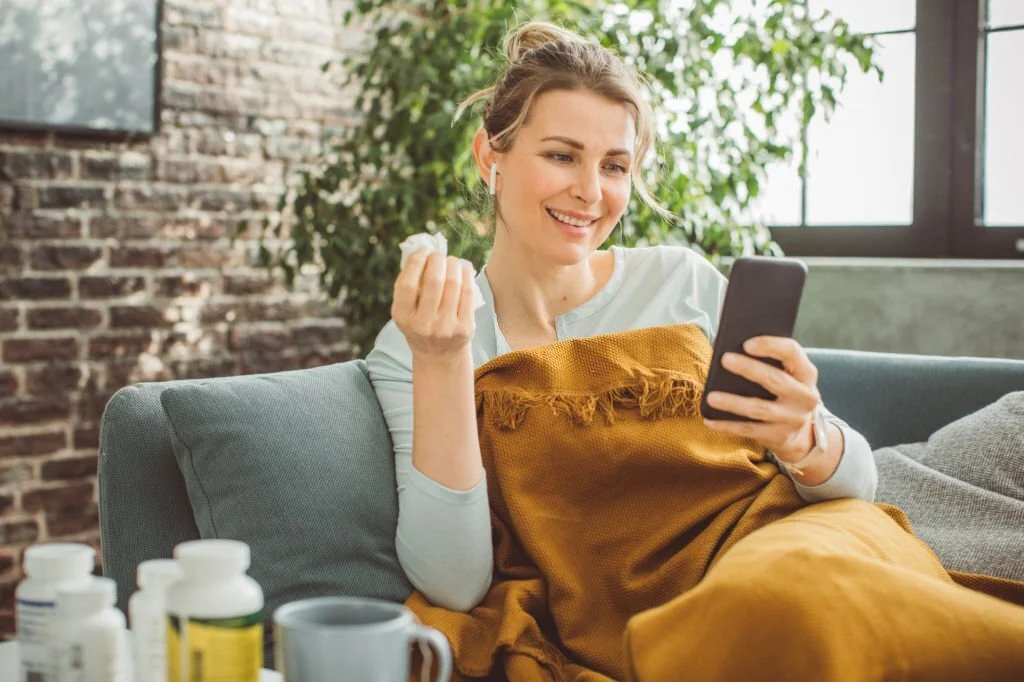 Get Singulair (Montelukast) Prescription Refill Online
Singulair (Montelukast) is commonly used to prevent Asthma and allergies. It eases breathing by reducing airway inflammation. If you have these conditions, you can refill Singulair online. Obtaining a Singulair prescription online is simple; visit Your Doctors Online and connect with a doctor anytime, anywhere. Our online doctor will ask about your symptoms to determine treatment. They may suggest a follow-up appointment or clinic visit.
Please know that a Singulair refill will only be provided after a consultation with our doctor and if the medication is appropriate and safe.
How to Connect with an Online Doctor?
Connect with an online doctor in 3 easy steps.
Download our app, register and tell us about your medical issue to get started.
Asthma
Anemia
STD
UTI
Skin
Covid
Connect with a board-certified doctor. You can chat, send pictures and videos.
Hi I'm dr. Nicole. How may I help you?
Dr. Nicole, I feel difficulty in breathing; I feel better after taking Singulair. Can you give me a Singulair refill?


Our online doctors can help you with your medical issues and give you prescriptions.
Singulair 10 mg table.
Take one tablet once daily.



Send Prescription
Uses of Singulair (Montelukast) and How to Take It
Montelukast belongs to the leukotriene modifier class of drugs. It reduces airway inflammation and hence helps treat asthma and allergies. It is available as Singulair, Montair, Montek, Lukotas, and Montril in the market. It can be taken orally as a tablet, chewable tablet, or granules. Zafirlukast and Zileuton are two other examples of drugs in this category. Montelukast should not be used as a first line of treatment for allergic rhinitis.
Montelukast is a highly selective leukotriene receptor antagonist strongly binding to the cysteinyl leukotriene receptor for leukotrienes D4 and E4, reducing airway inflammation and swelling. It works by inhibiting the action of leukotriene D4 in the lungs, which reduces inflammation and relaxes smooth muscles, making breathing easier. The immune system's production of leukotrienes promotes inflammation, bronchoconstriction, and mucus secretion in the airways.
Take Singulair (Montelukast) as prescribed by your doctor. Singulair is an oral medication that can be taken once a day, preferably in the evening, to reduce or prevent allergy and asthma symptoms. Take a single dose two hours before exercise for bronchoconstriction induced by exercise. Wait at least 24 hours before taking another dose. For oral granules, you can place them directly into the mouth and engulf them with a spoon full of ice cream, rice, or mashed carrots. For kids, oral granules can also be mixed with a spoon full of breast milk or baby formula.
Important Information About Singulair
Singulair is an antiasthmatic drug. You will require a prescription for Singulair. Here are some essential points that you should know about this drug:

Singulair (Montelukast) can not be used for a sudden asthma attack; use your quick-relief inhaler if you have a sudden asthma attack as prescribed by your healthcare professional.




The effectiveness or safety of Singulair (Montelukast) may be altered if taken with other medications such as metronidazole, Dexamethasone, Amiodarone, Fluticasone, Fexofenadine, Xanax, Zoloft, Aspirin, and Cetirizine as these medications interact with Singulair. Singulair is also contraindicated in patients with hypersensitivity or a history of known allergy to any of its symptoms.

Some people may experience side effects, including upper respiratory tract infections, headache, ear inflammation or infection, cough, rhinorrhea, diarrhea, fatigue, influenza, sinusitis, fatigue, dizziness, and abnormal liver enzymes. If you develop any of these conditions, seek medical attention immediately.
FAQs About Singulair(Montelukast)
Can you buy Singulair over the counter?
No, it is not available over the counter as it is a prescription medication and is only available on prescription by a registered medical practitioner.
How long does it take for Singulair to work?
The onset of action for Montelukast depends upon the individual health parameters and conditions being treated. However, according to clinical trials, Montelukast has shown results within one day of starting the treatment. For seasonal allergies, it may take several weeks before your symptoms start improving.
How can I refill my Singulair prescription?
You can connect with one of our qualified doctors online via the Your Doctors Online mobile app to get a Singulair refill. Our doctor will only give you a refill if found necessary according to your health condition.
What should I avoid while taking Montelukast?
You should avoid taking Aspirin and other NSAIDS, alcohol, driving, and other medications that may have an interaction with Montelukast. Share all herbal supplements and medications you take with your doctor before taking Singulair. Avoid allergens and triggers to prevent sudden asthma attacks, even while taking Montelukast.
Why should Singulair be taken at night?
Montelukast is recommended in the evening so individuals can have a sound sleep without shortness of breath. It helps prevent exercise-induced asthma if you exercise the day following day.
How long does it take for Singulair to take full effect?
Montelukast starts working immediately to lower the leukotriene receptors in your body, but it may take several weeks for Singulair to show full effect.
Who should not take Singulair?
If you are hypersensitive to Singulair or any of its ingredients, avoid taking Singulair. You should also avoid singulair if taking NSAIDs or Aspirin because Montelukast may have severe interactions with them.
What happens if I take too much Singulair?
A Singulair overdose may cause serious adverse effects, for example, tingling, numbing, shooting pain in limbs, sinus swelling, muscle weakness, stuttering, uncontrolled movements, and allergic reactions.
What does Singulair do for allergies?
Singulair works by blocking the leukotriene receptors to prevent allergies and symptoms of asthma. It helps reduce congestion, sneezing, and itching. It prevents exercise-induced bronchoconstriction and also helps control inflammation.
Is Singulair an antihistamine?
No, SIngulair is not an anti-histamine. It's a leukotriene receptor blocker, so it helps ease inflammation, relaxes smooth muscles, and keeps mucus from collecting in the lungs.
Does Singulair make you sleepy?
Singulair can cause drowsiness and dizziness, but it does not necessarily make you sleepy. However, it is recommended to avoid driving for a few hours after you have taken Montelukast.
Does Singulair cause weight gain?
No, Singulair does not cause weight gain frequently, but it may sometimes cause weight gain in some individuals.
This is the best app..You ask anything and the doctors answer you within minutes, i love it

-Phindile Mkhatshwa


It is a good app, it can be helpful with pictures and be very detailed.

-brooke snow


Wow, these people are such a blessing. Dey give accurate answered to questions asked. Its really too good

-Okiti Stephanie


Impressive work !! Connecting to a doctor was so quick. I am really impressed.

-ASIF Khan


Doctor was really great, fast at responding very helpful

-Chelsey


Chat with them the doctor that I chat with very helpful and answer all my questions I recommend to anyone

-edith bien aime


The best patient doctors that understand and give you useful information ..I'm really thankful.

-Lesego Thejane


Very informative and very detailed in explanations.Also pleasant and courteous.I would recommend to anyone.

-Stephanie Brown


Very helpful, very polite and answers every question in a well mannered way.

-kulwinder gill


I really rate this website a lot, you people don't stick and and im sure you try your best to take swift actions for your patients.

-Elijah Mark


Talk to online doctors now and get medical advice, online prescriptions, and referrals within minutes. On-demand healthcare services at your fingertips.