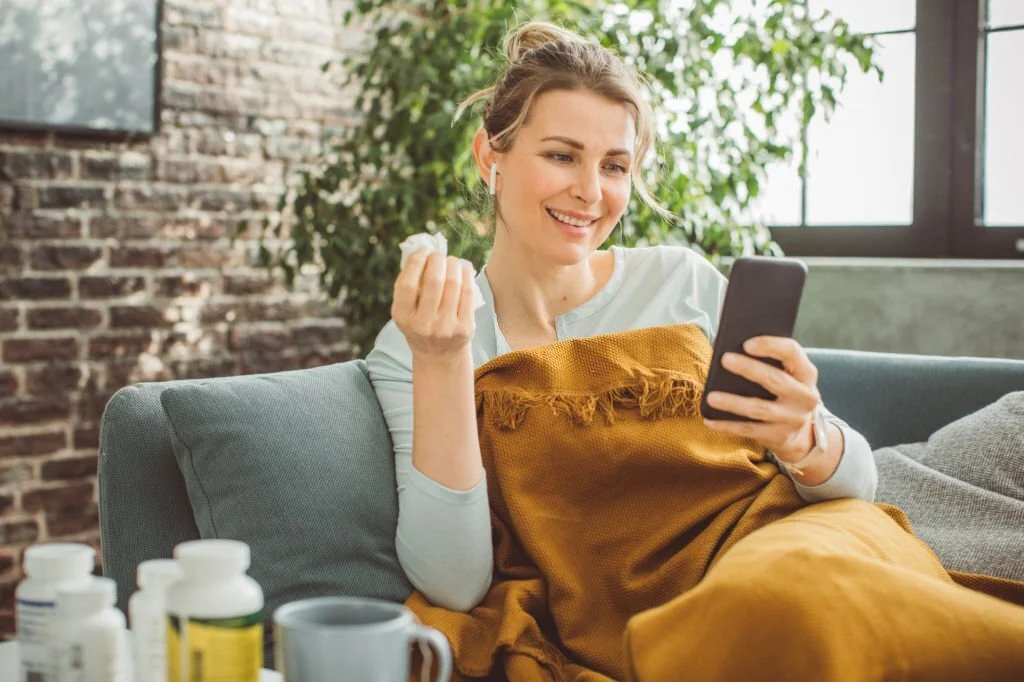 Get a Prescription Refill for Atenolol Online
Atenolol is a prescription medication that treats high blood pressure, heart failure, migraines and chest pain effectively. You can get an Atenolol prescription online by connecting with our doctor at Your Doctors Online. Our online doctor will ask you to describe your symptoms to determine the best course of treatment. Then, if deemed necessary, they may recommend a follow-up appointment or a visit to a clinic. However, please note that a refill of Atenolol online will be provided after consultation with the doctor and if the treatment is considered suitable and safe for you.
How to Connect with an Online Doctor?
Connect with a health care professional online in 3 easy steps.
Download our app, register and tell us about your medical issue to get started.
Cardiovascular Diseases
Anemia
STD
UTI
Skin
Covid
Connect with a board-certified doctor. You can chat, send pictures and videos.
Hi I'm dr. Nicole. How may I help you?
Hi Dr Nicole, I have been taking Atenolol to manage hypertension. Can you provide me with a refill?

Our online doctors can help you with your medical issues and give you prescriptions.
Atenolol Tablets, 25mg, take 1 tablet orally.

Twice daily in the morning and evening as directed.
Send Prescription
What is Atenolol and How to Take It
Atenolol, commonly available as Tenormin, is a prescription drug for treating hypertension, heart failure and chest pain. Some Atenolol uses that are off-label uses include irregular rapid heartbeats, alcohol withdrawal syndrome, prevention of migraines and thyrotoxicosis. Atenolol is a beta-blocker. These types of drugs reduce blood pressure and heart rate. This helps take the strain off your heart, improving cardiovascular function. Atenolol may be prescribed independently or alongside other medications depending on your condition.
Atenolol prescription medication is classified as a beta1-selective adrenoreceptor-blocking agent. Beta-blockers mainly work by blocking the effects of the hormone adrenaline, also called epinephrine. Once that happens, your blood vessels dilate, improving blood flow and lowering blood pressure. Furthermore, Beta-blockers also cause reduce the heartbeat by causing the muscles in your heart to relax. This reduces the workload on the heart. Atenol specifically has cardioselective properties and has different effects on the blood vessels. Therefore, Atenolol medication is widely prescribed due to the fact that it has as it has very low intrinsic sympathomimetic activities. Tenoretic is a specific formulation that contains a combination of Chlorthalidone and Atenolol.
An Atenolol prescription has to be taken orally and is available as Atenolol 25 mg, Atenolol 50 mg and atenolol 100 mg tablets. Atenolol dosage and frequency will be determined after evaluating the severity of your current condition. Do not take more than the prescribed dose because overdosing can be life-threatening. The Atenolol anxiety dosage, Atenolol for migraine and Atenolol dosage for the elderly will vary. Hence it is important to consult with a doctor. 
Tenormin can be given intravenously in a clinic/hospital setup. There is a specific best time to take Atenolol. 
Important Information About Atenolol
There isn't any option for a counter substitute for Atenolol or non-prescription Atenolol. 
If you are currently taking this medicine, you should be aware of the following:
Some of the mild side effects include drowsiness, dizziness, low energy, nausea, diarrhoea, and lightheadedness.

Some severe side effects of Atenolol may include shortness of breath, weight gain, fainting, and swelling of the hands, feet, ankles, or lower legs.

Inform your doctor about using Atenolol if you are pregnant or planning a pregnancy or if your profession revolves around operating heavy machinery daily. 

Atenolol can lead to dizziness, so be careful whilst driving.

Some drug interactions include diltiazem and verapamil, clonidine and indomethacin. 
If you have a history of asthma or other lung diseases; diabetes, severe allergies; sinus bradycardia, hyperthyroidism, pheochromocytoma, heart failure or kidney disease, make sure to notify your doctor. 
How fast does Atenolol work?
Atenolol starts working within 2-4 hours to lower blood pressure. You may notice an improvement in tachycardia within the first hour after administration. An injection of Atenolol works as quickly as 5 minutes.
How long does it take Atenolol to lower heart rate?
It can take 2 to 4 hours to notice a significant decrease in heart rate.
How does Atenolol work to control blood pressure?
Atenol works by relaxing blood vessels that help reduce/slow heart rate. Eventually, this improves blood flow and decreases blood pressure. Atenolol can take 1–2 weeks to work effectively.
Is 25 mg of Atenolol a low dose?
Yes, depending on your condition, you will be prescribed the best dose.
Does Atenolol cause weight gain?
Some beta-blockers may cause 2 to 3 lbs of weight gain during the first few months of starting treatment. This is mainly because beta-blockers may slow down your metabolism.
How long does Atenolol stay in your system?
It can take around 32 hours after the last dose for Atenolol to be eliminated by the body unless your kidney function is impaired.
Is Atenolol an ACE inhibitor?
No, Atenolol is a beta-blocker and not an ACE inhibitor. However, both drugs are used to manage similar conditions such as high blood pressure, heart failure and stroke.
Does Atenolol interfere with sleep?
Beta-blockers have the tendency to lower your body's level of melatonin. Melatonin regulates the sleep cycle, and disruption can lead to sleep disturbances.
Can you drink coffee with Atenolol?
It is best to avoid caffeinated beverages, including coffee, sodas and energy drinks. These can interact with beta-blockers and slow down the process of their metabolising.
Should I avoid certain foods while taking Atenolol?
Orange juice, potassium supplements and caffeinated drinks can interact with beta-blockers and should be avoided.
Is it ok to take Atenolol twice a day?
You will need to take Atenol as prescribed. Take one tablet in the morning and the second one in the evening if you have been prescribed to take two a day.
This is the best app..You ask anything and the doctors answer you within minutes, i love it

-Phindile Mkhatshwa


It is a good app, it can be helpful with pictures and be very detailed.

-brooke snow


Wow, these people are such a blessing. Dey give accurate answered to questions asked. Its really too good

-Okiti Stephanie


Impressive work !! Connecting to a doctor was so quick. I am really impressed.

-ASIF Khan


Doctor was really great, fast at responding very helpful

-Chelsey


Chat with them the doctor that I chat with very helpful and answer all my questions I recommend to anyone

-edith bien aime


The best patient doctors that understand and give you useful information ..I'm really thankful.

-Lesego Thejane


Very informative and very detailed in explanations.Also pleasant and courteous.I would recommend to anyone.

-Stephanie Brown


Very helpful, very polite and answers every question in a well mannered way.

-kulwinder gill


I really rate this website a lot, you people don't stick and and im sure you try your best to take swift actions for your patients.

-Elijah Mark


Talk to online doctors now and get medical advice, online prescriptions, and referrals within minutes. On-demand healthcare services at your fingertips.