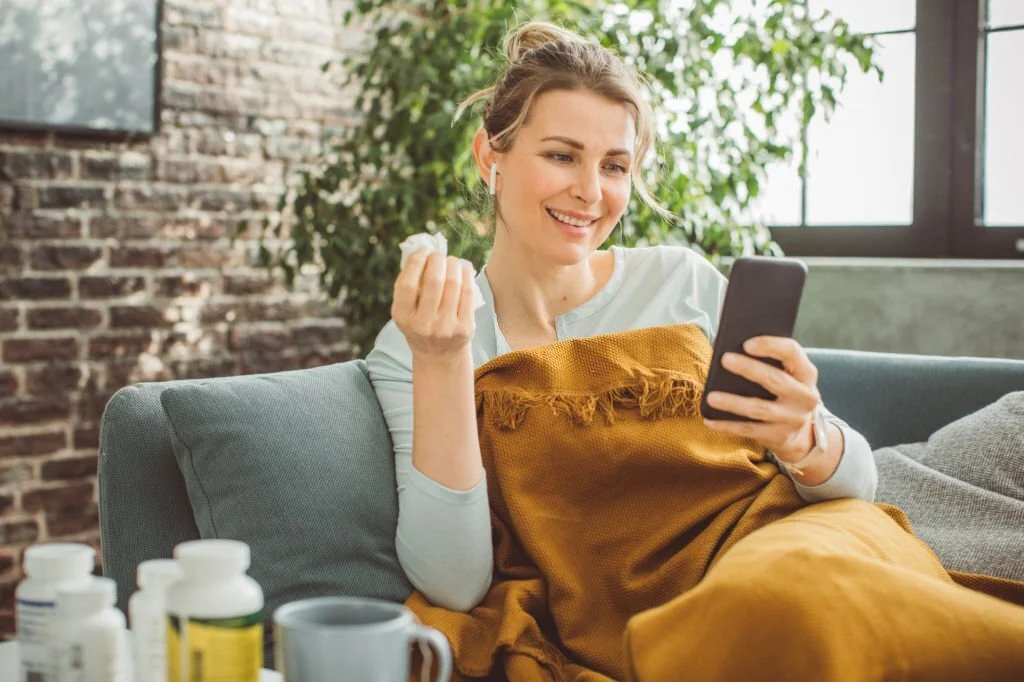 Get a Divalproex Sodium prescription refill online
You can get a Divalproex sodium prescription refilled online to help seizures and the manic phase of bipolar disorder (manic-depressive illness) and to prevent migraine headaches.
Getting a Divalproex sodium refill online is very straightforward; you can connect with a doctor anytime via Your Doctors Online. However, please note that the Divalproex sodium medication will only be refilled online after consultation with the doctor and if the treatment is suitable and safe for you.
Request Divalproex Sodium prescription refill
Get a prescription refill for Divalproex Sodium online in three easy steps.
Download our app, register and tell us about your medical issue to get started.
Neurology
Anemia
STD
UTI

Infections

Covid
Connect with a board-certified doctor. You can chat, send pictures and videos.
Hi I'm Dr. Nicole. How may I help you?
Hi, Dr. Nicole, I am suffering from bipolar disorder. Can I get a Devalproex sodium refill, please?

Our online doctors can help you with your medical issues and give you prescriptions.
Divalproex sodium 250 mg Twice daily
Send Prescription
What is Divalproex Sodium?
Depakote generic, Divalproex Sodium, is a medication for epilepsy and bipolar disorder. It works by increasing GABA's inhibitory effects and reducing neuronal excitability. It also blocks sodium channels, enhancing its antiepileptic properties. Available in different forms like tablets and capsules, each with distinct release profiles, it offers varied dosing options for individualized treatment. Always use it under medical supervision due to side effects and the need for regular monitoring.
Important information about Divalproex Sodium
Common side effects of Divalproex sodium include nausea, vomiting, dizziness, drowsiness, weight gain, and hair loss.

Serious side effects of Divalproex sodium can include liver problems, pancreatitis, low platelet count, high ammonia levels in the blood, changes in mood or behaviour, and unusual bleeding or bruising.
FAQs about Divalproex Sodium prescription refill
What is better Depakote ER and Depakote DR?
Extended Release is what the "ER" in Depakote ER stands for. The active ingredient in Depakote ER, which comes in two strengths, is the same as that in Depakote Delayed-Release Tablets. Still, it is made to release the medication gradually over 24 hours. Depakote ER, therefore, only needs to be taken once a day.
How long does it take for Divalproex to work?
Divalproex may not start working for one to two weeks. During this period, you may "feel" the drug functioning, although for other people, the reduction of symptoms may take longer.
Does Depakote cause erectile dysfunction?
Clinical trials with Depakote DR sprinkle capsules, Depakote ER tablets, or Depakote DR tablets did not disclose these. However, once the medications were made accessible for usage, complaints of sexual adverse effects surfaced. In particular, Depakote and Depakote ER have been linked to erectile dysfunction.
Does Depakote cause weight gain?
Yes, Depakote (Divalproex sodium) is known to be associated with weight gain as a side effect in some individuals. This weight gain can be a result of increased appetite and changes in metabolism.
What foods to avoid while on Depakote?
Foods heavy in fat, coffee, chocolate, and tea should be avoided when taking Depakote since they may interfere with the medication's absorption. Alcohol should be consumed in moderation or not at all since it may interact with Depakote and raise the possibility of adverse effects.
Does Depakote make you sleepy?
Depakote (Divalproex sodium) can cause drowsiness and sleepiness as a common side effect. This effect may vary among individuals, and it is often more pronounced when the medication is first started or when the dosage is adjusted.
How to stop Depakote withdrawal?
To reduce withdrawal symptoms, stopping Depakote (Divalproex sodium) should be done under a doctor's supervision. Instead of abruptly stopping the medication, the healthcare professional usually gradually reduces the dosage over time to stop Depakote withdrawal. This tapering procedure lowers the likelihood of withdrawal symptoms while allowing the body to acclimatize gradually.
Is Divalproex the same as Depakote?
Yes, Divalproex is the generic name for the medication, while Depakote is a brand name. Both Divalproex and Depakote contain the same active ingredient, Divalproex sodium, and have the same therapeutic effects. The choice between the generic and brand name versions is often a matter of cost and personal preference, as the active ingredient is the same.
This is the best app..You ask anything and the doctors answer you within minutes, i love it

-Phindile Mkhatshwa


It is a good app, it can be helpful with pictures and be very detailed.

-brooke snow


Wow, these people are such a blessing. Dey give accurate answered to questions asked. Its really too good

-Okiti Stephanie


Impressive work !! Connecting to a doctor was so quick. I am really impressed.

-ASIF Khan


Doctor was really great, fast at responding very helpful

-Chelsey


Chat with them the doctor that I chat with very helpful and answer all my questions I recommend to anyone

-edith bien aime


The best patient doctors that understand and give you useful information ..I'm really thankful.

-Lesego Thejane


Very informative and very detailed in explanations.Also pleasant and courteous.I would recommend to anyone.

-Stephanie Brown


Very helpful, very polite and answers every question in a well mannered way.

-kulwinder gill


I really rate this website a lot, you people don't stick and and im sure you try your best to take swift actions for your patients.

-Elijah Mark


Talk to online doctors now and get medical advice, online prescriptions, and referrals within minutes. On-demand healthcare services at your fingertips.