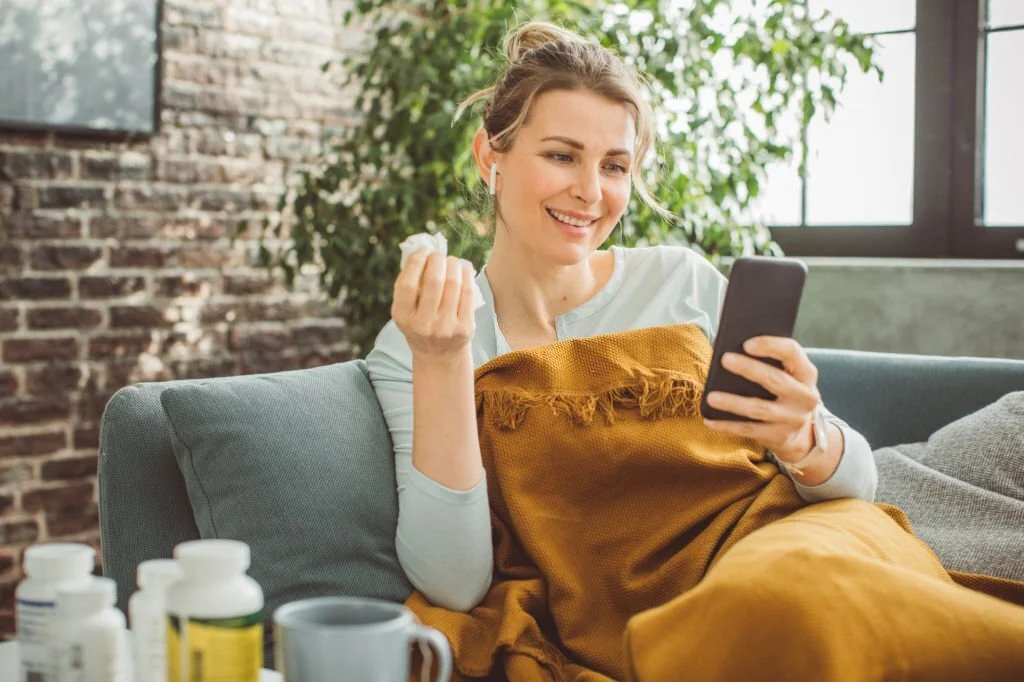 Get Pyridium (Phenazopyridine) prescription Online
Pain, burning, and the urge to urinate frequently or immediately are all symptoms of urinary tract irritation that can be alleviated with Pyridium (Phenazopyridine). If you have these conditions, you can refill Pyridium online. Obtaining a Pyridium prescription online is simple; visit Your Doctors Online and connect with a doctor anytime, anywhere.
Our online doctor will ask about your symptoms to determine treatment. They may suggest a follow-up appointment or clinic visit. Please know that a Pyridium refill will only be provided after a consultation with our doctor and if the medication is appropriate and safe.
How to Connect with an Online Doctor?
Connect with a health care professional online in 3 easy steps.
Download our app, register and tell us about your medical issue to get started.
Urinary tract infection
Anemia
STD
UTI
Skin
Covid
Connect with a board-certified doctor. You can chat, send pictures and videos.
Hi I'm dr. Nicole. How may I help you?
Dr. Nicole, I feel pain while passing urine due to UTI. Can you give me something that can help relieve symptoms instantly?

Our online doctors can help you with your medical issues and give you prescriptions.
Pyridium 200 mg tablet,

Take one tablet thrice daily for two days only.
Send Prescription
What is Pyridium (Phenazopyridine) and How to Take It
Phenazopyridine is from the therapeutic class of genitourinary tract agents used to relieve symptoms caused by the irritation of the urinary tract lining, such as pain, the feeling of urinating frequently and burning. It comes under the brand name Pyridium, Phenazo, AZO Urinary pain relief, Uristat, Urobiotic, AZO standard, Baridium, Poridium, Uricalm, and Re-AZO.
Pain in the lower urinary tract can be alleviated with Pyridium. Pyridium is indicated for urinary tract pain, urgency, and similar discomfort. Pyridium is available in tablet form, and some other drugs from the same therapeutic class include Pyridium, Oxybutin, Tamsulosin, and Solifenacin.
As a local analgesic or anesthetic, pyridium acts as a painkiller to calm the lining of the urinary tract. It acts as a local anesthetic in the urinary tract, reducing inflammation and pain. It is available as tablets in two different dosage strengths 100mg and 200mg.
Pyridium is taken as two 100mg tablets or one 200mg tablet taken thrice daily. It is not recommended to take Pyridium any more than two days. It is best to take it after eating to prevent stomach distress. Always follow as prescribed by your doctor.
Important Information About Pyridium (Phenazopyridine)
Pyridium is a miscellaneous genito-urinary tract agent. You will require a prescription for Pyridium. Here are some essential points that you should know about this drug:
Some common side effects of Pyridium include headache, stomach upset, skin rash, and dizziness. If you experience any of these side effects and they persist, talk to your doctor.



Serious side effects of Pyridium include yellowing of the skin or eyes, allergic reactions, and dark urine. Talk to your doctor if you've stopped taking Pyridium and are still experiencing these symptoms.




Pyridium can interact with other medications, such as sulfa drugs, antacids, and antibiotics therefore, it is necessary to share the complete list of drugs with your healthcare provider before you start taking Pyridium.
How long does it take for Phenazopyridine to work?
Phenazopyridine usually takes 30 minutes after oral administration to work. It imparts a local analgesic and anesthetic effect on the urinary tract lining to produce the desired effects. You can consult one of our doctors online via our app for relevant queries.
Is Pyridium over the counter?
No, this medication is only available with a valid prescription from a doctor or other licensed medical professional. You can obtain some forms of Pyridium over the counter as well, but the OTC strength is less than the prescription strength these include 95 mg, 97.5 mg, and 99.5 mg.
Does Phenazopyridine cure UTI?
No, it is not used to cure UTI, but it can help relieve the symptoms of UTI while other medication and treatment options relieve urinary tract infections. Speak to your doctor if your symptoms persist after taking Phenazopyridine.
How often can you take Pyridium?
You can take two 100mg tablets thrice daily or 200mg tablets thrice daily, so it accounts for a total of 600 mg dose a day. It is recommended to take this dose for not more than two days.
Can you get high on Pyridium?
No, Pyridium does not have abusive potential or psychoactive effects that can make you feel high. However, if you notice any unusual symptoms while taking Pyridium, you can always discuss them with one of our qualified practitioners online.
Can you drink alcohol with Pyridium?
It is not recommended to take Pyridium and alcohol together as it can enhance the side effects such as dizziness and drowsiness while taking Pyridium. You can discuss with your doctor if you experience any serious adverse effects.
What is a typical starting dose of Phenazopyridine?
The usual starting dose of Phenazopyridine is 200mg thrice daily. Your exact dosing schedule will be determined by your doctor based on your individual symptoms and response to treatment. Always follow the dosing schedule as recommended by your healthcare provider.
This is the best app..You ask anything and the doctors answer you within minutes, i love it

-Phindile Mkhatshwa


It is a good app, it can be helpful with pictures and be very detailed.

-brooke snow


Wow, these people are such a blessing. Dey give accurate answered to questions asked. Its really too good

-Okiti Stephanie


Impressive work !! Connecting to a doctor was so quick. I am really impressed.

-ASIF Khan


Doctor was really great, fast at responding very helpful

-Chelsey


Chat with them the doctor that I chat with very helpful and answer all my questions I recommend to anyone

-edith bien aime


The best patient doctors that understand and give you useful information ..I'm really thankful.

-Lesego Thejane


Very informative and very detailed in explanations.Also pleasant and courteous.I would recommend to anyone.

-Stephanie Brown


Very helpful, very polite and answers every question in a well mannered way.

-kulwinder gill


I really rate this website a lot, you people don't stick and and im sure you try your best to take swift actions for your patients.

-Elijah Mark


Talk to online doctors now and get medical advice, online prescriptions, and referrals within minutes. On-demand healthcare services at your fingertips.