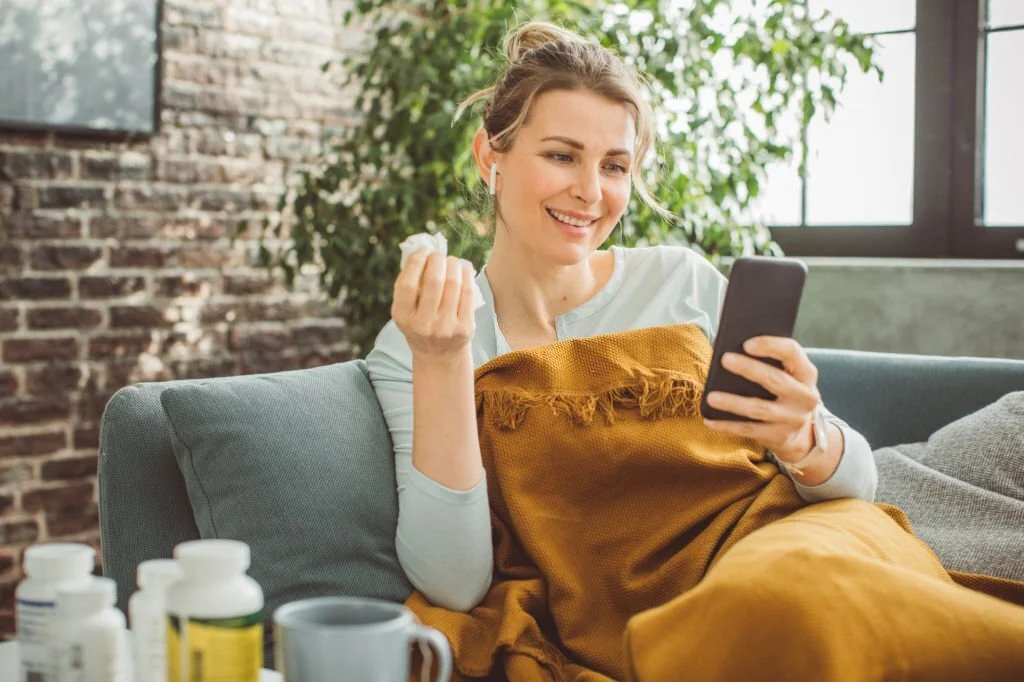 Get Hydroxychloroquine Prescription Refill Online
Hydroxychloroquine is a medication used to treat and prevent malaria, as well as autoimmune diseases like rheumatoid arthritis and lupus. If you have these conditions, you can refill Hydroxychloroquine online. Obtaining a Hydroxychloroquine prescription online is simple; visit Your Doctors Online and connect with a doctor anytime, anywhere. Our online doctor will ask about your symptoms to determine treatment. They may suggest a follow-up appointment or clinic visit. Please know that a Hydroxychloroquine refill will only be provided after a consultation with our doctor and if the medication is appropriate and safe.
How to Connect with an Online Doctor?
Connect with a health care professional online in 3 easy steps.
Download our app, register and tell us about your medical issue to get started.
Rheumatoid Arthritis
Anemia
STD
UTI
Skin
Covid
Connect with a board-certified doctor. You can chat, send pictures and videos.
Hi I'm dr. Nicole. How may I help you?
Dr. Nicole, I've been experiencing a lot of joint pain. Can you give
Hydroxychloroquine refill?

Our online doctors can help you with your medical issues and give you prescriptions.
Hydroxychloroquine 200 mg tablet

Take one tablet once daily.
Send Prescription
What is Hydroxychloroquine and How to Take It
Hydroxychloroquine is a disease-modifying antirheumatic drug (DMARD) available under brand names like Plaquenil, Quinoric, Hydroquin, and Quensyl. It comes in 200 and 400 mg strengths and is commonly available in round, film-coated tablets. Other members of this class include Sulfasalazine, Azathioprine, Methotrexate, and Chloroquine.
Hydroxychloroquine exerts its mechanism of action by accumulating in acidic intracellular compartments, like lysosomes and endosomes, interfering with antigen processing, toll-like receptor signaling, and cytokine production. This modulation of immune responses helps alleviate inflammation, effectively treating autoimmune conditions like rheumatoid arthritis and systemic lupus erythematosus. It displays antimalarial properties by disrupting Plasmodium species' metabolism within human cells.
Hydroxychloroquine is available in tablet form, and the dosage and frequency vary based on the treated condition. For malaria prophylaxis, the usual dose is a 400mg tablet once a week. For systemic lupus and rheumatoid arthritis, the dose typically ranges from 200 to 400mg once or twice daily. To reduce the chances of a stomach upset, it should be taken with a meal or a glass of milk.
Important Information About Hydroxychloroquine
Hydroxychloroquine is an antimalarial and antirheumatic drug. You will require a prescription for Hydroxychloroquine. Here are some essential points that you should know about this drug:
Hydroxychloroquine can cause several common side effects, including headache, dizziness, nausea, vomiting, and loss of appetite. Other common side effects may involve weight loss, nervousness, skin rash or itching, hair loss, changes in hair color, diarrhea, abdominal pain, drowsiness, dry mouth, mood changes, ringing in the ears, and trouble hearing.



Some serious side effects associated with hydroxychloroquine include irreversible damage to the retina of the eye, especially with long-term or high-dose use. Patients should be cautious of severe muscle weakness, loss of coordination, underactive reflexes, and sudden changes in mood or behavior.




Overdose symptoms, such as drowsiness, vision changes, seizure, slow heart rate, and weak pulse, require immediate medical attention. Long-term or high-dose use of the medication can lead to irreversible damage to the retina of the eye and cause muscle and nerve problems. Patients should know that they might feel agitated, irritable, or exhibit unusual behaviors.




Hydroxychloroquine carries the risk of causing severe heart problems, mainly when used concurrently with certain medications. Inform your doctor about all your medicines, particularly cimetidine, cyclosporine, methotrexate, rifampicin, praziquantel, ampicillin, digoxin, tamoxifen, or heart rhythm medicines.
FAQs About Hydroxychloroquine
Is Hydroxychloroquine over the counter?
No, hydroxychloroquine is not an over-the-counter medication. You need a prescription from a doctor to get it. You can get in touch with one of our doctors online to get a prescription refill.
Is Hydroxychloroquine safe to take daily?
The safety of using Hydroxychloroquine daily depends on the specific medical condition being treated and the individual patient's factors. Follow the recommended dose and talk to a healthcare professional for personalized advice.
Is Hydroxychloroquine a steroid?
No, Hydroxychloroquine is not classified as a steroid. It falls under the category of Disease-Modifying Anti-Rheumatic Drugs (DMARDs), which are used to treat certain autoimmune conditions.
Who should avoid Hydroxychloroquine?
If you are allergic to hydroxychloroquine or any of the substances it contains, you should not use it. Also, individuals with a history of vision changes, retinal damage, heart disease, heart rhythm disorder, diabetes, liver or kidney disease, or porphyria should practicecaution.
Does Hydroxychloroquine cause hair loss?
Yes, hair loss is a potential side effect of hydroxychloroquine use. While not experienced by everyone, some patients may notice hair thinning or shedding while taking the medication.
Does Hydroxychloroquine make you sleepy?
Yes, drowsiness is a possible side effect of hydroxychloroquine. Some individuals may experience increased tiredness or drowsiness while on the medication.
How long can you stay on Hydroxychloroquine?
The duration of treatment is decided by your healthcare provider based on your condition and therapeutic response. Usually, for Lupus and rheumatoid arthritis treatment, Hydroxychloroquine is typically prescribed for long-term use. For malaria prophylaxis, it is usually taken once a week for several weeks before and after travel to a malaria-prone area.
When is the best time to take Hydroxychloroquine?
Take Hydroxychloroquine with food or a glass of milk. Taking the medication with food helps reduce the likelihood of experiencing stomach upset or gastrointestinal discomfort.
Does Hydroxychloroquine affect the brain?
Hydroxychloroquine has been associated with alterations in mood or behavior, including the possibility of having suicidal thoughts. It may also lead to agitation, irritability, or other abnormal behaviors. Patients experiencing any unusual side effects should seek medical attention.
This is the best app..You ask anything and the doctors answer you within minutes, i love it

-Phindile Mkhatshwa


It is a good app, it can be helpful with pictures and be very detailed.

-brooke snow


Wow, these people are such a blessing. Dey give accurate answered to questions asked. Its really too good

-Okiti Stephanie


Impressive work !! Connecting to a doctor was so quick. I am really impressed.

-ASIF Khan


Doctor was really great, fast at responding very helpful

-Chelsey


Chat with them the doctor that I chat with very helpful and answer all my questions I recommend to anyone

-edith bien aime


The best patient doctors that understand and give you useful information ..I'm really thankful.

-Lesego Thejane


Very informative and very detailed in explanations.Also pleasant and courteous.I would recommend to anyone.

-Stephanie Brown


Very helpful, very polite and answers every question in a well mannered way.

-kulwinder gill


I really rate this website a lot, you people don't stick and and im sure you try your best to take swift actions for your patients.

-Elijah Mark


Talk to online doctors now and get medical advice, online prescriptions, and referrals within minutes. On-demand healthcare services at your fingertips.