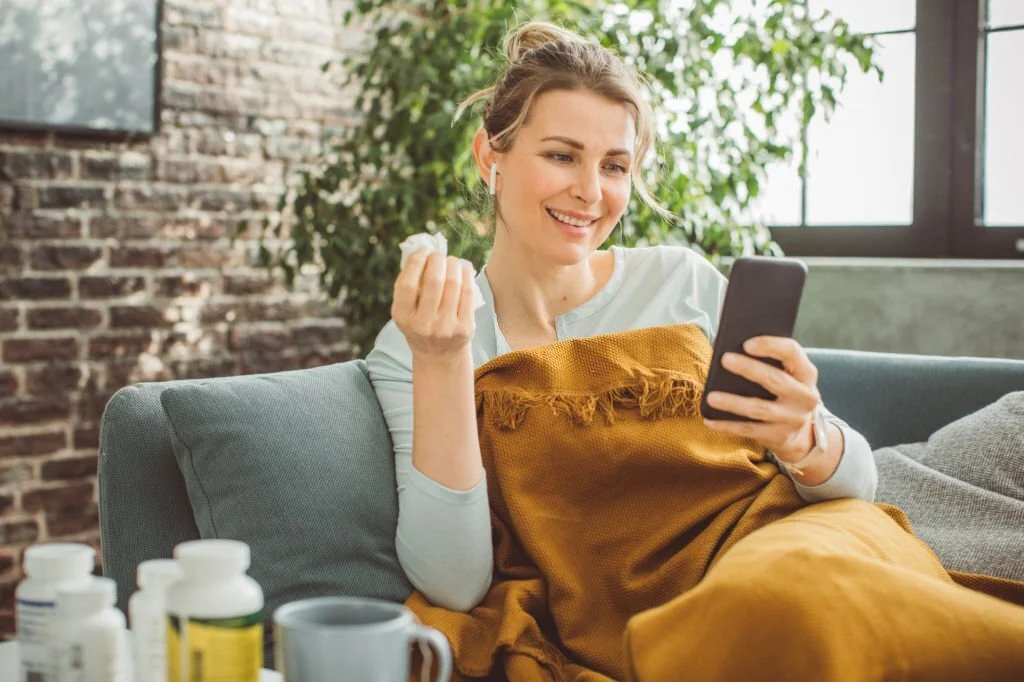 Get a prescription refill for Axert online
You can get an Axert medication refill to prevent or relieve headaches, pain, and other migraine symptoms.
Getting an Axert ( Almotriptan) refill online is very straightforward; you can connect with a doctor at any time and place of your choice at Your Doctors Online. However, please note that Axert ( Almotriptan) for migraines will only be refilled after consultation with the doctor and if the treatment is suitable and safe for you.
Request Axert prescription refill
Get a prescription refill for Axert online in three easy steps.
Download our app, register and tell us about your medical issue to get started.
Migraine
Anemia
STD
UTI
Skin
Covid
Connect with a board-certified doctor. You can chat, send pictures and videos.
Hi I'm Dr. Nicole. How may I help you?
Hi Dr Nicole, I have a migraine. Can I get a refill of my medication, please?

Our online doctors can help you with your medical issues and give you prescriptions.
Axert ( Almotriptan) 12.5 mg as a single dose, 3 days
Send Prescription
Axert (generic name almotriptan) is a medication classified as a triptan, a class of drugs used to treat migraines and cluster headaches.
Its mechanism of action involves narrowing blood vessels in the brain and reducing inflammation, helping to relieve the pain and symptoms related to migraines. Axert is available by prescription only, and it comes in oral tablet form, typically in strengths of 6.25 mg and 12.5 mg, allowing patients to select the appropriate dosage based on their condition and doctor's recommendations. It is not available over the counter and should be used under medical supervision.
Important information about an Axert
Common side effects of an Axert encompass dry mouth, nausea, vomiting, numbness, tingling or burning sensation, dizziness, drowsiness or mild headache (not a migraine).

Serious side effects of Almotriptan can include Possible side effects of Axert may include numbness or tingling and pale/blue fingers or toes, blood circulation problems, like leg weakness or pain, and leg numbness or tingling, high serotonin levels with symptoms like agitation, hallucinations, and fast heart rate and stomach or intestinal problems, such as severe pain, nausea, vomiting, diarrhea, or bloody stools.
FAQs about Axert prescription refill
Interactions of Almotriptan (Axert)?
Almotriptan (Axert) may interact with MAOIs, serotoninergic medications, ergotamine derivatives, and CYP3A4 inhibitors/inducers and should be used cautiously in individuals with cardiovascular conditions.
How long does it take for Axert to work?
Axert typically takes between 30 minutes and 2 hours to start working. As it only treats migraines that have already begun, its goal is to lessen acute symptoms.
Does Axert make you tired?
Yes, Axert (almotriptan) can cause drowsiness and fatigue as a common side effect. Many people may experience a sense of tiredness or drowsiness after taking this medication. It's advisable to avoid activities with mental alertness, such as operating heavy machinery, until you know how Axert affects you personally.
Is almotriptan a blood thinner?
Almotriptan, which makes up Axert's main constituent, is not a blood thinner. It is a member of the triptan drug family, which treats migraines by tightening blood vessels in the brain and lowering inflammation.
Does Axert have caffeine?
No, Axert (almotriptan) does not contain caffeine as an active ingredient. Caffeine is not a component of Axert, but some over-the-counter migraine medications and combination products contain caffeine to enhance their pain-relieving effects.
Can you take almotriptan every day?
Almotriptan, which makes up Axert, should not be taken daily to avoid or treat migraines. Almotriptan and other headache medications shouldn't be taken more than ten days a month.
What are the alternatives for Axert?
No one should take almotriptan with severe or uncontrolled high blood pressure. Or people working with heavy machinery as it causes reduced mental alertness.
What not to take with Axert?
When taking Axert (almotriptan), caution is crucial when using other medications. Avoid combining it with other triptans or ergotamine-containing drugs to prevent an increased risk of side effects. Do not use Axert within two weeks of stopping a monoamine oxidase inhibitor (MAOI), as this can lead to serotonin syndrome, a severe and potentially life-threatening condition characterized by symptoms like agitation, hallucinations, rapid heart rate, high blood pressure, and more.
What is the starting dose for Axert?
The typical Axert (almotriptan) dosage in adults is 6.25 mg taken orally as a single tablet. If migraine relief is not achieved within 2 hours, a second 6.25 mg tablet may be taken, but the maximum recommended dose in 24 hours should be at most 12.5 mg.
At the first migraine symptom, take Axert (Almotriptan) orally with or without food as your doctor prescribes. Almotriptan should not be used to stop migraines. Do not take further doses of this medication if your symptoms do not improve before consulting your doctor.
Does Axert make you sleepy?
Almotriptan may make you feel sleepy, lightheaded, or have visual issues. Before engaging in any activity that calls for alertness and good vision, such as operating machinery or driving, be sure you know how this medication affects you.
This is the best app..You ask anything and the doctors answer you within minutes, i love it

-Phindile Mkhatshwa


It is a good app, it can be helpful with pictures and be very detailed.

-brooke snow


Wow, these people are such a blessing. Dey give accurate answered to questions asked. Its really too good

-Okiti Stephanie


Impressive work !! Connecting to a doctor was so quick. I am really impressed.

-ASIF Khan


Doctor was really great, fast at responding very helpful

-Chelsey


Chat with them the doctor that I chat with very helpful and answer all my questions I recommend to anyone

-edith bien aime


The best patient doctors that understand and give you useful information ..I'm really thankful.

-Lesego Thejane


Very informative and very detailed in explanations.Also pleasant and courteous.I would recommend to anyone.

-Stephanie Brown


Very helpful, very polite and answers every question in a well mannered way.

-kulwinder gill


I really rate this website a lot, you people don't stick and and im sure you try your best to take swift actions for your patients.

-Elijah Mark


Talk to online doctors now and get medical advice, online prescriptions, and referrals within minutes. On-demand healthcare services at your fingertips.