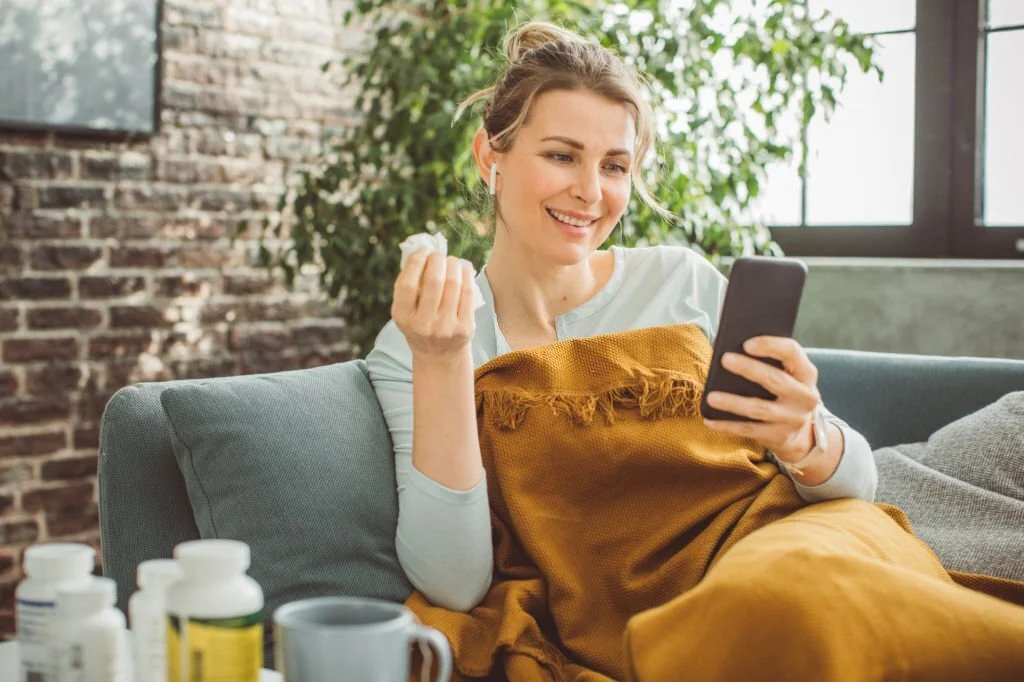 Get a Prescription for Celecoxib Online
Celecoxib relieves pain and inflammation in conditions like osteoarthritis and rheumatoid arthritis. You can get a prescription for Celecoxib online by connecting with our online doctor at Your Doctors Online, who will ask you to describe your symptoms to determine the best course of treatment. Then, if deemed necessary, they may recommend a follow-up appointment or a visit to a clinic. However, please note a prescription will only be provided after consultation with the doctor and if the treatment is considered suitable and safe for you.
How to Connect with an Online Doctor?
Connect with a health care professional online in 3 easy steps.
Download our app, register and tell us about your medical issue to get started.
Osteoarthritis
Anemia
STD
UTI
Skin
Covid
Connect with a board-certified doctor. You can chat, send pictures and videos.
Hi I'm Dr. Nicole. How may I help you?
Hi Dr. Nicole, I have joint pain due to osteoarthritis. Can I get some form of treatment, please?

Our online doctors can help you with your medical issues and give you prescriptions.
Celecoxib 100mg

Twice a day for 5 days

.
Send Prescription
What is Celecoxib and How to Take It
Celecoxib is an NSAID(nonsteroidal anti-inflammatory drug)  that belongs to the class of selective cyclooxygenase-2 (COX-2) inhibitors. It is used to reduce swelling, pain and inflammation in various conditions, such as arthritis and other musculoskeletal disorders, by inhibiting the production of prostaglandins, which are substances involved in pain and inflammation.
Celecoxib over the counter is not available. Adhering to your doctor's instructions and the details on the prescription label is crucial when taking Celecoxib. Never change the Celecoxib dosage without visiting your healthcare professional, as it will be customized to your unique medical needs and treatment response. Typically, Celecoxib is taken once or twice daily, at the same time(s) each day, either with or without food. Remember to swallow the capsule with a full glass of water and avoid crushing or chewing it. It's essential to avoid consuming alcohol while taking Celecoxib, as it can increase the risk of stomach bleeding.
Important Information About Celecoxib
Common side effects of Celecoxib may include headache, dizziness, stomach upset, and heartburn.

Rare but more severe side effects of Celecoxib may include gastrointestinal bleeding, high blood pressure, kidney problems, and allergic reactions like a rash or difficulty breathing.

The risk of heart attack, stroke, or other cardiovascular events may rise with prolonged Celecoxib use.

Celecoxib may interact with certain medications, including blood thinners, other NSAIDs, corticosteroids, and certain antidepressants.

To avoid potential interactions, you must inform your doctor about all your medications, supplements, and herbal products.

Celecoxib belongs to the sulfonamide drug class, so individuals with known sulfonamide allergies may have an increased risk of allergic reactions to Celecoxib.

If you have a history of allergies or adverse reactions to other NSAIDs, discussing this with your doctor before starting Celecoxib is essential.

Celecoxib is generally not recommended during pregnancy, especially during the third trimester, as it may harm the unborn baby and cause complications.

The use of Celecoxib while breastfeeding is also not advised, as it can pass into breast milk and potentially harm the nursing baby.
How long does it take for Celebrex to work?
Celebrex typically starts to work within 2 to 3 hours after taking the medication, relieving pain and inflammation. However, individual responses may vary, and it may take several days of consistent use to experience its full effects.
How long can you take Celebrex for arthritis?
The duration of Celebrex treatment for arthritis depends on the individual's condition and response to the medication. It is often prescribed for short-term and long-term use, but a doctor should determine the specific duration considering all your medical parameters.
How can I refill my Celebrex prescription?
You will need to consult with our online doctor at Your Doctors Online to refill your Celebrex online prescription. After discussing our medical concerns and history, our online doctor can send your prescription to your preferred local pharmacy.
What should I avoid while taking Celebrex?
While taking Celebrex, avoid consuming alcohol as it may increase the risk of stomach bleeding. Additionally, avoid taking other NSAIDs or aspirin without your doctor's approval to prevent potential interactions and side effects.
How long does it take Celebrex to reduce inflammation?
Celebrex may begin to reduce inflammation within a few hours to a few days after starting treatment, but individual responses vary. For some patients, it may take a week or two.
What happens if you take Celebrex on an empty stomach?
Taking Celebrex on an empty stomach may increase the risk of stomach upset or gastrointestinal irritation. Taking Celebrex with food or a full glass of water is generally recommended to minimize these potential side effects.
Who should not take Celebrex?
Celebrex is contraindicated for individuals with a history of allergic reactions to Celecoxib or other sulfonamide drugs and those with aspirin or NSAID sensitivity (e.g., asthma, urticaria). Additionally, individuals with conditions like unstable blood pressure, alcoholism, skin reactions, chronic heart failure, asthma, dehydration, liver dysfunction, kidney problems, visible fluid retention, or a higher risk of bleeding should consult their doctor before taking Celebrex.
What happens if I miss a dose of Celebrex?
If you miss a dose of Celebrex, take it as soon as you remember. However, if your next scheduled dose is approaching, it's best to skip the missed dose and continue your regular dosing schedule. Taking two doses close together should be avoided. Adhering to the prescribed dosing schedule can ensure the medication's effectiveness and reduce the risk of side effects.
What happens if I take too much Celebrex?
In the event of an overdose, get medical help right away. Taking too much Celebrex can lead to fatigue, drowsiness, nausea, vomiting, stomach pain, difficulty breathing, and faintness. Getting prompt medical help to address the situation effectively and prevent any potential complications is crucial.
What medication is similar to Celecoxib?
Ibuprofen, naproxen, meloxicam, and diclofenac are medications similar to Celecoxib, as they are nonsteroidal anti-inflammatory drugs (NSAIDs) used to reduce pain and inflammation.
How long can you take Celebrex daily?
The duration of daily Celebrex use depends on your medical condition and the recommendation of your healthcare provider. Celebrex can be prescribed for short-term use to manage acute pain or long-term use to treat chronic conditions like arthritis. Your doctor will determine the appropriate duration based on your requirement and response to the medication.
This is the best app..You ask anything and the doctors answer you within minutes, i love it

-Phindile Mkhatshwa


It is a good app, it can be helpful with pictures and be very detailed.

-brooke snow


Wow, these people are such a blessing. Dey give accurate answered to questions asked. Its really too good

-Okiti Stephanie


Impressive work !! Connecting to a doctor was so quick. I am really impressed.

-ASIF Khan


Doctor was really great, fast at responding very helpful

-Chelsey


Chat with them the doctor that I chat with very helpful and answer all my questions I recommend to anyone

-edith bien aime


The best patient doctors that understand and give you useful information ..I'm really thankful.

-Lesego Thejane


Very informative and very detailed in explanations.Also pleasant and courteous.I would recommend to anyone.

-Stephanie Brown


Very helpful, very polite and answers every question in a well mannered way.

-kulwinder gill


I really rate this website a lot, you people don't stick and and im sure you try your best to take swift actions for your patients.

-Elijah Mark


Talk to online doctors now and get medical advice, online prescriptions, and referrals within minutes. On-demand healthcare services at your fingertips.