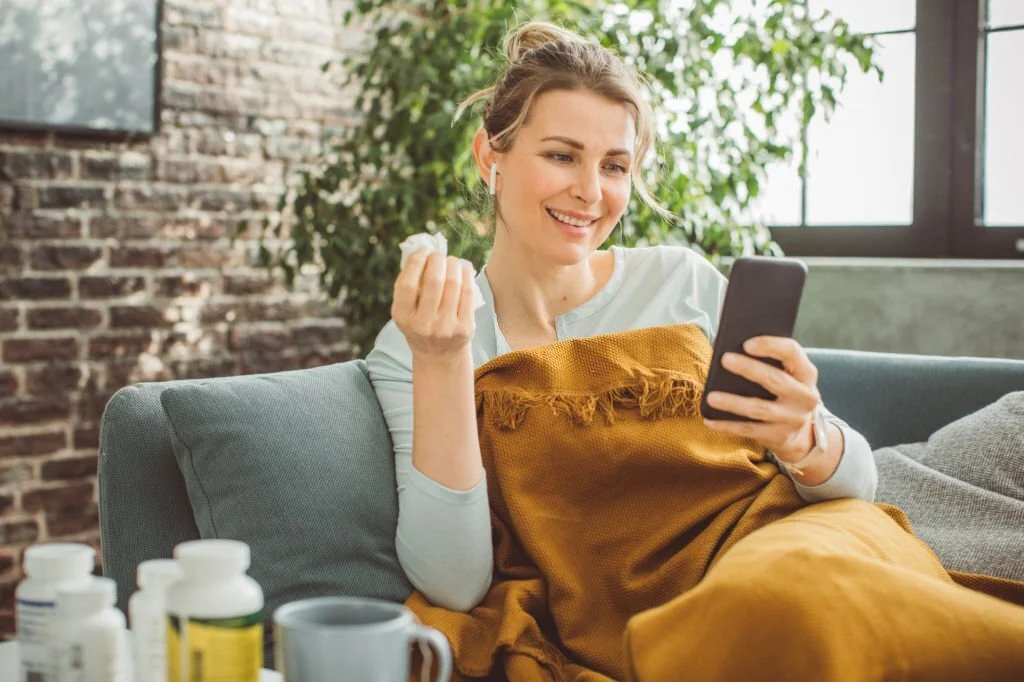 Get a Desmopressin (DDAVP) prescription refill online
Desmopressin (DDAVP) is a synthetic form of Vasopressin hormone, which is used to treat central diabetes insipidus and bed-wetting. 
Obtaining a Desmopressin (DDAVP) prescription online is simple; visit Your Doctors Online and connect with a doctor anytime, anywhere. Our online doctor will ask about your symptoms to determine treatment.  Please know that a Desmopressin (DDAVP) refill will only be provided after a consultation with our doctor and if the medication is appropriate and safe.
Request Desmopressin prescription refill
Get a prescription refill for Desmopressin online in three easy steps.
Download our app, register and tell us about your medical issue to get started.
Diabetes Insipidus
Anemia
STD
UTI

Infections

Covid
Connect with a board-certified doctor. You can chat, send pictures and videos.
Hi I'm Dr. Nicole. How may I help you?
Dr. Nicole, I have central diabetes, and I need a refill for Desmopressin (DDAVP). Can you give me a refill?

Our online doctors can help you with your medical issues and give you prescriptions.
0.2 mg tablet of Desmopressin (DDVAP); take once a day for 12 weeks.
Send Prescription
What is Desmopressin (DDAVP)?
Desmopressin, also known as DDAVP, is a synthetic hormone that mimics the actions of vasopressin, a natural hormone in the body. It primarily works by increasing water reabsorption in the kidneys, reducing urine production, and concentrating urine. This makes it useful for conditions like diabetes insipidus, with excessive urination and thirst. Additionally, desmopressin has a vasoconstrictive effect at higher doses, helping to reduce bleeding in certain bleeding disorders like hemophilia or von Willebrand disease by promoting the release of clotting factors.
Important information about Desmopressin
Low sodium levels in the body, swelling, weight gain, flushing, seizure, and weak or shallow breathing are some common side effects of Desmopressin.

Confusion, dizziness, decreased urine output, convulsions, increased thirst, muscle pain, or cramps are some serious side effects of Desmopressin.
FAQs about Desmopressin prescription refill
Can Desmopressin cause kidney problems?
Desmopressin has a low risk of causing kidney problems when used as prescribed. However, overuse or excessive dosing can lead to water retention and electrolyte imbalances, potentially impacting kidney function.
What drugs or foods can interact with Desmopressin?
Several drugs and foods can interact with Desmopressin, including medications that affect fluid balance and certain antidiuretic drugs. Medications like Abilify, Ativan, Aspirin, Adderall, Benadryl, and Cymbalta may interact with Desmopressin.
What are the substitutes for Desmopressin?
Substitutes for Desmopressin may include other antidiuretic medications like Vasopressin, Carbamazepine, Chlorpropamide, Clofibrate, Thiazides, and NSAIDs are a few substitutes and alternatives for Desmopressin.
Is Desmopressin more potent than Vasopressin?
Desmopressin is generally more potent and longer-acting than Vasopressin, making it a preferred choice in certain medical situations.
How does Desmopressin cause hyponatremia?
When used excessively, Desmopressin can lead to hyponatremia (low blood sodium levels) by encouraging water retention and diluting sodium stores in the body.
What if I take too much Desmopressin?
Taking too much Desmopressin can result in water retention, electrolyte imbalances, and potentially severe health issues. It is crucial to use Desmopressin as directed by a healthcare provider.
This is the best app..You ask anything and the doctors answer you within minutes, i love it

-Phindile Mkhatshwa


It is a good app, it can be helpful with pictures and be very detailed.

-brooke snow


Wow, these people are such a blessing. Dey give accurate answered to questions asked. Its really too good

-Okiti Stephanie


Impressive work !! Connecting to a doctor was so quick. I am really impressed.

-ASIF Khan


Doctor was really great, fast at responding very helpful

-Chelsey


Chat with them the doctor that I chat with very helpful and answer all my questions I recommend to anyone

-edith bien aime


The best patient doctors that understand and give you useful information ..I'm really thankful.

-Lesego Thejane


Very informative and very detailed in explanations.Also pleasant and courteous.I would recommend to anyone.

-Stephanie Brown


Very helpful, very polite and answers every question in a well mannered way.

-kulwinder gill


I really rate this website a lot, you people don't stick and and im sure you try your best to take swift actions for your patients.

-Elijah Mark


Talk to online doctors now and get medical advice, online prescriptions, and referrals within minutes. On-demand healthcare services at your fingertips.