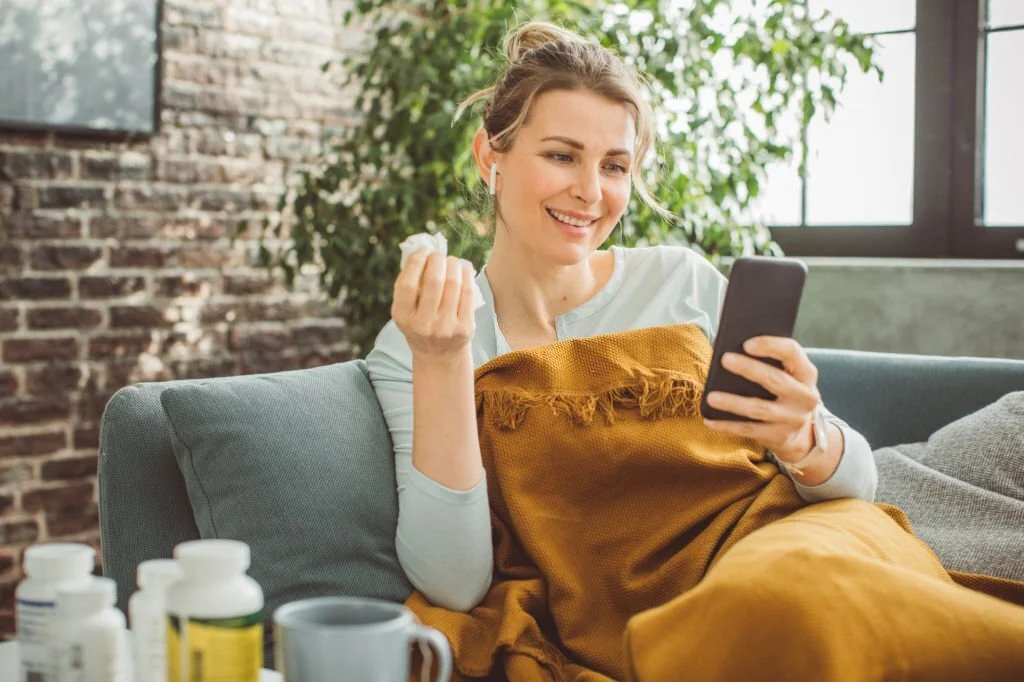 Get Clomid (Clomiphene) Prescription Refill Online
Clomifene/Clomiphene, widely recognized under the brand names Clomid and Serophene, is a medication primarily prescribed for treating infertility in women. It is occasionally used for addressing male infertility, menstrual irregularities, fibrocystic breasts, and other infertility conditions. If you have these conditions, you can refill Clomid online. Obtaining a Clomid prescription online is simple; visit Your Doctors Online and connect with a doctor anytime, anywhere. Our online doctor will ask about your symptoms to determine treatment. They may suggest a follow-up appointment or clinic visit. Please know that a Clomid refill will only be provided after a consultation with our doctor and if the medication is appropriate and safe.
How to Connect with an Online Doctor?
Connect with a health care professional online in 3 easy steps.
Download our app, register and tell us about your medical issue to get started.
Infertility
Anemia
STD
UTI
Skin
Covid
Connect with a board-certified doctor. You can chat, send pictures and videos.
Hi I'm dr. Nicole. How may I help you?
Dr. Nicole, I'm using Clomid for fertility issues, but I ran out of it today. Can I get a refill?

Our online doctors can help you with your medical issues and give you prescriptions.
Clomid 50 mg tablet

Take one tablet once daily from the 5th day of menstruation.
Send Prescription
What is Clomid (Clomiphene) and How to Take It
Clomiphene is a type of medication that falls under a category called selective estrogen receptor modulators (SERMs). You can find it under different brand names like Clomid and Serophene. Clomifene is primarily available in oral tablet form, with a standard dosage strength of 50mg. Clomifene is prescribed to address infertility issues in women, particularly those experiencing anovulation or irregular menstrual cycles. It significantly enhances the chances of conception. Alongside Clomifene, other drugs in the same class include Raloxifene, Tamoxifen, and Toremifene.
Clomifene is an ovulatory stimulant administered orally. It is a non-steroidal medication that functions as a selective estrogen receptor modulator (SERM). The mechanism of action of Clomifene involves binding to estrogen receptors in the hypothalamus, blocking their negative feedback on the pituitary gland. This blockage causes more follicle-stimulating hormone (FSH) and luteinizing hormone (LH) to be made. The elevated levels of FSH and LH stimulate the growth and release of mature eggs from the ovaries, thereby promoting ovulation and improving fertility in women with ovulatory disorders.
Clomid is available in the form of 50 mg tablets. The usual adult dose is 50 mg once daily, starting on the 5th day of the menstrual period and continuing for five consecutive days. You can take it with or without food. You can swallow the tablet whole and avoid crushing or chewing it.
Important Information About Clomid (Clomiphene)
Clomid (clomiphene) is an ovulatory stimulant. You will require a prescription for Clomid (clomiphene). Here are some essential points that you should know about this drug:
Common side effects of clomiphene include upset stomach, flushing (feeling of warmth), vomiting, headache, breast discomfort, and abnormal vaginal bleeding.

Serious side effects of clomiphene are uncommon but may include stomach or lower abdominal pain, blurred vision, visual spots or flashes, double vision, stomach swelling, weight gain, pelvic pain or pressure, enlargement in the pelvic area, increased sensitivity of the eyes to light, and heavy vaginal bleeding.



Another important concern is the risk of ovarian hyperstimulation syndrome (OHSS), which is a severe condition that can lead to abdominal pain, bloating, nausea, weight gain, and difficulty breathing. If patients experience any serious side effects or symptoms, they should promptly contact their doctor for immediate medical attention and guidance.




Clomifene can cause some problems when taken with Ospemifene. But, it's not likely to have any significant interactions with other drugs. To ensure safety, patients should inform their doctor or pharmacist about all medications they are taking, including prescription and over-the-counter drugs, vitamins, and herbal supplements, to avoid any potential interactions.
FAQs About Clomid (Clomiphene)
Do you need a prescription for Clomid?
Yes, you have to get a prescription from a doctor to get Clomid. It is not available over-the-counter. You can also get in touch with one of our qualified practitioners online to obtain a Clomid refill.
What are the things to do while taking Clomid?
Make sure to take Clomid at the same time every day, as instructed by your healthcare provider. Follow the instructions that come with the medication to use it correctly.
What are the things to avoid while taking Clomid?
While on Clomid, it's important to avoid activities like driving or operating machinery until you understand how the medication affects you. Alcohol consumption should be avoided during Clomid treatment.
What are some tips for getting pregnant on Clomid?
To increase your likelihood of conception when taking Clomid, make sure to have regular sexual intercourse during your fertile days, which usually fall around days 12 to 16 of your menstrual cycle.
What is the best time to take Clomid for men?
Men should take Clomid at the prescribed time consistently as advised by their healthcare provider. Yes, you have to get a prescription from a doctor to get Clomid.
What are the early signs of pregnancy after using Clomid?
The early indicators of pregnancy following Clomid use may not have distinctive characteristics. In such cases, it is advisable to be attentive to common pregnancy symptoms, such as missed periods, breast tenderness, fatigue, and nausea. If there is a suspicion of pregnancy, the best course of action is to take a pregnancy test to verify and seek appropriate medical advice accordingly.
How long does it take for Clomid to increase testosterone levels?
Clomid does not lead to an immediate increase in testosterone levels; rather, it may take 2-3 months before you notice relief from symptoms.
Does Clomid cause weight gain?
Although weight gain, particularly in the face and midsection, is an infrequent but significant side effect of Clomid, it is not commonly experienced. If you notice any troubling changes in your weight, it is advisable to consult your healthcare provider for further evaluation and guidance.
When should you test for pregnancy after using Clomid?
If you haven't had your period for 40-45 days after using Clomid, it's a good idea to take a pregnancy test. You can always speak to one of our qualified doctors online.
How long does Clomid stay in your system?
Clomid has an approximate half-life of 5-7 days. It may take several weeks for Clomid to be completely cleared from your body.
How can I refill my Clomid prescription?
You can get a Clomid prescription refill online without seeing a doctor via the Your Doctors Online app. One of our qualified healthcare professionals will evaluate your need for Clomid before prescribing a refill.
This is the best app..You ask anything and the doctors answer you within minutes, i love it

-Phindile Mkhatshwa


It is a good app, it can be helpful with pictures and be very detailed.

-brooke snow


Wow, these people are such a blessing. Dey give accurate answered to questions asked. Its really too good

-Okiti Stephanie


Impressive work !! Connecting to a doctor was so quick. I am really impressed.

-ASIF Khan


Doctor was really great, fast at responding very helpful

-Chelsey


Chat with them the doctor that I chat with very helpful and answer all my questions I recommend to anyone

-edith bien aime


The best patient doctors that understand and give you useful information ..I'm really thankful.

-Lesego Thejane


Very informative and very detailed in explanations.Also pleasant and courteous.I would recommend to anyone.

-Stephanie Brown


Very helpful, very polite and answers every question in a well mannered way.

-kulwinder gill


I really rate this website a lot, you people don't stick and and im sure you try your best to take swift actions for your patients.

-Elijah Mark


Talk to online doctors now and get medical advice, online prescriptions, and referrals within minutes. On-demand healthcare services at your fingertips.