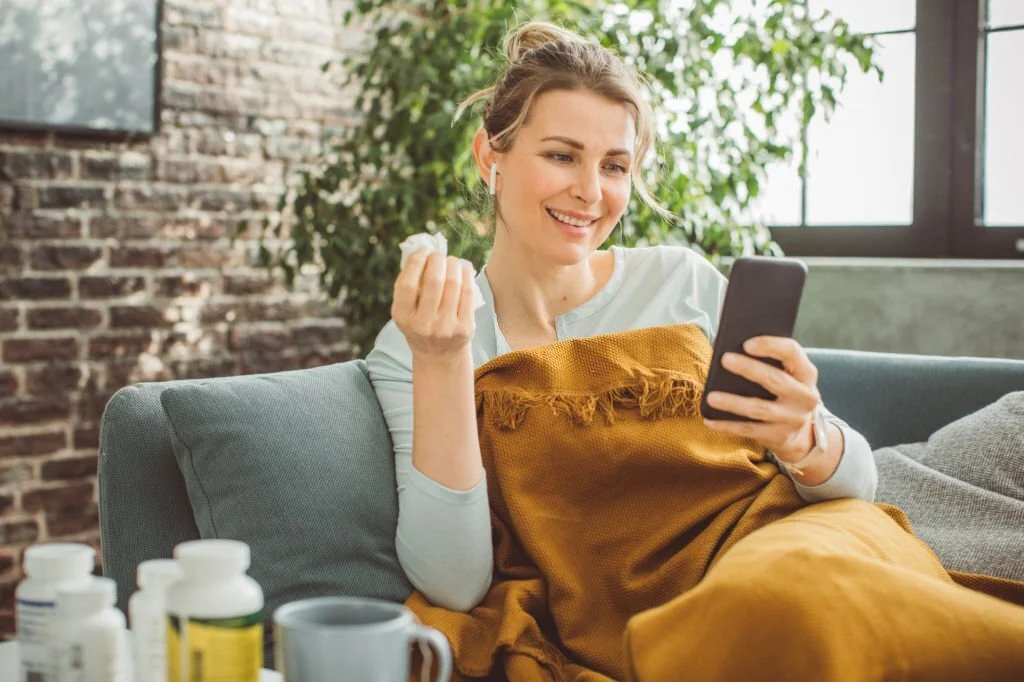 Get (Escitaloprám) Lexapro prescription online

You can get an (Escitalopram) Lexapro prescription online to treat mental health-related conditions like depression and generalized anxiety disorder. 
Getting Lexapro online is very straightforward; you can connect with a doctor at any time and place of your choice at Your Doctors Online. However, please note that Lexapro online will only be provided after consultation with the doctor and if the treatment is suitable and safe for you.
Request Lexapro prescription online
Get online prescription for Lexapro in three easy steps.
Download our app, register and tell us about your medical issue to get started.
Mental Health
Anemia
STD
UTI
Skin
Covid
Connect with a board-certified doctor. You can chat, send pictures and videos.
Hi I'm dr. Nicole. How may I help you?
Hi Dr Nicole, I have been experiencing panic disorders daily. Please prescribe something for anxiety?

Our online doctors can help you with your medical issues and give you prescriptions.
Escitaloprám

tablets 10 mg

Take one tablet once daily for 1 month.
Send Prescription
What is Escitaloprám (Lexapro)?
Escitalopram (Lexapro) is a prescription medication used for depression and generalized anxiety disorder, with off-label applications including the treatment of conditions like bulimia nervosa, premenstrual dysphoric disorder (PMDD), obsessive-compulsive disorder (OCD), and post-traumatic stress disorder (PTSD).
Escitalopram (Lexapro) falls under the selective serotonin reuptake inhibitor (SSRI) class of drugs. It acts by stopping the reabsorption of serotonin in the brain, which helps maintain higher serotonin levels, regulating mood, emotions, appetite, and sleep. This mechanism aims to alleviate depression and anxiety linked to low serotonin levels.
Escitalopram (Lexapro) is an oral medication in tablet form (5mg, 10mg, and 20mg) or liquid solution. It's typically taken once daily, with or without food, as directed by a healthcare provider. Dosage varies based on individual needs and the severity of the condition.
Important information about Escitaloprám (Lexapro)
Common side effects of escitalopram (Lexapro) may include nausea, dry mouth, dizziness, drowsiness, and insomnia. These side effects are usually mild and tend to diminish with continued use.
Serious side effects can occur, albeit infrequently. They may include severe allergic reactions, unusual bleeding or bruising, serotonin syndrome (symptoms like agitation, hallucinations, rapid heartbeat, fever, muscle stiffness), and changes in sexual desire or function.
FAQs about Lexapro (Escitaloprám) online
Is Lexapro over the counter?
No, you will require a prescription for Lexapro. The medication is not suitable for everyone, and you will need to be monitored while on this medication due to the possible side effects; that is why the drug is not available over the counter. However, an online Lexapro prescription is an option after consulting our online doctor.
What is the best time to take Lexapro for anxiety?
In case you are facing sleep disturbances or insomnia, you should take Lexapro in the morning. Otherwise, you can take it at night as well.
How long does it take for Lexapro to work?
Typically, it can take 4 to 6 weeks for significant mood and behaviour improvement. Although, you may notice improved sleep, appetite and energy.
Does Lexapro cause weight gain?
Lexapro may lead to weight gain or weight loss. Every individual's response is different.
Can you take Lexapro while pregnant?
Lexapro falls under Pregnancy Category C, indicating potential fetal risks based on animal studies, and it's generally advisable to avoid it during pregnancy. Exposure in the third trimester may increase the risk of newborn complications, such as feeding and breathing issues, leading to extended hospital stays.
How can I refill my prescription for Lexapro?
You can refill Lexapro online. It is a prescription-only medication; hence, you will require a prescription from a licensed physician. You can get a Lexapro online prescription by consulting an online doctor at Your Doctors Online.
Who should not take Lexapro?
If you are suffering from any of the following health conditions, it is best to inform your doctor: Liver disease, Bleeding disorders, Low levels of sodium, Diabetes, Epilepsy, Bipolar disorder.
What happens if I miss a Lexapro dose?
Do not take an extra dose if you miss your dose. Take the pill as soon as you remember, but if it is almost time for your next scheduled dose, skip it and continue taking it as usual.
Who qualifies for Lexapro?
Lexapro (escitalopram) is typically prescribed for individuals 12 years or older who suffer with generalized anxiety disorder (GAD) and major depressive disorder (MDD) and.
How long should you be on Lexapro?
The duration of Lexapro (escitalopram) treatment varies by individual and is typically recommended for at least 6 months to a year to manage depression or anxiety effectively. Discontinuation should be gradual under medical supervision to minimize withdrawal effects.
What medicines to avoid while on Lexapro?
Some medications such as antipsychotics, diuretics, lithium, fentanyl, meperidine, NSAIDs, SSRIs, SNRIs, TCAs, Warfarin, St John Wart's and Monoamine oxidase inhibitors (MAOIs) have interactions with escitalopram.
What is the closest thing to Lexapro?
The closest medications to Lexapro (escitalopram) are other SSRIs like Prozac, Zoloft, Paxil, and Celexa, as well as SNRIs such as Effexor and Cymbalta.
This is the best app..You ask anything and the doctors answer you within minutes, i love it

-Phindile Mkhatshwa


It is a good app, it can be helpful with pictures and be very detailed.

-brooke snow


Wow, these people are such a blessing. Dey give accurate answered to questions asked. Its really too good

-Okiti Stephanie


Impressive work !! Connecting to a doctor was so quick. I am really impressed.

-ASIF Khan


Doctor was really great, fast at responding very helpful

-Chelsey


Chat with them the doctor that I chat with very helpful and answer all my questions I recommend to anyone

-edith bien aime


The best patient doctors that understand and give you useful information ..I'm really thankful.

-Lesego Thejane


Very informative and very detailed in explanations.Also pleasant and courteous.I would recommend to anyone.

-Stephanie Brown


Very helpful, very polite and answers every question in a well mannered way.

-kulwinder gill


I really rate this website a lot, you people don't stick and and im sure you try your best to take swift actions for your patients.

-Elijah Mark


Talk to online doctors now and get medical advice, online prescriptions, and referrals within minutes. On-demand healthcare services at your fingertips.