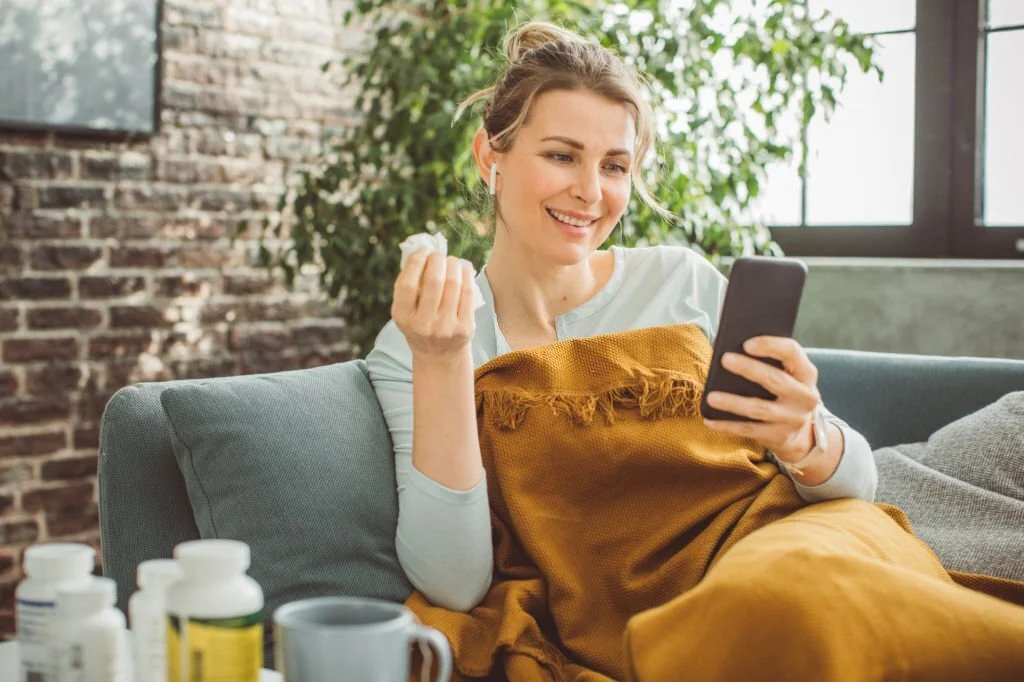 Get Simvastatin Prescription Refill Online
Simvastatin is used to lower cholesterol, triglycerides, and fatty acids, levels in the blood. Simvastatin is a medication that, when combined with life style changes such as a healthy diet and exercise, helps lower the risk of heart attack and stroke. It can also reduce the likelihood of needing heart surgery for people with existing heart disease or those at risk of developing it. If you have these conditions, you can refill Simvastatin online. Obtaining a Simvastatin prescription online is simple; visit Your Doctors Online and connect with a doctor anytime, anywhere. Our online doctor will ask about your symptoms to determine treatment. They may suggest a follow-up appointment or clinic visit.
Please know that a Simvastatin refill will only be provided after a consultation with our doctor and if the medication is appropriate and safe.
How to Connect with an Online Doctor?
Connect with a health care professional online in 3 easy steps.
Download our app, register and tell us about your medical issue to get started.
Hyperlipidemia
Anemia
STD
UTI
Skin
Covid
Connect with a board-certified doctor. You can chat, send pictures and videos.
Hi I'm dr. Nicole. How may I help you?
Dr. Nicole, I was taking Simvastatin before for high cholesterol, ran out of it. Can you give me tablet refill?


Our online doctors can help you with your medical issues and give you prescriptions.
Simvastatin 20 mg tablet

take one tablet once daily.



Send Prescription
What is Simvastatin and How to Take It
Simvastatin belongs to statins class of medications known as HMG-CoA reductase inhibitors. It works by reducing the amount of cholesterol made by the liver. It is available as Zocor in stores. Simvastatin tablets come in different dosage strengths of 5mg, 10 mg, 20 mg, 40 mg, and 80 mg. There are a few other drugs in the Statins class besides Simvastatin. Some examples are Atorvastatin, Rosuvastatin, Fluvastatin, Pitavastatin, Pravastatin and Lovastatin.
Simvastatin inhibits HMG-COA Reductase, which is a rate-limiting enzyme in cholesterol biosynthesis. By inhibiting the enzyme SImvastatin helps reduce cholesterol production in the liver. Our body works on building up cholesterol at night therefore, it is recommended to take Simvastatin in the evening.
Simvastatin is available in tablet form and can also be taken as an oral suspension. Typically, tablets should be taken once daily, in the evening, with or without food. Oral suspension of Simvastatin may also be taken in the evening on an empty stomach.
Important Information About Simvastatin
Simvastatin is a statin used to control cholesterol. You will require a prescription for Simvastatin. Here are some essential points that you should know about this drug:
Common side effects of Simvastatin include headache, nausea, vomiting, constipation, diarrhea, stomach pain, muscle pain, and weakness. If any of these symptoms continue or worsen, you should talk to your doctor.




Some antibiotics, antifungals, and HIV medications may not work well with simvastatin because of possible interactions. Therefore, none of these drugs should be combined with it.




Simvastatin is also contraindicated in pregnancy and breastfeeding and should be avoided if you are pregnant or breastfeeding.
Is 20mg of Simvastatin a low dose?
20 mg of SImvastatin is considered a low dose. It is, therefore, usually the starting dose for Simvastatin which is later increased to 40mg/day.
What is the best time to take Simvastatin 20 mg?
The best time to take Simvastatin is evening as the body usually makes most of its cholesterol during the night time hence it is best to take Simvastatin during the evening.
Does Simvastatin cause weight gain?
No, Simvastatin is not frequently associated with weight gain. However it can cause weight gain in some individuals based on their individual physiology.
Yes, Zocor is the brand name for Simvastatin, and it belongs to the statin class of drugs that act as HMG-COA reductase.
Who should not take Simvastatin (Zocor)?
Do not take Zocor if you are pregnant or breastfeeding, if you drink alcohol regularly, if you have liver disease, or if you are allergic to any of the ingredients in Zocor. It may also interact with certain medications, so if you take any of these, such as antifungals, antibiotics, and HIV medications, avoid taking Simvastatin.
How do I know if Simvastatin is appropriate for me?
Your doctor may prescribe Simvastatin if you have heart disease and high cholesterol. Your doctor will consider some factors before prescribing, such as if you are not pregnant, breastfeeding, alcoholic, have liver disease, or are not taking other drugs that interact with Zocor.
This is the best app..You ask anything and the doctors answer you within minutes, i love it

-Phindile Mkhatshwa


It is a good app, it can be helpful with pictures and be very detailed.

-brooke snow


Wow, these people are such a blessing. Dey give accurate answered to questions asked. Its really too good

-Okiti Stephanie


Impressive work !! Connecting to a doctor was so quick. I am really impressed.

-ASIF Khan


Doctor was really great, fast at responding very helpful

-Chelsey


Chat with them the doctor that I chat with very helpful and answer all my questions I recommend to anyone

-edith bien aime


The best patient doctors that understand and give you useful information ..I'm really thankful.

-Lesego Thejane


Very informative and very detailed in explanations.Also pleasant and courteous.I would recommend to anyone.

-Stephanie Brown


Very helpful, very polite and answers every question in a well mannered way.

-kulwinder gill


I really rate this website a lot, you people don't stick and and im sure you try your best to take swift actions for your patients.

-Elijah Mark


Talk to online doctors now and get medical advice, online prescriptions, and referrals within minutes. On-demand healthcare services at your fingertips.