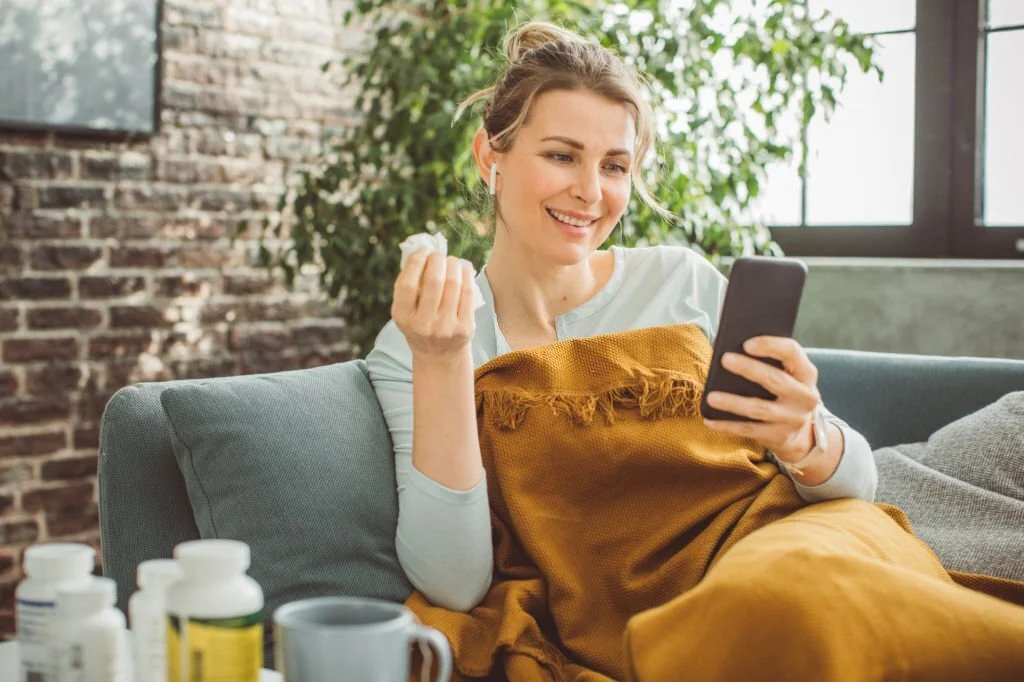 Get a Paroxetine (Paxil) Prescription Refill Online
Paroxetine is typically prescribed to treat major depression, panic disorder, obsessive-compulsive disorder (OCD) and PTSD. If you have any such mental health conditions, you can get a Paroxetine prescription online. Getting a Paxil prescription online is very straightforward; you can connect with a doctor at any time and place of your choice at Your Doctors Online. Our online doctor will ask you to describe your symptoms in order to determine the best course of treatment. Then, if deemed necessary, they may recommend a follow-up appointment or a visit to a clinic.
However, please note that Paroxetine online will only be provided after consultation with the doctor and if the treatment is considered suitable and safe for you.
How to Connect with an Online Doctor?
Connect with an online doctor in 3 easy steps.
Download our app, register and tell us about your medical issue to get started.
Mental Health
Anemia
STD
UTI
Skin
Covid
Connect with a board-certified doctor. You can chat, send pictures and videos.
Hi I'm dr. Nicole. How may I help you?
Hi Dr Nicole, I have been experiencing panic disorders daily. Can you provide a refill for my anxiety medication?


Our online doctors can help you with your medical issues and give you prescriptions.
Paroxetine

tablets 10 mg.

Take one tablet once daily for 1 month.



Send Prescription
Uses of Paroxetine (Paxil) and How to Take It
Paroxetine is a prescription drug for treating mental health conditions, including severe depression, panic disorder, obsessive-compulsive disorder (OCD), bulimia, and PTSD. It is available as Paxil or Brisdelle in the market. The antidepressant drug is called selective serotonin reuptake inhibitors (SSRIs). Some other medications from this class include citalopram, escitalopram, fluoxetine, fluvoxamine and sertraline. 
Paroxetine comes under the class of selective serotonin reuptake inhibitors (SSRIs). Paroxetine blocks the reabsorption of serotonin hormone in the brain cells. Serotonin is responsible for regulating mood, emotions, appetite and sleep. Blocking the reabsorption helps ensure that serotonin levels remain high, thus leading to a feeling of relaxation. Low levels of serotonin have been associated with depression and anxiety.
Paxil is an oral medication available as a tablet and liquid solution of varying dosages. Paroxetine comes in tablet form. The lowest dose of Paxil is 10 mg, which goes up to 30 mg. Paxil 20 mg is also available. A liquid form is available for patients who have difficulty swallowing pills. 
The pill can be taken once a day, with or without food. It is vital to take Paroxetine online prescription as directed. 
Important Information About Paroxetine (Paxil)
Paroxetine over the counter is not an option. You will require a Paxil prescription.
Here are some essential points that you should know about this drug:
Some side effects include nausea, vomiting, diarrhea, loss of appetite, agitation, insomnia, dry mouth, weight gain, weight loss, drowsiness, and decreased sex drive.

If you experience symptoms such as confusion, dilated pupils, palpitations, difficulty breathing, seizures, muscle tension or loss of muscle control, these can be symptoms of a reaction termed serotonin syndrome. You need to seek immediate medical help if this is the case.

Paroxetine

may lead to withdrawal syndrome in patients who abruptly stop taking their medication. Symptoms that may occur as a part of withdrawal include nausea, sore throat, insomnia, and hallucinations. 

Some drug interactions include Alprazolam, Aripiprazole, Aspirin, Clonazepam, Gabapentin, Lamotrigine, Sertraline, Sumatriphtan, Tramadol, Warfarin etc.
FAQs About Paroxetine (Paxil)
How long does Paxil take to work?
Typically, it can take 4 to 8 weeks for significant mood and behaviour improvement. Although, you may notice improved sleep, appetite and energy as early as 1-2 weeks.
Should you take Paxil at night or in the morning?
Paxil is taken once daily. It is best to take it at night if it makes you drowsy. Otherwise, take one in the morning.
Is Paroxetine a controlled substance?
You can't get a Paxil refill without a prescription. Although it is not a controlled substance. It is a prescription-only medication; hence, you will require a prescription from a licensed physician. You can get an online Paxil prescription by consulting an online doctor at Your Doctors Online.
What to expect when you start taking Paxil?
You may initially experience dizziness, headaches, nausea and confusion after starting the medication. It can take 1-2 weeks for improvement to occur for symptoms related to your condition.
What is the typical starting dose of Paroxetine?
Your doctor can start you on 10 or 20 mg once daily. The dosage may be adjusted according to your condition. The maximum dose for Paxil is 50mg to 60mg.
Who should not take Paxil?
If you are suffering from any of the following health conditions, it is best to inform your doctor: Liver disease, Sexual Dysfunction, Suicidal thoughts, and Bipolar disorder.
What happens if I miss a dose of Paxil?
If you miss a dose of Prozac, it is best to take it as soon as you remember. Moreover, you should skip the dose if it's time for your next scheduled dose.
What happens if I take too much Paxil?
Taking extra pills can result in an overdose and lead to side effects. Please report to a local hospital if that is the case.
This is the best app..You ask anything and the doctors answer you within minutes, i love it

-Phindile Mkhatshwa


It is a good app, it can be helpful with pictures and be very detailed.

-brooke snow


Wow, these people are such a blessing. Dey give accurate answered to questions asked. Its really too good

-Okiti Stephanie


Impressive work !! Connecting to a doctor was so quick. I am really impressed.

-ASIF Khan


Doctor was really great, fast at responding very helpful

-Chelsey


Chat with them the doctor that I chat with very helpful and answer all my questions I recommend to anyone

-edith bien aime


The best patient doctors that understand and give you useful information ..I'm really thankful.

-Lesego Thejane


Very informative and very detailed in explanations.Also pleasant and courteous.I would recommend to anyone.

-Stephanie Brown


Very helpful, very polite and answers every question in a well mannered way.

-kulwinder gill


I really rate this website a lot, you people don't stick and and im sure you try your best to take swift actions for your patients.

-Elijah Mark


Talk to online doctors now and get medical advice, online prescriptions, and referrals within minutes. On-demand healthcare services at your fingertips.