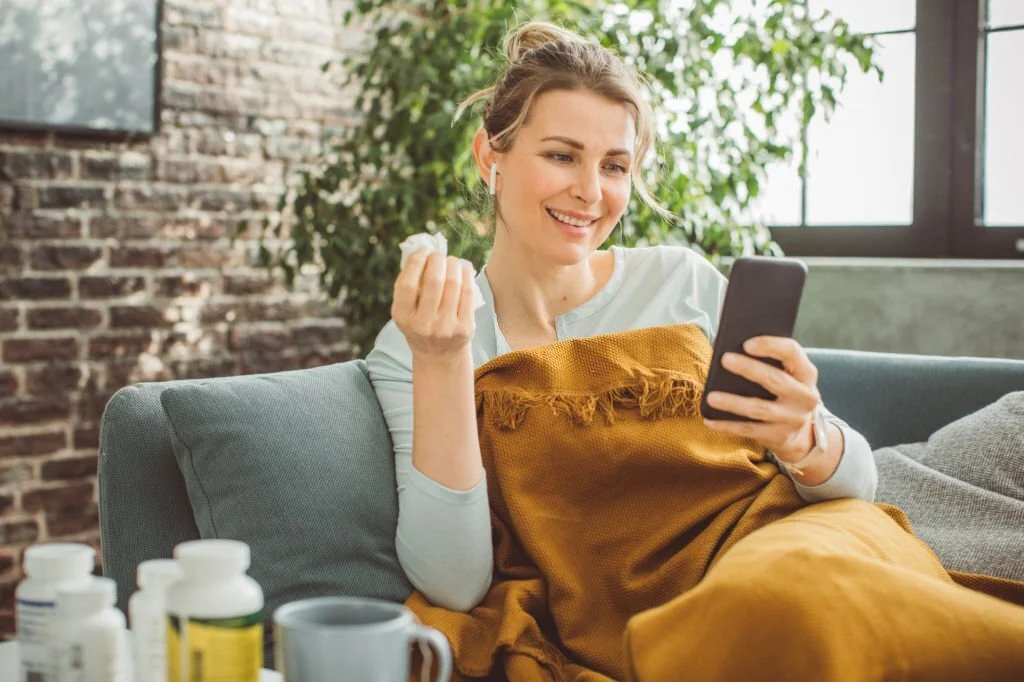 Get a Prescription for Atrovent Online
Atrovent (ipratropium bromide) is a medication frequently prescribed to address various respiratory conditions, such as chronic obstructive pulmonary disease (COPD), asthma, bronchitis, emphysema, exercise-induced bronchoconstriction, and allergic rhinitis. If you have these conditions, you can refill Atrovent online. Obtaining an Atrovent prescription online is simple; visit Your Doctors Online and connect with a doctor anytime, anywhere. Our online doctor will ask about your symptoms to determine treatment. They may suggest a follow-up appointment or clinic visit.
Please know that an Atrovent refill will only be provided after a consultation with our doctor and if the medication is appropriate and safe.
How to Connect with an Online Doctor?
Connect with a health care professional online in 3 easy steps.
Download our app, register and tell us about your medical issue to get started.
Bronchodilator
Anemia
STD
UTI
Skin
Covid
Connect with a board-certified doctor. You can chat, send pictures and videos.
Hi I'm Dr. Nicole. How may I help you?
Dr. Nicole, I feel difficulty in breathing; I feel better after taking Atrovent. Can you give me an Atrovent refill?

Our online doctors can help you with your medical issues and give you prescriptions.
Atrovent, two inhalations four times a day.
Send Prescription
What is Atrovent and How to Take It
This medication belongs to the therapeutic category of anticholinergic bronchodilators and is primarily prescribed to treat respiratory conditions like chronic obstructive pulmonary disease (COPD) and asthma. It is marketed under the brand name Atrovent and is offered in multiple forms, including inhalers and nebulizer solutions. Other medications in this drug class include tiotropium, aclidinium, and umeclidinium.
Atrovent functions by inhibiting specific receptors known as muscarinic receptors found in the bronchial smooth muscles. This action prevents the neurotransmitter acetylcholine from binding to these receptors. As a result, it causes relaxation of the bronchial muscles and the expansion of airways, ultimately enhancing airflow and easing breathing for individuals with respiratory conditions.
Atrovent is commonly available in the pharmaceutical market as an inhaler or a nebulizer solution. The recommended dosage and frequency of administration may differ depending on the severity of the respiratory condition and the guidance provided by the healthcare professional. Generally, it is inhaled orally, either as two inhalations every 6-8 hours, four times a day, or as directed by your healthcare provider.
Important Information About Atrovent
Atrovent is a bronchodilator. You will require a prescription for Atrovent. Here are some essential points that you should know about this drug:

Common side effects of Atrovent(ipratropium bromide) inhalers may include dry mouth, throat irritation, cough, and headache. These are generally mild and transient. If they persist or worsen, consult our online doctors from the comfort of your house and discuss your concerns.



Adverse effects associated with Atrovent (Ipratropium bromide) are infrequent, albeit significant, encompassing severe hypersensitivity reactions, respiratory distress, and tachyarrhythmias. It is imperative to promptly seek medical assistance if one encounters any severe or atypical symptoms, as described earlier.




Certain drugs that frequently interact with Atrovent(ipratropium) include Acetaminophen, Albuterol, Omeprazole, Aspirin, Pantoprazole, Atorvastatin, Baclofen, Clonazepam, Furosemide, etc. Avoid taking these medications when you are on ipratropium Bromide. Discuss the interactions with your doctor for your specific case.
Is Atrovent over the counter?
No, Atrovent is not commonly accessible for purchase without a prescription. It is a prescription medication employed for the treatment of respiratory conditions. To obtain Atrovent, you will need a valid prescription from a healthcare professional, such as a pulmonologist or primary care physician.
Atrovent does not fall into the category of steroids. Instead, it is classified as an anticholinergic bronchodilator. Steroids, conversely, belong to a distinct class of drugs primarily utilized for their anti-inflammatory characteristics. Atrovent primarily narrows the airways to enhance airflow, rendering it a crucial medication for respiratory ailments like COPD and asthma.
How can I refill my Atrovent prescription?
To obtain a refill for your Atrovent prescription, you must reach out to your prescribing healthcare provider. They will assess your current medical status and decide whether a refill is warranted. Our online doctors are available to aid you in this regard.
Who should not take Atrovent?
People with a confirmed hypersensitivity or allergic reaction to ipratropium bromide, which is the active component in Atrovent, should refrain from using this medication. Furthermore, individuals with specific medical conditions like narrow-angle glaucoma or urinary retention should be cautious and seek guidance from their healthcare provider before considering Atrovent.
Does Atrovent increase blood pressure?
Atrovent is typically classified as a bronchodilator and is not typically associated with a significant increase in blood pressure when used as directed. Nevertheless, individual reactions to medications can differ. If you have any worries regarding how Atrovent might affect your blood pressure or other specific health issues, you should talk with your healthcare provider. They can provide tailored advice and address your concerns.
What happens if I take too much Atrovent?
Taking too much Atrovent can lead to overdose symptoms, including severe dry mouth, blurred vision, dilated pupils, difficulty swallowing, and an increased heart rate. It's essential to use Atrovent as directed by your healthcare provider to avoid such situations.
This is the best app..You ask anything and the doctors answer you within minutes, i love it

-Phindile Mkhatshwa


It is a good app, it can be helpful with pictures and be very detailed.

-brooke snow


Wow, these people are such a blessing. Dey give accurate answered to questions asked. Its really too good

-Okiti Stephanie


Impressive work !! Connecting to a doctor was so quick. I am really impressed.

-ASIF Khan


Doctor was really great, fast at responding very helpful

-Chelsey


Chat with them the doctor that I chat with very helpful and answer all my questions I recommend to anyone

-edith bien aime


The best patient doctors that understand and give you useful information ..I'm really thankful.

-Lesego Thejane


Very informative and very detailed in explanations.Also pleasant and courteous.I would recommend to anyone.

-Stephanie Brown


Very helpful, very polite and answers every question in a well mannered way.

-kulwinder gill


I really rate this website a lot, you people don't stick and and im sure you try your best to take swift actions for your patients.

-Elijah Mark


Talk to online doctors now and get medical advice, online prescriptions, and referrals within minutes. On-demand healthcare services at your fingertips.