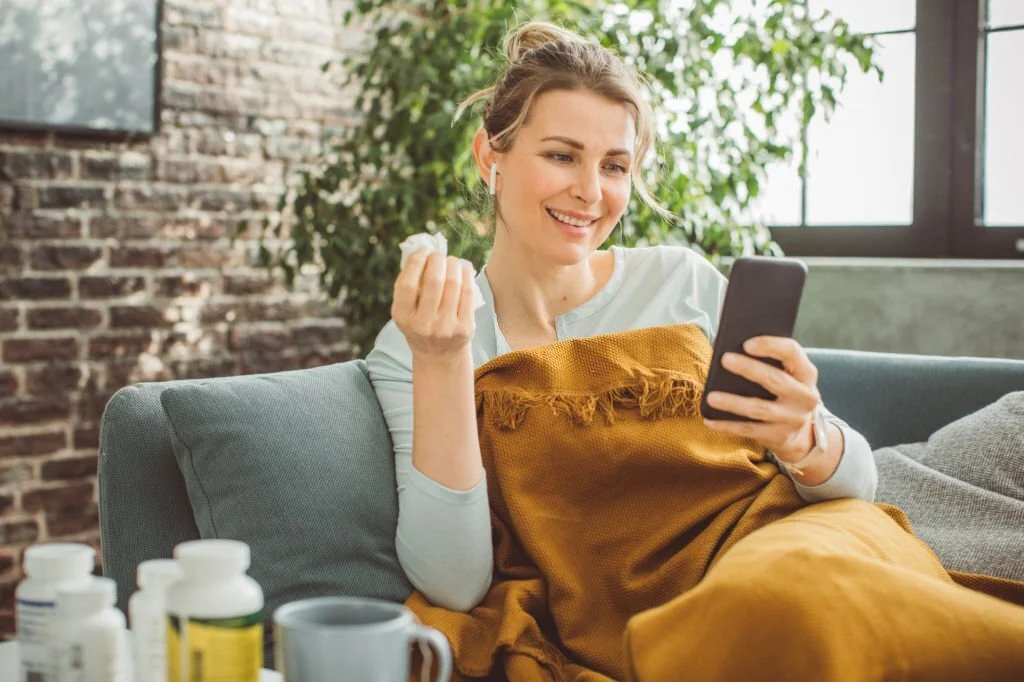 Get a Posaconazole prescription online
You can get a Posaconazole prescription refilled online to treat various fungal infections.
Getting a Posaconazole online is very straightforward; you can connect with a doctor anytime via Your Doctors Online. However, please note that Posaconazole will only be refilled online after consultation with the doctor and if the treatment is suitable and safe for you.
Request Posaconazole prescription online
Get an online prescription for Posaconazole in three easy steps.
Download our app, register and tell us about your medical issue to get started.
Fungal Infection
Anemia
STD
UTI
Skin
Covid
Connect with a board-certified doctor. You can chat, send pictures and videos.
Hi I'm Dr. Nicole. How may I help you?
Hi, Dr. Nicole, I am suffering from a fungal infection. Can I get a Posaconazole prescription refill, please?

Our online doctors can help you with your medical issues and give you prescriptions.
Posaconazole delayed-release tablet 300 mg once daily, 14 days
Send Prescription
What is Posaconazole (Noaxafil)?
Posaconazole is a potent antifungal medication classified as triazole. It exerts its action by inhibiting the enzyme lanosterol 14-alpha-demethylase, critical for fungal cell membrane synthesis, thereby disrupting fungal growth and viability. Posaconazole is not available over the counter; it requires a prescription due to its potential side effects and the need to diagnose fungal infections properly. This medication is accessible in various formulations, including oral suspension, delayed-release tablets, and intravenous solutions, allowing flexibility in treatment options for various fungal infections, particularly in immunocompromised patients.
Important information about Posaconazole (Noaxafil)
Common side effects of Posaconazole include Nausea, diarrhea, vomiting, headache and rash.

Serious side effects of Posaconazole (Noxafil) can include liver problems, heart arrhythmias, allergic reactions, decreased blood cell counts, nervous system effects, and pancreatitis.
FAQs about Posaconazole prescription online
Is Posaconazole available over the counter?
No, Posaconazole is not available over the counter. It requires a prescription due to its potential side effects and the need for proper diagnosis and monitoring of fungal infections.
How long should you take Posaconazole?
The duration of Posaconazole treatment depends on the type and severity of the fungal infection being treated. It is typically taken for 2 weeks to 3 months, with therapy often continuing for at least two weeks after the resolution of symptoms.
What are Posaconazole alternatives?
Common alternatives to Posaconazole for treating fungal infections include Fluconazole, Itraconazole, Voriconazole, Amphotericin B, and echinocandins like Caspofungin and Micafungin.
Is Posaconazole stronger than Fluconazole?
In neutropenic individuals, Posaconazole is more effective than Fluconazole/Itraconazole in avoiding invasive fungal infections (IFDs). But it's more expensive than that.
Does Posaconazole affect the liver?
Yes, Posaconazole can affect the liver. It may lead to liver problems, including elevated liver enzymes and, in rare cases, severe liver damage. Patients should be evaluated for signs of liver issues while taking this medication.
What are Posaconazole interactions?
Posaconazole can interact with various medications that affect heart rhythm, blood thinners, and certain immunosuppressive drugs, potentially leading to serious side effects or reduced effectiveness.
Does Posaconazole affect kidneys?
Posaconazole side effects on the kidneys are uncommon, occurring in 0.1–1% of cases. On the other hand, it may indirectly influence kidney function through interactions impairing drug clearance or with other drugs that may adversely affect the kidneys.
What drug should not be taken with Posaconazole?
Several medications should not be taken with Posaconazole due to potential interactions. Notable examples include Cisapride, Pimozide, Quinidine, and Erythromycin.
Does Posaconazole make you tired?
Yes, fatigue is a possible side effect of Posaconazole. Some individuals may experience tiredness while taking this medication, but it doesn't affect everyone.
When is the best time to take Posaconazole?
Take this medication with a complete meal or a liquid nutritional supplement, or take it within 20 minutes of eating. You can also take this medication with an acidic beverage, like ginger ale.
This is the best app..You ask anything and the doctors answer you within minutes, i love it

-Phindile Mkhatshwa


It is a good app, it can be helpful with pictures and be very detailed.

-brooke snow


Wow, these people are such a blessing. Dey give accurate answered to questions asked. Its really too good

-Okiti Stephanie


Impressive work !! Connecting to a doctor was so quick. I am really impressed.

-ASIF Khan


Doctor was really great, fast at responding very helpful

-Chelsey


Chat with them the doctor that I chat with very helpful and answer all my questions I recommend to anyone

-edith bien aime


The best patient doctors that understand and give you useful information ..I'm really thankful.

-Lesego Thejane


Very informative and very detailed in explanations.Also pleasant and courteous.I would recommend to anyone.

-Stephanie Brown


Very helpful, very polite and answers every question in a well mannered way.

-kulwinder gill


I really rate this website a lot, you people don't stick and and im sure you try your best to take swift actions for your patients.

-Elijah Mark


Talk to online doctors now and get medical advice, online prescriptions, and referrals within minutes. On-demand healthcare services at your fingertips.