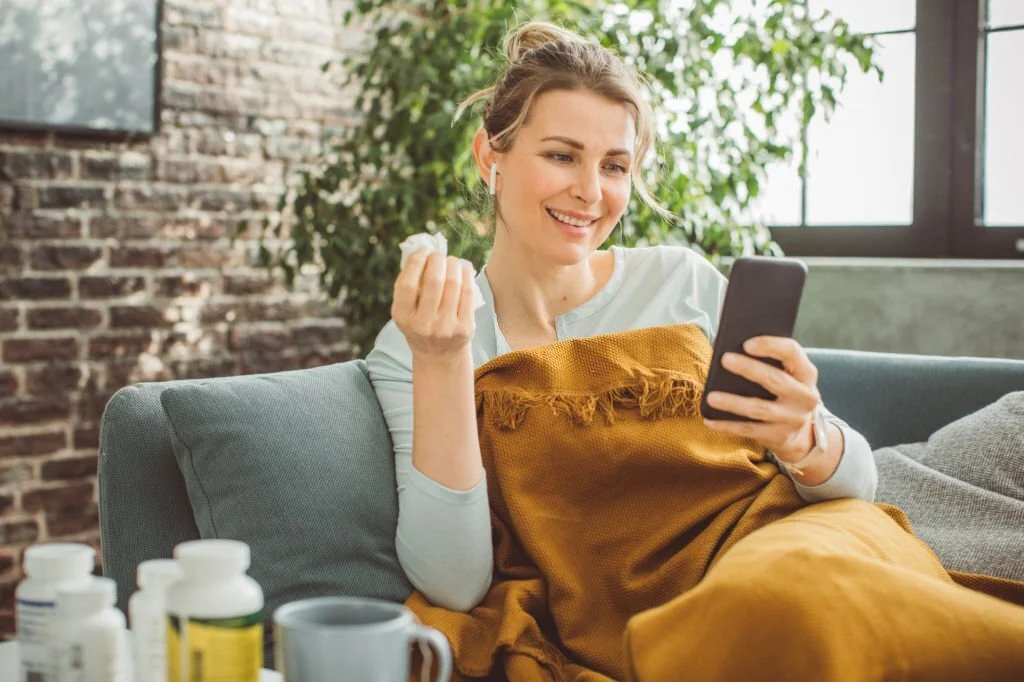 Get a Prescription for Permethrin Online
Permethrin cream, marketed under Elimite, Nix and others, is a synthetic medication similar to compounds found in the chrysanthemum flower frequently used in treating human scabies. You can get a prescription for permethrin cream online by connecting with our online doctor at Your Doctors Online, who will ask you to describe your symptoms to determine the best course of treatment. Then, if deemed necessary, they may recommend a follow-up appointment or a visit to a clinic. However, please note a prescription will only be provided after consultation with the doctor and if the treatment is considered suitable and safe for you.
How to Connect with an Online Doctor?
Connect with a health care professional online in 3 easy steps.
Download our app, register and tell us about your medical issue to get started.
Skin
Cardiovascular
Anemia
STD
UTI
Covid
Connect with a board-certified doctor. You can chat, send pictures and videos.
Hi I'm dr. Nicole. How may I help you?
Hi Dr Nicole, I have scabies. Can I get some form of treatment, please?

Our online doctors can help you with your medical issues and give you prescriptions.
Permethrin  5% Topical cream

Apply to all body areas from the neck to the soles of feet
Send Prescription
What is Permethrin and How to Take It
Permethrin is a synthetic chemical belonging to the pyrethroid family, widely used as an insecticide and acaricide. Permethrin cream use is to repel and kill various pests, including mosquitoes, ticks, mites, fleas, and lice. Permethrin attacks these insects' nervous systems, causing paralysis and eventual death. Due to its effectiveness and low toxicity to humans and animals when used as directed, Permethrin has become a popular choice in numerous applications, such as treating clothing for outdoor activities, protecting against insect-borne diseases, and controlling pests in agricultural settings. However, caution must still be exercised to follow proper handling and application guidelines for maximum safety and efficacy.
Permethrin is typically topical, applied directly to the skin through creams, lotions, or sprays. Before application, ensure the affected area is clean and dry. Shake the container well using a spray or lotion, and then apply a thin, even layer of Permethrin to cover the entire affected area and some surrounding skin. Avoid contact with eyes, nose, mouth, and open wounds. Leave the medication on for the recommended time (usually 8 to 14 hours) before thoroughly washing it off. Remember to wash your hands after application and avoid using it on irritated or broken skin. Clothes and sheets should also be washed in hot water when permethrin cream is applied to the body.
Important Information About Permethrin
Following are some points that you should know about permethrin:
Permethrin may interact with other topical medications or skin products. Avoid combining it with other insecticides or chemicals without medical advice.

Permethrin can potentially cause allergic reactions such as itching, redness, or swelling. If any adverse effects develop, stop using and get medical help immediately.

Temporary skin irritation, redness, or a slight burning sensation at the application site are typical adverse effects. 

Permethrin therapy is generally well tolerated across age groups, while severe side effects are rare and may include extreme itching, hives, breathing difficulties, or skin irritation. 

Edema is another side effect of Permethrin.
Is permethrin cream over the counter?
An over-the-counter cream, permethrin cream, is used to treat scabies. It can also be purchased over the counter as a cream to treat head lice in a weaker concentration. You can also get a permethrin cream prescription from your doctor online and directly sent to your pharmacy.
How many times can you use permethrin cream?
Typically, one or two sessions of permethrin lotion are applied to the skin, but rarely three treatments are required. Permethrin cream should be used again if live mites are discovered two weeks (14 days) after the first application.
Can I use permethrin every day?
No, Permethrin shouldn't be used daily. For 1-2 weeks, it needs to be applied every 2-3 days to treat crusted scabies.
New bumps after permethrin treatment?
New bumps appearing after Permethrin treatment can occur due to a reaction to the medication.
What happens if you leave permethrin cream on too long?
Leaving Permethrin cream on too long may lead to skin irritation or increased sensitivity, causing redness, itching, or a burning sensation. Following the recommended application time and washing off the cream as directed is essential to minimize the risk of adverse reactions.
What does permethrin kill?
Numerous pests, including fleas, ticks, cockroaches, flies, and mosquitoes, can be eliminated by permethrin.
How fast does permethrin kill scabies?
Typically, permethrin begins killing scabies mites immediately upon contact, and most mites are killed within a few hours after administration. However, it could take a few days for the alleviation from itching and rashes to wear off after therapy.
This is the best app..You ask anything and the doctors answer you within minutes, i love it

-Phindile Mkhatshwa


It is a good app, it can be helpful with pictures and be very detailed.

-brooke snow


Wow, these people are such a blessing. Dey give accurate answered to questions asked. Its really too good

-Okiti Stephanie


Impressive work !! Connecting to a doctor was so quick. I am really impressed.

-ASIF Khan


Doctor was really great, fast at responding very helpful

-Chelsey


Chat with them the doctor that I chat with very helpful and answer all my questions I recommend to anyone

-edith bien aime


The best patient doctors that understand and give you useful information ..I'm really thankful.

-Lesego Thejane


Very informative and very detailed in explanations.Also pleasant and courteous.I would recommend to anyone.

-Stephanie Brown


Very helpful, very polite and answers every question in a well mannered way.

-kulwinder gill


I really rate this website a lot, you people don't stick and and im sure you try your best to take swift actions for your patients.

-Elijah Mark


Talk to online doctors now and get medical advice, online prescriptions, and referrals within minutes. On-demand healthcare services at your fingertips.