Last modified: January 4, 2019
According to a study by Monistat, three in four women will have a yeast infection at some point in their lives. Yeast infections are common and uncomfortable. However, there are a few yeast infection myths we would like to dispel.
First, it is important to know what that discomfort below the waistline actually is. A yeast infection is simply an overgrowth of yeast due to an imbalance of bacteria in your most sensitive of areas.
Yeast Infection Symptoms Include
Itching, burning, and redness
Burning during urination
Thick white discharge
Vaginal pain during sex
General soreness
Most women know these symptoms all too well. This uncomfortable infection is troublesome, but don't let the following yeast infection myths make it worse.
Myth #1: Using a Condom During Sex Prevents Yeast Infections
Interestingly, 67 percent of women believe that using a condom will decrease their risk for yeast infections, according to the Monistat study. However, this is simply a myth. Condoms are a fantastic idea regardless to prevent you from STDs and other infections like HPV, but not yeast infections.
Myth #2: Sex Causes Yeast Infections
Due to more than half of women believing condoms prevent against yeast infections, this has led many of us to believe that sex is a cause. But since yeast infections are not STDs, they can't be transmitted during sexual intercourse. If you are experiencing yeast infection symptoms after sex, it may be a UTI or STD, and not simply a yeast infection. It is important to talk to a doctor.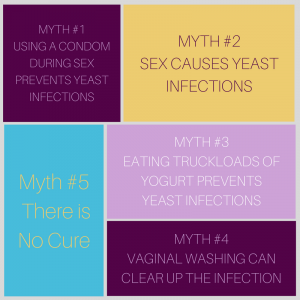 Myth #3: Eating Truckloads of Yogurt Prevents Yeast Infections
Yogurt is an alternative health remedy for yeast infections that can be found just about everywhere online. However, there is no clear scientific or medical evidence supporting the yogurt home remedy. This myth may have worked for you in the past, but it is important to discuss this treatment with a doctor, since the bacteria that causes infections is already in your body. Food may not be the best course of first action.
Myth #4: Vaginal Washing Can Clear Up the Infection
Washing and keeping your vaginal area clean is important to your overall health and wellness, but in moderation. This yeast infection myth is a common one, however, excessive washing of your vagina will not cure your infection. Using unscented soap, changing out of tight gym clothing, proper wiping, and wearing breathable cotton underwear can help prevent a yeast infection.
Myth #5: There is No Cure
The Monistat study found the 67 percent of women think yeast infections can't be cured. This is a very common myth that absolutely needs to be busted. The real issue here is that most women use product that treat symptoms and not the cause. Monistat is a good option, and of course you should always talk to a doctor to ensure you actually have a yeast infection before doing any home treatment. The reasons you keep getting infections may be something serious.
Do you have questions about your downstairs mix up? How about recurring yeast infections that never seem to go away? It is important to get the facts and stay clear of the myths. You can talk to a doctor via our free doctor chat now. Simply click the button below to get started.
[shortcode id="8321″]
[shortcode id="8328″]
Submitted by Dr. Richard Honaker: http://www.independentmedicalexaminer.com/IME-Directory/Virginia/Dr-Richard-A-Honaker-MD.asp
Disclaimer: This article provides general information and is not intended to diagnose, treat or cure any disease or medical condition. If you require specific advice, please consult one of our medical professionals through the app. However, in case of an emergency, please call 911.