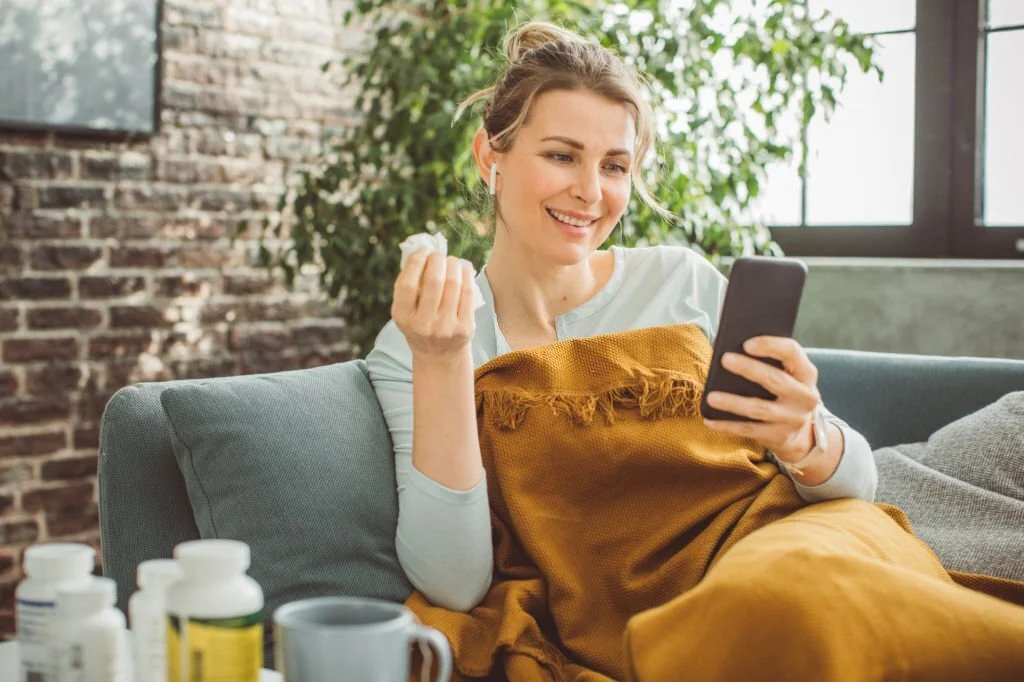 Get a Prescription Refill for Metoprolol Online
Metoprolol is a prescription medication that treats high blood pressure and chest pain effectively. You can get a metoprolol prescription online by connecting with our doctor at Your Doctors Online. Our online doctor will ask you to describe your symptoms to determine the best course of treatment. Then, if deemed necessary, they may recommend a follow-up appointment or a visit to a clinic. However, please note that a refill of Metoprolol online will be provided after consultation with the doctor and if the treatment is considered suitable and safe for you.
How to Connect with an Online Doctor?
Connect with a health care professional online in 3 easy steps.
Download our app, register and tell us about your medical issue to get started.
Cardiovascular
Anemia
STD
UTI
Skin
Covid
Connect with a board-certified doctor. You can chat, send pictures and videos.
Hi I'm dr. Nicole. How may I help you?
Hi Dr Nicole, I have been taking Metoprolol to manage hypertension. Can you provide me with a refill?

Our online doctors can help you with your medical issues and give you prescriptions.
Metoprolol Tartrate Tablets,

100mg.

Take 1 tablet orally, with or after a meal, as directed.
Send Prescription
What is Metoprolol and How to Take It
Metoprolol is termed as a beta-blocker. These types of drugs reduce blood pressure and heart rate. This helps take the strain off your heart, improving cardiovascular function.
Metoprolol may be prescribed independently or alongside other medications depending on your condition. Moreover, Metoprolol for angina is often used in the long-term treatment of chest pain that is associated with decreased blood flow to the heart's muscles(angina pectoris).
Metoprolol is classified under beta-blockers. Beta-blockers mainly work by blocking the effects of the hormone adrenaline, also called epinephrine. Once that happens, your blood vessels dilate, improving blood flow and eventually lowering your blood pressure. Furthermore, Beta-blockers also cause reduce the heartbeat by causing the muscles in your heart to relax. This reduces the workload on the heart.
There are mainly two forms of Metoprolol. Metoprolol tartrate is available as an immediate-release tablet and is usually taken a few times a day. In contrast, Metoprolol succinate is a timed-release tablet usually taken once daily. Metoprolol tartrate is often used in the early stages of a heart attack, but metoprolol succinate is not used for this purpose.
Metoprolol instructions include taking the medication with food once or more than once in one or divided doses as prescribed by your physician. It is best to take the pill at the same time every day. 
Metoprolol tartrate is available in the form of an injection. The use is reserved for emergencies. 
Important Information About Metoprolol
Metoprolol over the counter is unavailable. You cannot get Metoprolol without a prescription. If you are currently taking this medicine, you should be aware of the following:
Some of the mild side effects include drowsiness, cold hands and feet, low energy, constipation, diarrhea, shortness of breath, and rash.

Some severe side effects of Metoprolol may include low blood pressure, slowed heart rate (bradycardia) and depression.

Inform your doctor about the use of metoprolol tartrate if you are pregnant or planning a pregnancy or if your profession revolves around operating heavy machinery daily. 

Metoprolol tartrate can lead to dizziness, so be careful whilst driving.
When is the best time to take Metoprolol?
The best time to take metoprolol tartrate depends on your dosage and symptoms. If you experience dizziness, it is best to take it at night. In the case of divided doses, you must space them throughout the day.
Can I stop taking Metoprolol on my own?
You cannot stop taking prescription metoprolol on your own suddenly. Your doctor will be able to advise you on how to gradually reduce your medicine to prevent side effects or worsening of your condition. You may be putting yourself in danger of an increased risk of having a heart attack if you stop taking the medicine abruptly.
How long does it take Metoprolol to work?
Your heart rate slows for about an hour after consuming metoprolol tartrate (Lopressor). However, it can take a couple of days or weeks for your blood pressure to drop significantly. If you are taking it for chest pain or prevention of a following heart attack. It is essential to take it as prescribed and regularly.
Is Metoprolol a controlled substance?
No, Metoprolol is classified as a B-blocker, and they are not controlled substances.
What medication is equal to Metoprolol?
Some other B-blockers commonly prescribed include: - Atenolol - Bisoprolol - Carvedilol - Labetalol - Propranolol - Timolol
Are there any specific instructions for taking Metoprolol Tartrate?
It is best to take metoprolol tartrate (Lopressor) at the same time daily. If you take it more than once a day, pick the times that work best for you. Take medicine with a meal and at the time that you can sit or lie down in case of dizziness.
How long can you stay on Metoprolol?
Metoprolol is usually prescribed for the long term. Depending on your condition, you may need to take it for life.
What drugs should not be taken with Metoprolol?
What happens if I miss a dose of metoprolol tartrate?
If you happen to miss a dose of Metoprolol, you should skip the missed dose and take your next scheduled one. Do not take an extra dose or double your dose.
What happens if I take too much metoprolol tartrate?
In case of an overdose of metoprolol tartrate, you must seek immediate medical help.
This is the best app..You ask anything and the doctors answer you within minutes, i love it

-Phindile Mkhatshwa


It is a good app, it can be helpful with pictures and be very detailed.

-brooke snow


Wow, these people are such a blessing. Dey give accurate answered to questions asked. Its really too good

-Okiti Stephanie


Impressive work !! Connecting to a doctor was so quick. I am really impressed.

-ASIF Khan


Doctor was really great, fast at responding very helpful

-Chelsey


Chat with them the doctor that I chat with very helpful and answer all my questions I recommend to anyone

-edith bien aime


The best patient doctors that understand and give you useful information ..I'm really thankful.

-Lesego Thejane


Very informative and very detailed in explanations.Also pleasant and courteous.I would recommend to anyone.

-Stephanie Brown


Very helpful, very polite and answers every question in a well mannered way.

-kulwinder gill


I really rate this website a lot, you people don't stick and and im sure you try your best to take swift actions for your patients.

-Elijah Mark


Talk to online doctors now and get medical advice, online prescriptions, and referrals within minutes. On-demand healthcare services at your fingertips.