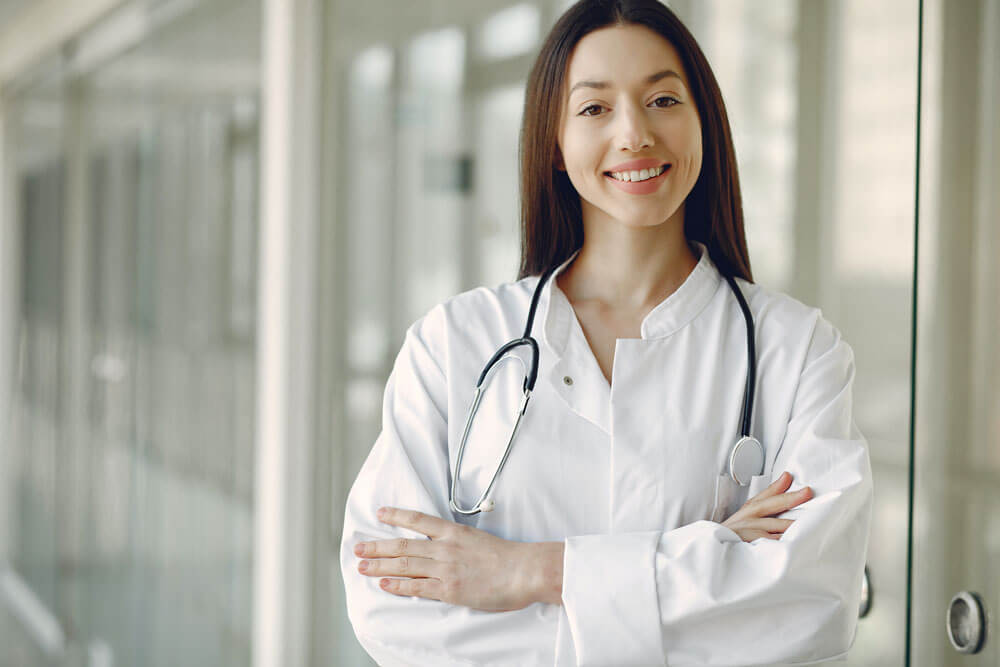 Get Virtual Urgent Care 24/7
Get fast and reliable virtual urgent care anytime, anywhere with Your Doctors Online! Our telehealth service lets you have unlimited chats with our doctors. Clear all your doubts and concerns in minutes. No more hidden charges, appointments, or insurance required.
Experience quality virtual urgent care for you and your family with no hassle. Register today at Your Doctors Online to get the care you deserve from the comfort of your home. 
How to Connect with Virtual Urgent Care
Connect with a provider in three easy steps:
Download our app, register and tell us about your medical issue to get started.
Cold/Flu

Anemia
STD
UTI
Skin
Covid
Connect with a board-certified doctor. You can chat, send pictures and videos.
Hi I'm dr. Nicole. How may I help you?


Hi Dr. Nicole, I have a fever and a terrible sore throat. Can I get antibiotics for that, please?

Our online doctors can help you with your medical issues and give you prescriptions.
Azithromycin 250mg, two tablets on day 1 and then one tablet for the next 4 days.

Benzydamine HCl Gargles 0.15% solution, thrice daily for 7 days.
Send Prescription
"Providing safe and convenient consultations, focusing on quality virtual urgent care through a team of skilled professionals."
Mandy Liedeman, MD
Family Medicine
Virtual Urgent Care Services
Our doctors provide virtual urgent care 24 hours. We've covered you from allergies to minor injuries, infections, and more. Our doctors offer virtual urgent care for medical conditions, prescriptions, sick notes, and prescription refills. Consult our medical experts virtually at Your Doctors Online. Your health matters to us – trust us for urgent, professional, and convenient care now.
Get treatment and prescription for these conditions now
Sexually transmitted Diseases (STDs)
Urinary tract infections (UTIs)
Aches (backaches, muscle strain, migraine, headache)
Skin Infections (Viral, bacterial, fungal)
Fever, cough, and flu
Gastrointestinal issues (Diarrhea, vomiting, and nausea)
Injuries (Minor cuts, sprains, minor fractures)
Allergies (seasonal, skin, autoimmune)
Burns and bites (minor cases)
Ear and Eye infections
Our on-demand doctors are here to help you 24/7 with virtual urgent care needs that are NOT life-threatening.
FAQs about virtual urgent care
Can urgent care refill prescriptions?
Yes, you can easily get a refill of your medications at Your Doctors Online for urgent care. Our patient-friendly application lets you talk to a doctor instantly without waiting in a queue and booking an appointment. You can get a prescription at your preferred pharmacy in less than an hour.
Does urgent care give pain meds?
Absolutely! Our urgent care doctors commonly prescribe pain medications to help manage your discomfort. Consult our doctors for a prescription for non-steroidal anti-inflammatory drugs (NSAIDs) like Ibuprofen, Voltaren, Naproxen, and Indomethacin.
Can urgent care doctors prescribe medications?
Our doctors can prescribe medications for urgent care like UTIs, STIs, allergies, minor injuries and burns, etc. However, we do not prescribe controlled drugs.
How much is an urgent care visit without insurance?
At Your Doctors Online, we offer affordable urgent care visits for patients without insurance. You can get a consultation and prescription for $55 per visit. Otherwise, you can subscribe to our quarterly plan, which is $20 per month (billed every three months)
How quickly can I talk to the provider?
You can talk to a provider within minutes at Your Doctors Online. We are available 24/7 to help you. Download our app, register, describe your symptoms to a doctor, and get a prescription for your medical issue in less than an hour at your preferred pharmacy.
Can urgent care prescribe antibiotics?
Our experienced doctors can prescribe common antibiotics when medically necessary. Once you tell us your issue, our doctor will immediately prescribe suitable antibiotics such as ciprofloxacin, Ceftin, cephalexin, omeprazole, etc.
Can I use online urgent care without insurance?
Yes, our online urgent care services are accessible to patients without insurance. You can choose a suitable plan for you and your family and register yourself for either single visit consultation or monthly membership with unlimited consultations and prescriptions.
Is my medical information secure?
Rest assured; we prioritize the security and confidentiality of your medical information. We are HIPAA compliant, and all our doctors and professionals strictly follow our company's privacy policy.
What are the benefits of virtual urgent care?
Virtual urgent care offers the convenience and accessibility to get the on-demand care you need from anywhere. You are saving time and money by connecting with a healthcare provider online at Your Doctors Online without needing to physically attend and wait in a queue for days.
How does urgent care virtual visit work?
Our seamless virtual visits allow you to connect with a provider easily through our user-friendly platform. All you need to do is to register through our application, tell us your symptoms, connect with a doctor on call, and get a prescription for urgent care telemedicine.
Do I need to schedule an online urgent care appointment?
No need to schedule ahead – our on-demand urgent care is available whenever you need it. Consult a doctor at Your Doctors Online at your convenience.
This is the best app..You ask anything and the doctors answer you within minutes, i love it

-Phindile Mkhatshwa


It is a good app, it can be helpful with pictures and be very detailed.

-brooke snow


Wow, these people are such a blessing. Dey give accurate answered to questions asked. Its really too good

-Okiti Stephanie


Impressive work !! Connecting to a doctor was so quick. I am really impressed.

-ASIF Khan


Doctor was really great, fast at responding very helpful

-Chelsey


Chat with them the doctor that I chat with very helpful and answer all my questions I recommend to anyone

-edith bien aime


The best patient doctors that understand and give you useful information ..I'm really thankful.

-Lesego Thejane


Very informative and very detailed in explanations.Also pleasant and courteous.I would recommend to anyone.

-Stephanie Brown


Very helpful, very polite and answers every question in a well mannered way.

-kulwinder gill


I really rate this website a lot, you people don't stick and and im sure you try your best to take swift actions for your patients.

-Elijah Mark


Talk to online doctors now and get medical advice, online prescriptions, and referrals within minutes. On-demand healthcare services at your fingertips.