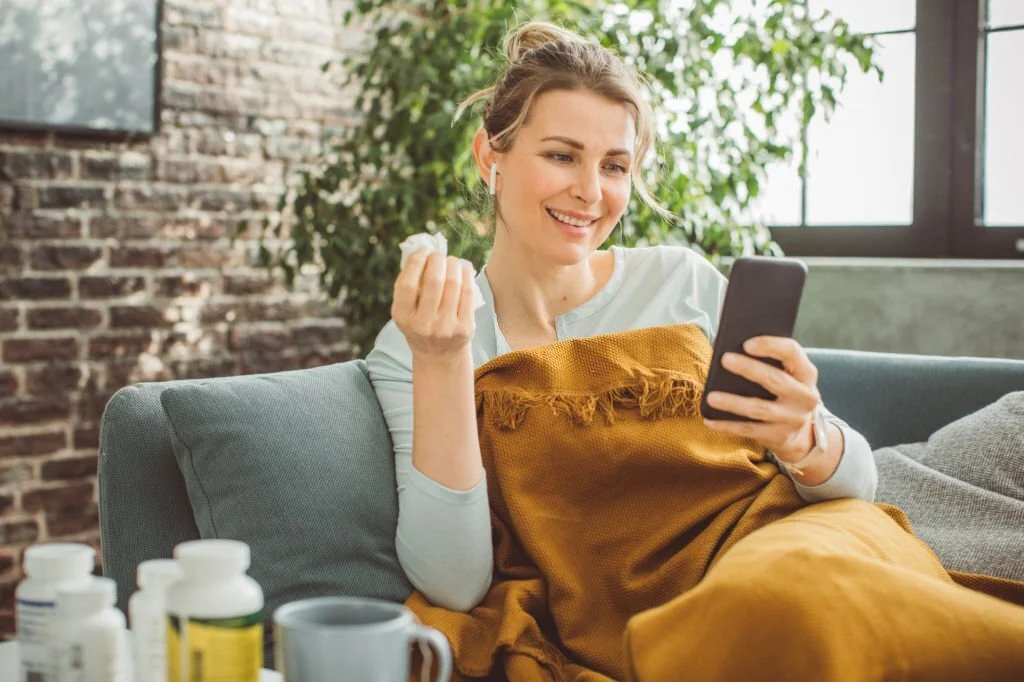 Get Virtual Primary Care 24/7
When choosing a primary care provider, you select a steadfast partner for your entire health journey, from triumphs to moments when guidance and comfort are needed.
Your Doctors Online provides dependable primary care anytime, anywhere, understanding your history, setting realistic goals, and celebrating your progress. Our telehealth platform offers quick and affordable healthcare without needing insurance or appointments.
How to Connect with Online Primary Care
Connect with virtual primary care provider in three easy steps:
Download our app, register and tell us about your medical issue to get started.
Cold/Flu

Anemia
STD
UTI
Skin
Covid
Connect with a board-certified doctor. You can chat, send pictures and videos.
Hi I'm dr. Nicole. How may I help you?


Hi Dr. Nicole, I have a fever and a terrible sore throat. Can I get antibiotics for that, please?

Our online doctors can help you with your medical issues and give you prescriptions.
Azithromycin 250mg, two tablets on day 1 and then one tablet for the next 4 days.

Benzydamine HCl Gargles 0.15% solution, thrice daily for 7 days.
Send Prescription
"To meet daily life challenges, achieving annual health goals is crucial. Your Doctors Online provide dedicated primary care services tailored for every patient and accessible to all."
Mandy Liedeman, MD
Family Medicine
Our virtual primary care providers offer comprehensive and convenient general health support, ensuring your well-being throughout your health journey. From routine care and unexpected health concerns to family well-being, chronic condition management, and preventive care, your virtual primary care provider conveniently addresses your diverse needs, providing unwavering guidance and support. Consult our medical experts virtually, placing your trust in our urgent, professional, and convenient care.
Virtual Primary Care for Various Conditions
Get virtual primary care for a range of conditions, including but not limited to:
Acne

Urinary Tract Infections (UTIs)

Sinus infection

Whole health exam

Sexually Transmitted Diseases (STDs)

Abdominal issues

Headache

Fever, Cough, and Flu

Allergies (seasonal, skin, autoimmune)
Our 24/7 telehealth service provides unlimited chats with our doctors. Get all your queries addressed in minutes without hidden charges, appointments, or insurance hassles.
FAQs about virtual primary care
What is a primary care provider?
A primary care provider helps you get routine checkups, annual screenings, daily prevention and wellness tips, and non-emergency urgent care like seasonal allergies, ear, eye, or nose infections. Get primary care from our doctors at Your Doctors Online and clear your doubts and concerns with one click.
What does a physician do?
A general physician (GP) examines and diagnoses the patients keeping in consideration their medical history and specific health conditions. They prescribe medications for non-emergency medical conditions and provide advice and consultation for achieving daily and yearly health goals. You can get primary care from physicians at Your Doctors Online, available 24/7.
Can I ask the primary, urgent care physician for a refill?
A primary urgent care physician can provide you with refills if required after consultation. You can get a refill upon consultation from a primary, urgent care physician at Your Doctors Online.
What kind of doctor do I need for primary care?
You can get primary care from general practitioners, family doctors, or internal medicine doctors. Consult our doctors at Your Doctors Online for primary care needs available to you 24/7.
How to find a primary care doctor online?
You can find primary care doctors at Your Doctors Online to meet your health goals and clear your doubts and concerns without leaving your home. No pre-booked appointments or long queues; connect with a primary care doctor with a single click.
What should I expect during my new patient visit?
If you are a new patient, you will be asked about your medical history, care needs, and symptoms of any specific condition you face and will be redirected to a suitable doctor. Our doctors don't provide one size fits all solution rushing toward the next patient. Instead, you will be heard and treated as per your specific needs and expectations.
How to see a virtual primary care doctor without insurance?
At Your Doctors Online, we provide virtual primary care without insurance or long wait times at an affordable price. Consult with our primary care provider and get the care you need at your schedule because we are here for you 24/7.
What should I do if my virtual PCP is unavailable?
Connect with our doctors, available 24 hours a day, seven days a week at Your Doctors Online, with no waiting in the queue or insurance requirements. Our primary care provider will address your needs in no time. Even if it's past office hours, we have got you covered.
Can I consult a virtual primary care physician for my child?
You can consult a primary care provider at Your Doctors Online for your child virtually and clear your concerns with one click. As a mother, you can rely on our professional doctors for the care you and your child deserves.
Are there any primary care physicians near me accepting new patients online?
Your Doctors Online accepts new patients from around the globe with no time limits. We are here to help you round the clock with our primary care services personalized for every patient.
Is internal medicine considered primary care?
Primary care includes specialties like internal medicine and family medicine. Internal medicine has patients of 18 years or above, while family medicine addresses the needs of all age groups. The good news is at Your Doctors Online, we offer primary care specialties, i.e., family and internal medicine both.
This is the best app..You ask anything and the doctors answer you within minutes, i love it

-Phindile Mkhatshwa


It is a good app, it can be helpful with pictures and be very detailed.

-brooke snow


Wow, these people are such a blessing. Dey give accurate answered to questions asked. Its really too good

-Okiti Stephanie


Impressive work !! Connecting to a doctor was so quick. I am really impressed.

-ASIF Khan


Doctor was really great, fast at responding very helpful

-Chelsey


Chat with them the doctor that I chat with very helpful and answer all my questions I recommend to anyone

-edith bien aime


The best patient doctors that understand and give you useful information ..I'm really thankful.

-Lesego Thejane


Very informative and very detailed in explanations.Also pleasant and courteous.I would recommend to anyone.

-Stephanie Brown


Very helpful, very polite and answers every question in a well mannered way.

-kulwinder gill


I really rate this website a lot, you people don't stick and and im sure you try your best to take swift actions for your patients.

-Elijah Mark


Talk to online doctors now and get medical advice, online prescriptions, and referrals within minutes. On-demand healthcare services at your fingertips.