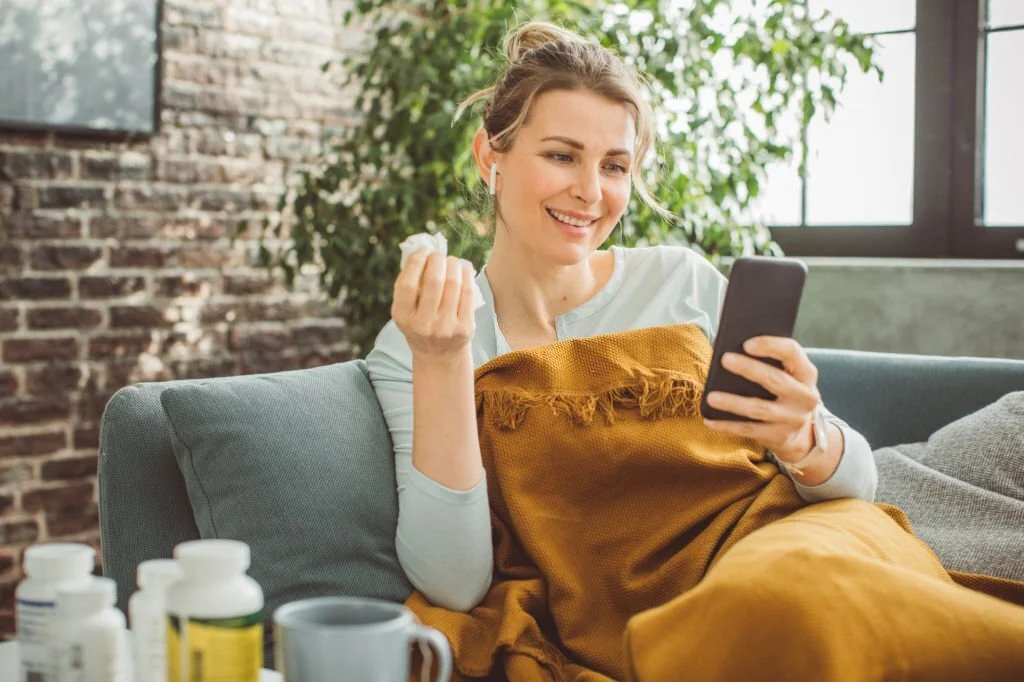 Get Paxlovid Prescription Online
Paxlovid is an antiviral drug used in combination with other pills to manage mild to moderate cases of COVID. Obtaining a Paxlovid prescription online is simple; visit Your Doctors Online and connect with a doctor anytime, anywhere. 
Our online doctor will ask about your symptoms to determine treatment. They may suggest a follow-up appointment or clinic visit. Please know that  Paxlovid will only be provided after a consultation with our doctor and if the medication is appropriate and safe.
How to Connect with an Online Doctor?
Connect with a health care professional online in 3 easy steps.
Download our app, register and tell us about your medical issue to get started.
COVID-19
Anemia
STD
UTI
Skin
Covid
Connect with a board-certified doctor. You can chat, send pictures and videos.
Hi I'm dr. Nicole. How may I help you?
Dr. Nicole, I have cold and flu-like symptoms, and I have been tested positive for Covid. Can you give me something to help relieve these symptoms?

Our online doctors can help you with your medical issues and give you prescriptions.
Paxlovid, two 150 mg tablets of Nirmatrelvir.

One 100 mg Ritonavir take all three tablets twice daily for five days.
Send Prescription
What is Paxlovid (Nirmatrelvir + Ritonavir) and How to Take It
Paxlovid is a combination medicine used as an oral anti-viral for treating SARS-COV-02 infections, especially mild to severe cases of COVID-19. It comes packed with the generic drugs Nirmatrelvir and Ritonavir.
As a protease inhibitor, Nirmatrelvir blocks an important enzyme needed by the COVID-19 virus. Nirmatrelvir virus stops the COVID-19 virus from infecting other healthy cells.
Ritonavir helps boost the levels of Nirmatrelvir in the body. It actually stops Nirmatrelvir from metabolizing in the liver; thus, it helps maintain the Nirmatrelvir levels in the body by preventing it from rapid excretion.
When taking Paxlovid, the recommended dosage is three tablets (300 mg Nirmatrelvir and 100 mg Ritonavir) taken orally twice daily for five days. Avoid breaking or chewing the tablet, and take it with a full glass of water. You can take it with or without meals.
Important Information About Paxlovid
Paxlovid is an antiviral drug. You will require a prescription for Paxlovid. Here are some essential points that you should know about this drug:
Side effects of Paxlovid include an altered sense of taste, high blood pressure, headache, vomiting, liver problems, and allergic reactions. You can speak to one of our doctors online if you need help with any of the side effects that may occur



Serious side effects of Paxlovid include severe allergies, resistance to HIV medicines, and liver problems. If you experience any of these severe side effects, you should consult a doctor right away.




Medication for high cholesterol, migraines, or hypertension, among others, can interact with Paxlovid. Paxlovid inhibits CYP3A4, so it can cause an increase in the blood concentration of other drugs if taken together.
Can I take Pepcid with Paxlovid?
Yes, there are no known interactions between Pepcid (Famotidine) and Paxlovid. So you can take both medications together. However, it is best to follow your doctor's instructions.
Is Pepcid over the counter?
Pepcid can be purchased without a doctor's prescription and is therefore considered an OTC drug. It is an H2 blocker that is used to relieve heartburn symptoms.
Can urgent care prescribe Paxlovid?
Yes, urgent care facilities and telehealth setups like Your Doctors Online providing urgent care services, can prescribe Paxlovid. However, our doctor will evaluate your need to take Paxlovid before prescribing the medication.
Paxlovid is considered safe to use for mild to moderate cases of COVID-19. If you have been tested positive for COVID-19, you can get a prescription for Paxlovid online by getting in touch with one of our doctors at Your Doctors Online.
How long does Paxlovid stay in your system?
It takes 8 hours for Paxlovid to clear from your system. You can discuss with your healthcare provider online via the Your Doctors Online app if you have any questions about the medication.
Should I take Paxlovid If my symptoms are mild?
Yes, Paxlovid is recommended for mild to moderate COVID-19 symptoms. However, the medication should be taken exactly as prescribed. Do not overdose or underdose on Paxlovid.
How long does it take Paxlovid to work?
If taken immediately as you notice your early symptoms of COVID-19, it will take five days for Paxlovid to show results. If your symptoms persist after five days, you can get in touch with one of our doctors online via the Your Doctors Online app.
Can you take Tylenol with Paxlovid?
Yes, it is safe to take Acetaminophen (Tylenol) to take with Paxlovid. There are no major interactions reported between these medications. If you notice any adverse effects due to the simultaneous use of Paxlovid with any other medications or herbal supplements, you should discuss it with your doctor immediately.
How long after taking Paxlovid will I test negative for covid?
Within 5 days of starting Paxlovid for COVID, you may have negative results on a test for COVID-19. But that's something that can vary greatly from person to person. Speak to one of our doctors online if you need help with getting a Paxlovid prescription.
What is the typical starting dose of Paxlovid?
Paxlovid is usually prescribed at a starting dose of 300 mg Nirmatrelvir and 100 mg Ritonavir. If your doctor has prescribed a specific dosage, be sure to take it exactly as directed. You can download Your Doctors Online app, describe your issue and get a prescription from the comfort of your home.
This is the best app..You ask anything and the doctors answer you within minutes, i love it

-Phindile Mkhatshwa


It is a good app, it can be helpful with pictures and be very detailed.

-brooke snow


Wow, these people are such a blessing. Dey give accurate answered to questions asked. Its really too good

-Okiti Stephanie


Impressive work !! Connecting to a doctor was so quick. I am really impressed.

-ASIF Khan


Doctor was really great, fast at responding very helpful

-Chelsey


Chat with them the doctor that I chat with very helpful and answer all my questions I recommend to anyone

-edith bien aime


The best patient doctors that understand and give you useful information ..I'm really thankful.

-Lesego Thejane


Very informative and very detailed in explanations.Also pleasant and courteous.I would recommend to anyone.

-Stephanie Brown


Very helpful, very polite and answers every question in a well mannered way.

-kulwinder gill


I really rate this website a lot, you people don't stick and and im sure you try your best to take swift actions for your patients.

-Elijah Mark


Talk to online doctors now and get medical advice, online prescriptions, and referrals within minutes. On-demand healthcare services at your fingertips.