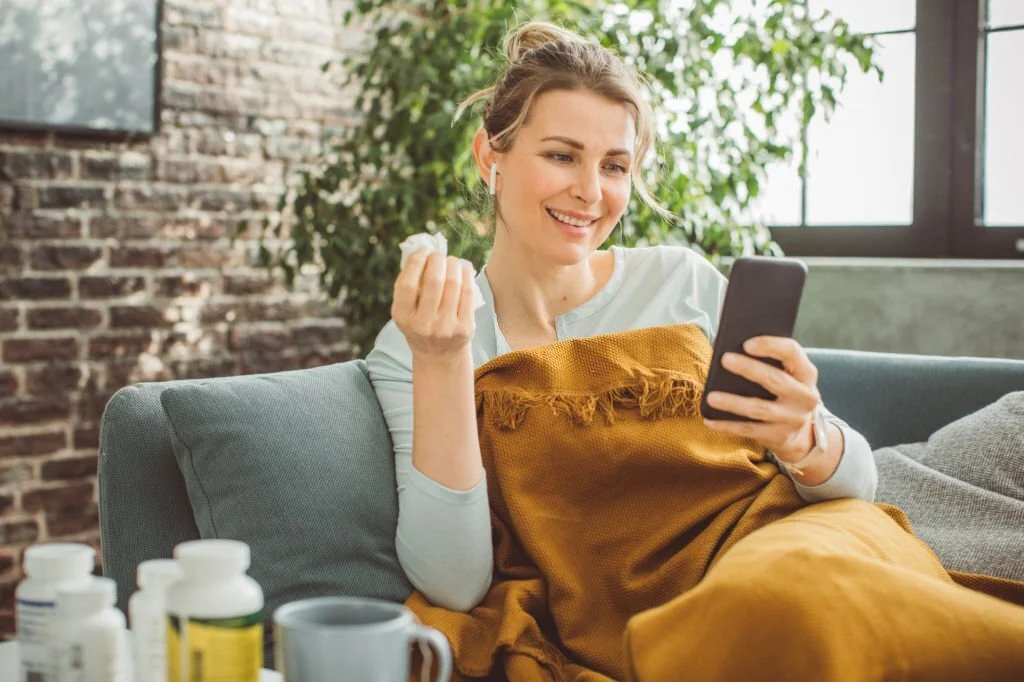 Get Depo Provera Prescription Refill Online
Depo Provera is an injection used to induce contraception. It is administered at a dosing interval of three months. You can refill Depo Provera online. Obtaining a Depo Provera prescription refill online is simple; visit Your Doctors Online and connect with a doctor anytime, anywhere. Our online doctor will ask about your symptoms to determine treatment. They may suggest a follow-up appointment or clinic visit.
Please know that a Depo Provera refill will only be provided after a consultation with our doctor and if the medication is appropriate and safe.
How to Connect with an Online Doctor?
Connect with a health care professional online in 3 easy steps.
Download our app, register and tell us about your medical issue to get started.
Contraceptive
Anemia
STD
UTI
Skin
Covid
Connect with a board-certified doctor. You can chat, send pictures and videos.
Hi I'm dr. Nicole. How may I help you?
Dr. Nicole, I'm using Depo Provera as a contraceptive, but I ran out of it today. Can I get a refill?

Our online doctors can help you with your medical issues and give you prescriptions.
I/M Depo Provera shot

150 mg injection.

 
Send Prescription
What is Depo Provera and How to Take It
Depo Provera is a brand name for Medroxyprogesterone acetate. It is available as an intramuscular injection under the brand name Depo-Provera CI, and a subcutaneous injection as Depo-SubQ Provera 104. Other options for contraceptives inludeProgestin-only contraceptives such as Depo-Provera Sub-Q and combination contraceptives that contain both estrogen and progesterone, the vaginal ring and the contraceptive patch.
Depo Provera induces contraception by inhibiting gonadotropin secretion, thickening of cervical mucus, and bringing about changes in the uterine lining. This helps because gonadotropins are involved in regulating menstrual cycle. It works by preventing the ovaries from releasing eggs. Furthermore, when cervical mucus becomes thicker, it becomes harder for sperm to reach the egg. Additionally, changes in the uterine lining make it difficult for a fertilized egg to grow, which helps prevent pregnancy.
Depo Provera shots are recommended to be taken within the first seven days of menstruating or during your menstrual cycle; it shows immediate effect. To prevent pregnancy, one shot is recommended every three months, so it is taken at four different intervals over a span of a year.
Important Information About Depo Provera
Depo Provera is a contraceptive injection. You will require a prescription for Depo Provera. Here are some essential points that you should know about this drug:
Common side effects of Depo Provera include irregular menstrual periods or no periods at all, nausea, headaches, tiredness, acne, breast tenderness, bloating, weight gain, swelling, hot flashes, irritation, and pain at the injection site.



Serious side effects of Depo Provera may cause an increase in bone tenderness, leading to osteoporosis and fracture. It can also cause vaginal bleeding, persistent pain, yellowing of the eyes or skin, severe pain in the lower abdominal area, and hives.




Depo Provera has severe interactions with drugs that induce or inhibit liver enzymes that affect blood clotting or blood sugar and herbal supplements. Some of the drugs include Erythromycin, Rifampin, Ritonavir, Phenytoin, Ketoconazole, Carbamazepine, Warfarin, Barbiturates, Heparin, and St. John's Wort.
Can I buy Depo Provera over the counter?
No, Depo Provera is not available for use over the counter you can only get it on the prescription of a registered practitioner. You can get a Depo Provera prescription refill by getting in touch online with one of our registered physicians.
What happens if you take Depo-Provera for more than two years?
Taking Depo Provera for too long can cause bone loss, increased risk of blood clots, menstrual changes, and breast cancer. Some other side effects may worsen with the prolonged use of this medication these side effects may include weight gain, headache, and nausea.
What to avoid while taking Depo Shot?
Avoid smoking and alcohol consumption, and avoid taking it with medications that interact with Depo Provera, as it can increase side effects or decrease the efficacy of drugs.
What happens if I miss a dose of Depo Shot?
If you have missed a Depo shot, you should get it as soon as possible and use an additional contraceptive method; also, get yourself tested for pregnancy if your shot is delayed beyond the recommended duration.
What happens if Depo-Provera is injected wrong?
If injected incorrectly, it can lead to contraceptive failure, an increased risk of side effects, and drug interactions. You can connect with one of our qualified experts online if you have any questions about the Depo Provera shot.
How to get Depo-Provera out of your system faster?
It is long-acting medicine that stays in your system for about three months. It naturally dissipates from your system over time. Avoiding alcohol, smoking, eating a healthy diet, and staying hydrated can also help in removing Depo-Provera from your system faster.
How to reduce the side effects of Depo-Provera?
Exercising regularly, staying hydrated, and eating a healthy diet can help avoid the side effects of Depo Provera. If you notice any of the unusual side effects after getting a Depo Provera shot, you can get in touch with one of our doctors online.
What happens if I take too much Depo Shot?
An overdose of Depo shot may cause an increased risk of side effects or can worsen the side effects. It can also lead to contraceptive failure and bone loss.
Who should not take Depo Shot?
Women who have a history of breast cancer, blood clots, unexplained or undiagnosed vaginal bleeding, pregnant women, and those with heart disease, stroke, and liver disease.
How can I refill my Depo Shot prescription?
To get a prescription refill for Depo Shot, you can connect with one of our doctors online. You can download Your Doctors Online app, describe your problem, and get a prescription refill for Depo Shot.
How long does the Depo Shot take to kick in?
If you take it during your period, you will be protected right away. If you have any other worries or questions about the Depo Shot, you can talk to one of our experienced doctors online.
Yes, it is considered safe in general for most individuals. It is highly effective but may reduce menstrual bleeding, increase bone loss, and cause delayed return to fertility. If you notice any serious adverse effects to Depo Provera, seek immediate medical help.
This is the best app..You ask anything and the doctors answer you within minutes, i love it

-Phindile Mkhatshwa


It is a good app, it can be helpful with pictures and be very detailed.

-brooke snow


Wow, these people are such a blessing. Dey give accurate answered to questions asked. Its really too good

-Okiti Stephanie


Impressive work !! Connecting to a doctor was so quick. I am really impressed.

-ASIF Khan


Doctor was really great, fast at responding very helpful

-Chelsey


Chat with them the doctor that I chat with very helpful and answer all my questions I recommend to anyone

-edith bien aime


The best patient doctors that understand and give you useful information ..I'm really thankful.

-Lesego Thejane


Very informative and very detailed in explanations.Also pleasant and courteous.I would recommend to anyone.

-Stephanie Brown


Very helpful, very polite and answers every question in a well mannered way.

-kulwinder gill


I really rate this website a lot, you people don't stick and and im sure you try your best to take swift actions for your patients.

-Elijah Mark


Talk to online doctors now and get medical advice, online prescriptions, and referrals within minutes. On-demand healthcare services at your fingertips.